Well, if there was anyone that could make a sequel to or reboot of a movie from my childhood, Richard Donner is one of the few I'd let get away with it. A new Goonies movie is really happening!
God only knows what would happen if Michael Bay or Zack Snyder got their hands on The Goonies. They would probably set out to detonate or destroy a small coastal town to stop a few small-time mobsters. You know, rather than just get them arrested. Donner prefers to just give kids a few sticks of dynamite and let the bad guys comically suffer.
This is a good opportunity to get a new Goonies game out there - or perhaps just re-envision the original games. For all the licensed movie games that ever happened, The Goonies II is still one of the few I really liked. It was a bit Metroidvania before we started tacking on the "vania" part over a decade later. It also had some Shadowgate/Maniac Mansion bits. So it was like a Shadowtroidvaniac Mansion-type thing. 
It was good fun for its time but I've not seen anyone try to create a game in its breed of Metroidvania since, though perhaps Cave Story comes closest.
The movie itself, along with some fantasy or medieval kinds of movies, were actually a big influence on my interest in games like Zelda, Metroid and really any game that let me wander the world as some kid, misfit or motley  cast of characters as you would in action/adventure games and RPGs.
Thing is, I didn't like that Vs. The Goonies (the arcade game) and The Goonies II (NES) only let you play as Mikey, tasked with rescuing all his friends. I think it would have been cool to unlock other playable characters you could freely swap between after you rescue them.
Mikey could be your all-arounder combatant and Data could build and use the niftier gadgets as well as be your demolition man. Mouth could negotiate with the weird people you meet in the first-person puzzle bits or undocumented maids since he's bilingual. I'm sure he can speak mermaid and fishman, too
Chunk would be a diversionary co-op character, Truffle Shuffling to stun enemies. Or he could get kidnapped by Fratellis to traumatize them and make them regret interrogating him in a minigame. Sloth would be your muscleman busting down walls, moving boulders and breaking chains.
Co-op mode could start you with Mikey and Chunk, I guess. From there you could unlock every character so co-op players can switch between them.
I can't think of many useful things for the other three kids as they just kinda stood around in the movie. Maybe Andy could run a wishing well, shop and save points. Brandon could open up random gyms to strengthen the other kids and Stef could be a fetchquest giver since her biggest role in the movie was losing her glasses and having a crush on a troubled child actor.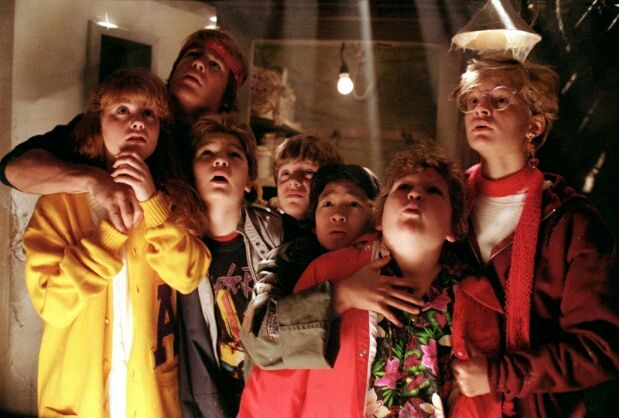 What I'm getting at here is it could be a really cool game, you could open up the game's world by unlocking new playable characters. Of course, there would also need to be pirate treasure, maybe have some upgrades for each playable character within finding all of One-Eyed Willie's lost booty (possibly named as other humorous euphemisms).
If I had my way, I'd have some mobsters kidnap some Konami executives to persuade them to give WayForward or Yacht Club Games money to make this. Those people are good at getting out fun retro games in a rather timely fashion. Throw in Shovel Knight, Shantae and all those "Mighty" girls as playable guest characters! Or have a Paddy Wagon Switch Force Mode. And Jake "virt" Kaufman and Cyndi Lauper collaborate on the soundtrack!
This is a thing that should totes happen. 
Available on Steam, Nintendo eShop, PSN and Xbox Live in 2015 or 2016? It really should be!
---
LOOK WHO CAME:
Pixie The Fairy
Batthink 1
Elsa 1
Nic Rowen 1
ShadeOfLight 1
Roberto Plankton 1
Seagull King 1
Jayne 1
AboveUp 1