So going to Alexandria, Virgina was gonna be another new photo adventure for myself. I've only gone to one other convention alone (PAX East 2010) and I was planning all of this on the fly. My traveling plans went awry when my driving partner from Connecticut bailed out the night of our trip because of the massive snow storm hitting the east coast. Along with my roommates who I agreed to stay with a month ago bailing as-well I thought to myself, "I might not be able to pull this off". I decided to do everything in my power to get to Virgina and fortunately there was a Tripper Bus ($15 cheap solution to get from A to B) that went my way and I was able to room with fellow D-Toider's Sensian and Heyricochet. I made arrangements to get to Virginia on Wednesday night even though my Destructoid brothers were coming in Thursday afternoon. My intentions were to get there as early as possible and take photos from the moment this convention started and would not stop even though I was proper boned for my Wednesday sleeping arrangements >_<
When I get to Rosslyn Metro Station, I realize i'm only left with a few options.
1) Stay up and make friends at the Rosslyn Metro Station until 6am, where I would then get a cab to the hotel
2) Take my chance and go to the hotel early and see if I can make friends who will let me stay the night
Now I can't stress this enough, but I am annoyingly shy. Coming from the guy who was afraid to take class photos in grade school and would have a thing about running away from said pictures, I sincerely opted to choose option 1 and I persisted for two hours until the homeless women whose bags I was looking after decided to leave periodically. She smelled like bad habits so I decided to swallow my pride or whatever was preventing me to go ahead with option two and make my way toward the Hilton.
While the cab takes me to the Hilton Alexandria Mark Center, I do a quick bag check (I brought two) with the supplies I thought would be essential for my little photo-blog and a successful weekend. I brought two sets of clothing (crossing my fingers over the idea of washing machines/dryers at the hotel) but would later find out that only bringing two sets of clothing would make me the smelliest D-Toider for the weekend because there were no washing machines/dryers. I also packed my camera, a tripod, a blanket, cereal bars, a toothbrush, one pair of shoes, Batman International, Batman Year One, Daredevil, the Devil inside and out, my Nintendo DSi and a copy of Patton Oswalt's first book, "Zombie, Spaceship, Wasteland" which was intended as a gift to Anthony and Ashley Burch that I got signed the week before. I had gotten a press pass to shoot photos for a reading of his first book and decided to get a copy and give it to the Burch family because I have them to thank for my interest in this site PERIOD. My first great memories of reading Destructoid was watching the HAWP Yoshi's Island episode. Since then I have been a silent fan and have great memories of reading the site, watching/listening to pretty much all of its content, and having gotten into other forms of comedy like Patton Oswalt's best comedy album in my opinion, "Feelin Kinda Patton". I associated listening to this comedy album with my introduction to Destructoid so I found it appropriate to give them his first book. Along with these items packed I figured I would make my weekend easier by bringing something that would give me the upper hand when it came to taking great concert photos!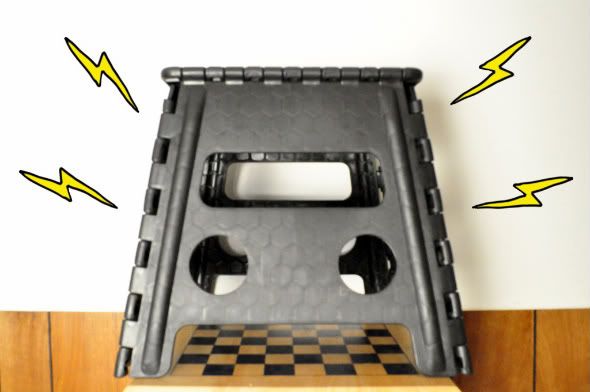 The idea to bring a stool would later hit me, making me realize that this actually wasn't that bad of an idea. Being a short dude and having constant problems taking photo's at concerts gave me the idea to leave it in my backpack for the whole weekend.
On my arrival I decide to take out my laptop and organize some old photo's. While shuffling through my stuff, I noticed two guys checking out some of my pictures and they wanted to see if I had any cool pictures. I decided to show them a set of photos from the Anamanaguchi 4Loko Rally that took place in Union Square last November.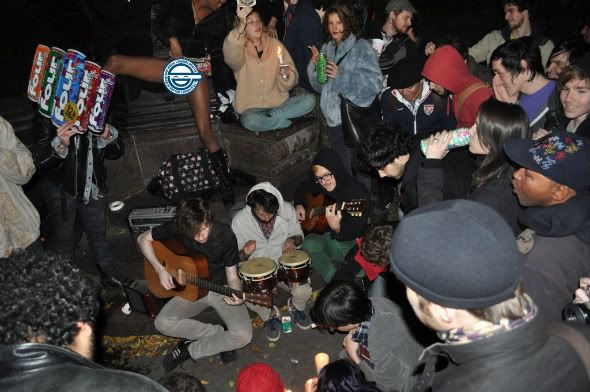 After showing them a few more they decide to tell me more about themselves. It turns out the eldest happened to be Brian Dietz, the drummer of Arm Cannon. Arm Cannon is an awesome band that played MAGFest that weekend so it was kinda amazing to get to know him and his brother. They tell me that they had smuggled a Keg in there hotel room and invited me to hang out for a bit. Brian tells me right off the bat that I shouldn't take photos of him or else I would be castrated. I realize I don't wanna test these guys limitations so I hold off from shooting there beer pong game which lasted for about a half hour until Brian decides to take a walk around the convention grounds. I later get to know Brain's two other guests Drunkman and Bachman who were staying with the brothers Dietz for the long weekend. I finally get my opportunity to take photo's of us playing a new card game that wasn't kings that escapes me to this day. It was basically, "Drink the Beer".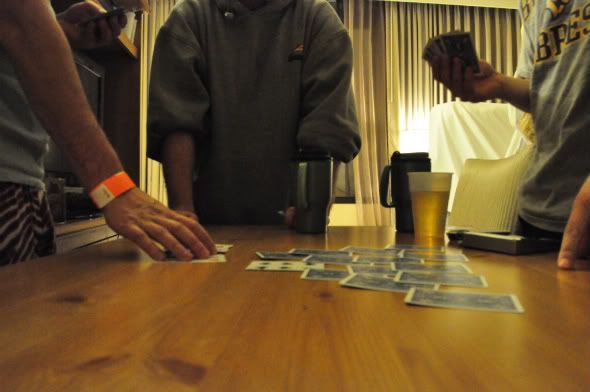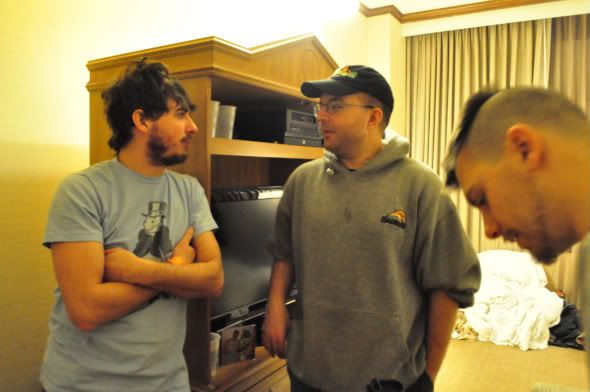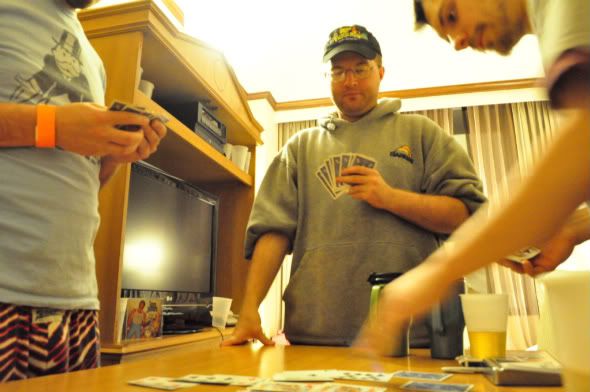 In the background, if you noticed the gentleman had manufactured two forts out of the two king size beds that were provided in their room.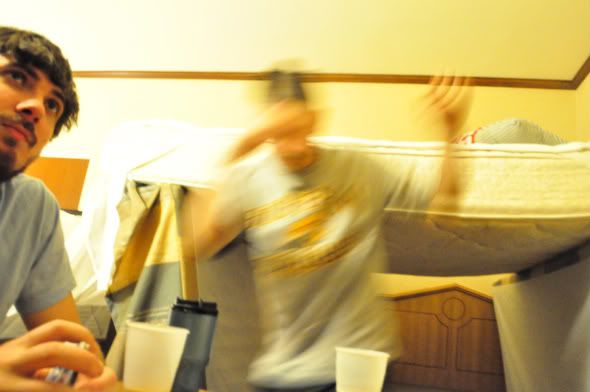 After playing card games, we decied to look for Brian downstairs and as we drunkardly make our way to the merchandise/arcade area. We find him hanging out with a bunch of other dudes looking to kill time next to a piano. At this point I try and fail miserably to take photos of whats going on, but finally get approval to shoot photo's of Brian.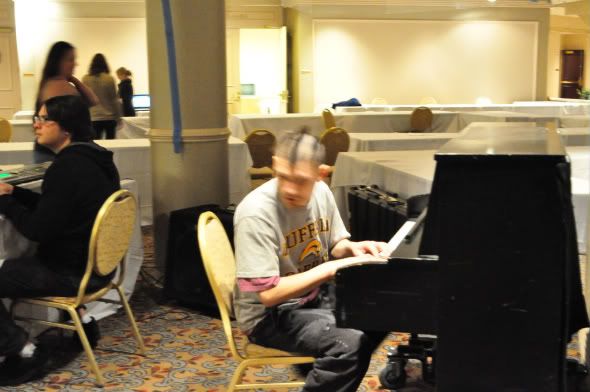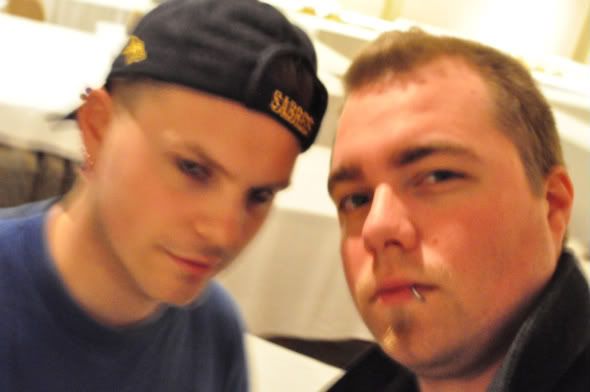 At this point we make our way back to Brian and company's room to pass out for the night. Before we all retire, Brian and Bachman decide to wrestle for which fort to sleep in.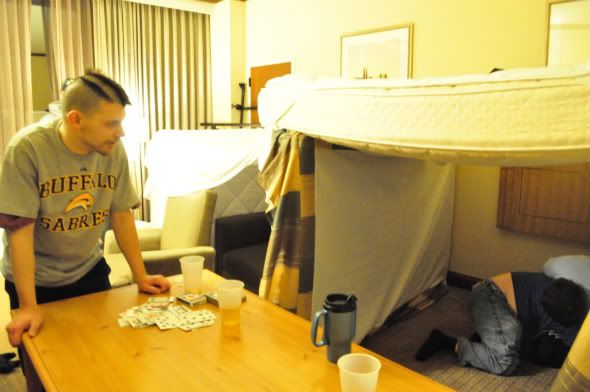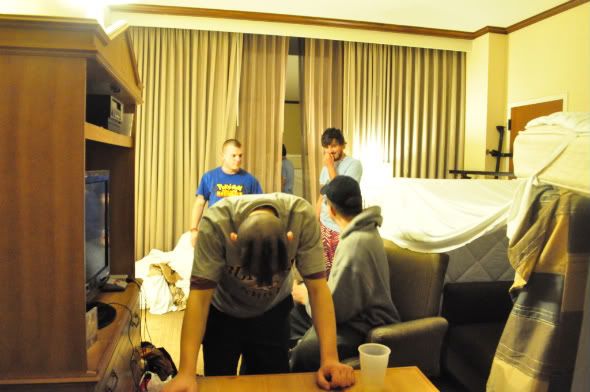 I wake up at 7:30AM to get an early start. I get to registration quickly to wait in a small half hour wait. While I wait I take a couple of pictures of the crowd and the staff helping everyone.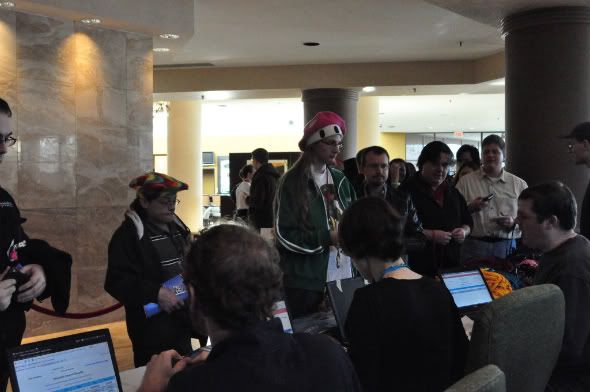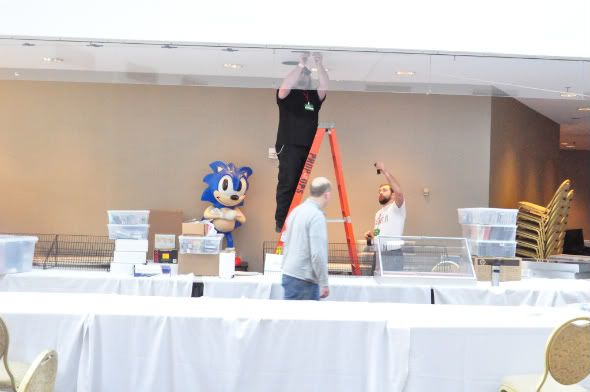 I later meet this nice kid who wanted to know what was with the camera. I tell him my deal and gives me his room # for afternoon swigs of whiskey and games with some fellows of his after a small chat about DDR tournaments . I never get the opportunity to chill since I had photo'd all weekend so I only run into him a second time an hour before I leave for New York.
After I grab some provisions from a 7-11 across the street from the convention, I see a gentlemen getting his hair prepped for some blue highlights. The Chun Li cosplayer/Gentleman were friendly to let me take a couple of snap shots with the advertising director (PR guy?) of MAGFest. I get his card to post any photos of what I take.
I eat lunch near the entrance of the hotel. I liked the reflection and just took a meh snapshot of people relaxing before stuff began.
Hiroki Kikuta, music guest (responsible for the Secret of Mana soundtrack) looking at some 8-BIT artwork in the merchandise area.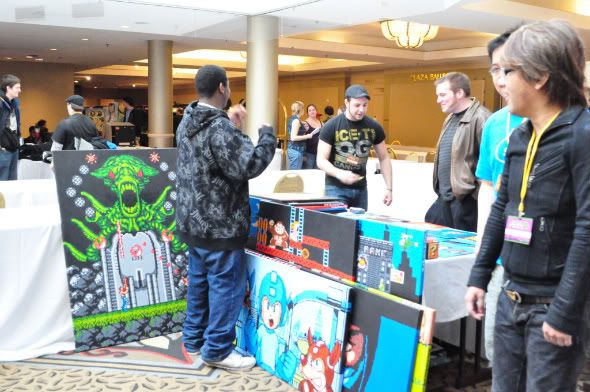 The pinball area was a place I would have spent my entire weekend. I was jonesing for it like nobody's business.
The opening ceremonies were about to begin so I sit up front to prep for the first panel of the con. I end up sitting next to Hiroki Kikuta and take a quick snapshot before things start. This next set are some highlights and a video I took about the large turnout for this year and some things that visitors should keep in mind.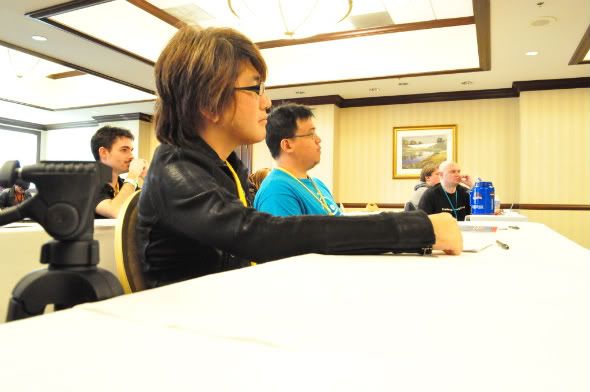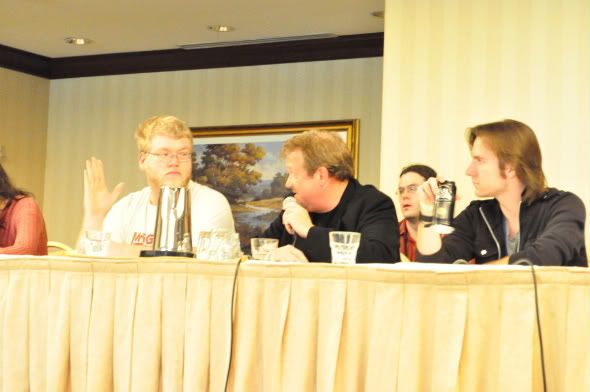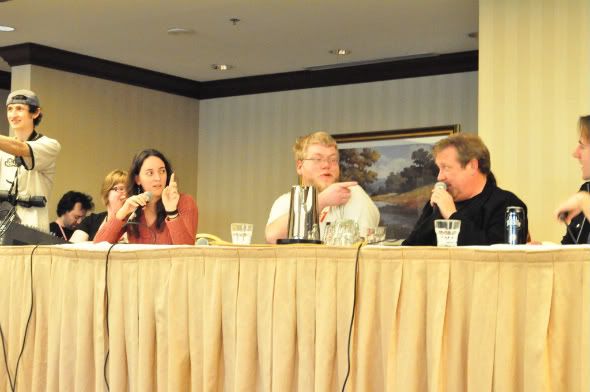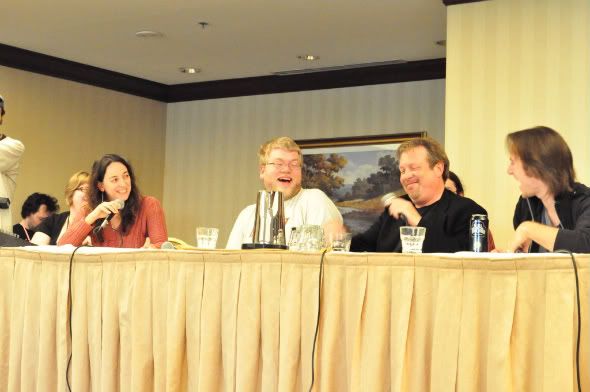 After the panel, two people, (A supporter (those who received transparent badges) and a staff member) geek out and say hello to Mr. Kikuta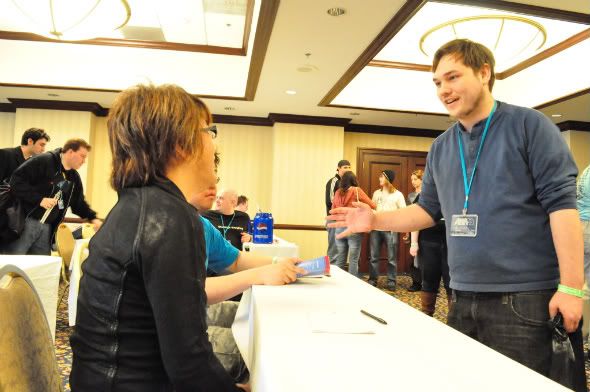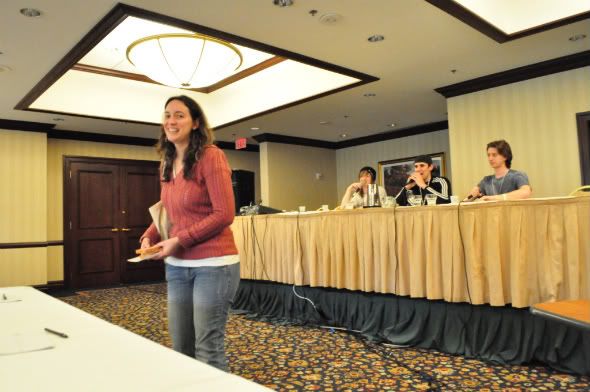 Screw Attack Panel (I take a couple of photos and doze off a bit before the Iron Chef panel)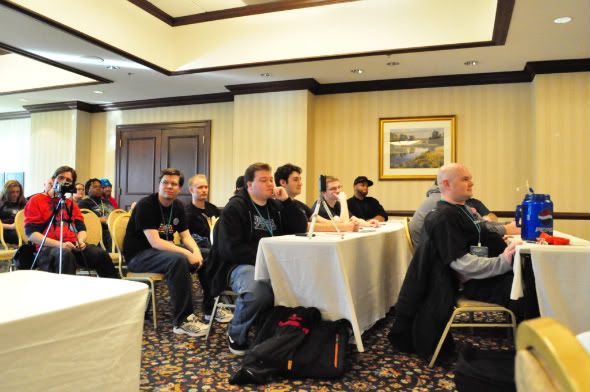 The Iron Chef panel was certainly epic. It was the best smelling room for the afternoon while Team DICKS filled our noses with their Fap worthy dishes. I take a couple of shots of the beginning, full coverage of the rock, paper, scissors game, and the unruly crowd as many peered in to taste to quickly get denied for what would be the tastiest panel of the weekend. Panelists included Mr. Magfest (Brendan Becker), John St. John, Hiroki Kikuta, and one of the head chef's that were providing the food for the Magfest staff that weekend. Half way into the panel I hit up Sensian and Hey Ricochet, my baller roommates for the weekend to introduce myself and to get my key for the room we were sharing.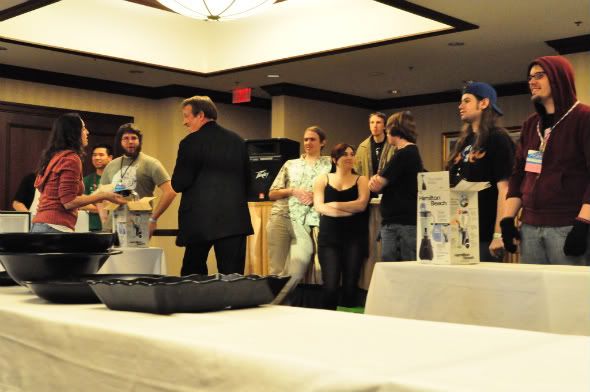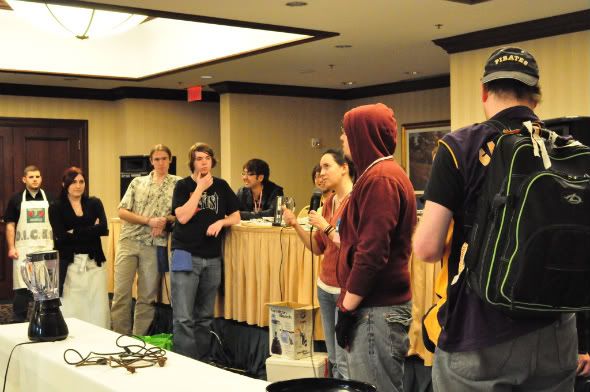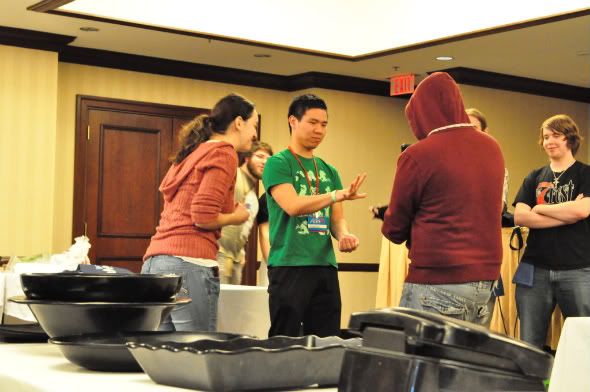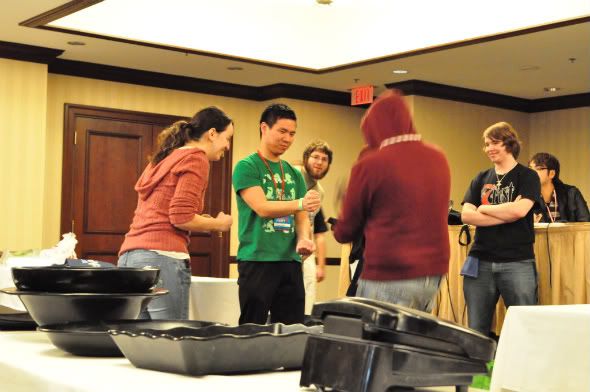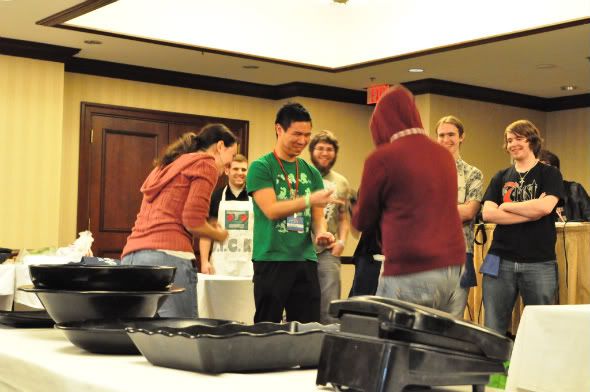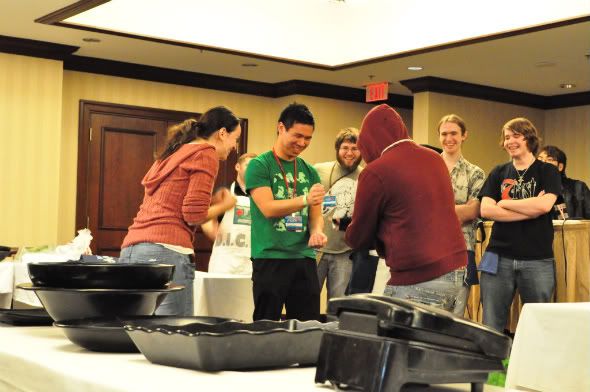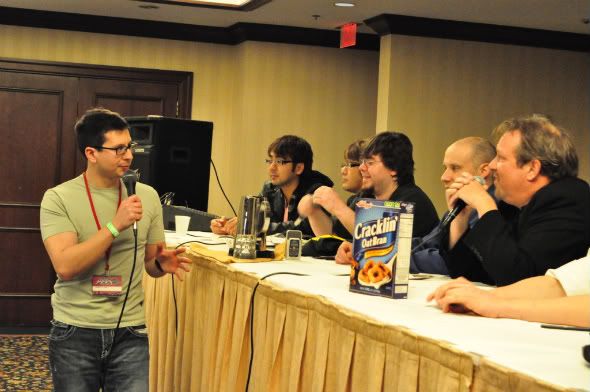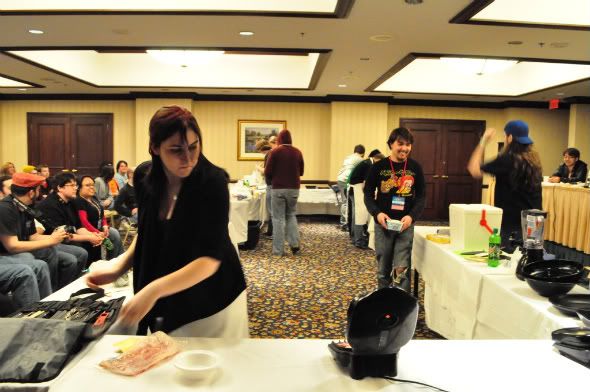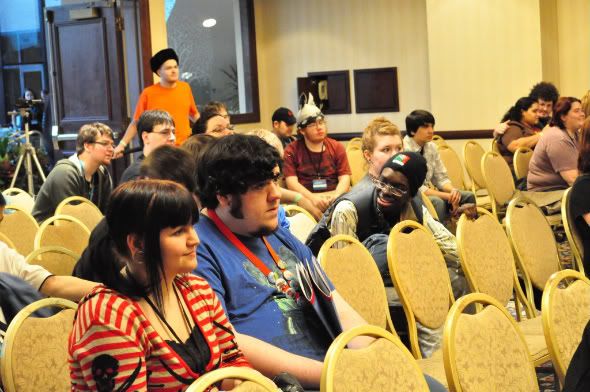 This guy smelled bacon and wanted to know if the food being prepared was for anyone. His upside down frown turned to a regular frown when he was told that it was for the panelists only.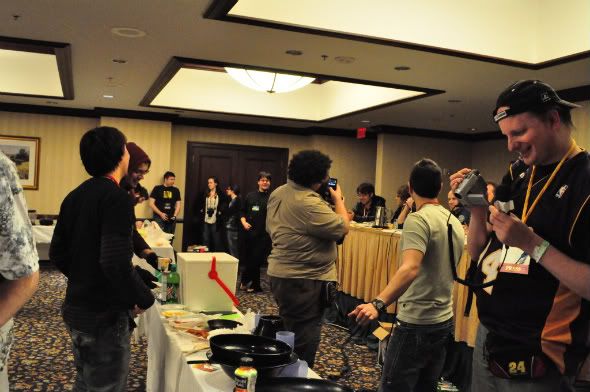 They introduced an additional ingredient, Vodka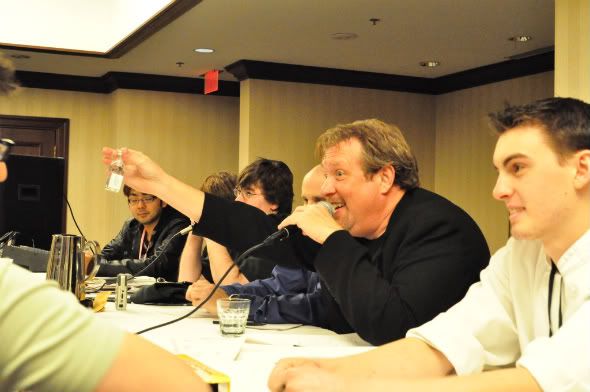 When the panel finishes I meet an artist who made a paper TF2 spy. It wouldn't be the last time I see a piece of art on the walls.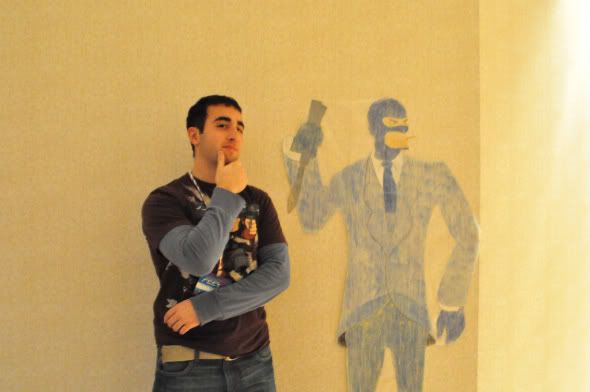 I get back to my room greeted by many D-toiders who were playing Super Street Fighter 4, Windjammers, & Jackie Chan's Fists of Fire on a projector. I see some familiar faces from PAX East 2010 like Tino and Agent Moo while being star strucked by an all star cast of Destructoid members. It was like seeing Damn Yankees concert. I upload everything I shot for the day and prepare for what would be an amazing weekend of concerts.
I set up for most of the weekend up-front stage right next to a speaker for safety purposes. My stool would guarantee awesome elevation, but would have to balance myself in such a small space while other concert go-ers would be rocking out, getting drunk, dancing, throwing beach balls, etc. The first act were the X-Hunters, the first of three VGM cover bands of the evening. Everyone I saw that evening was completely new to me so I didn't know what to expect. Here is what I sawd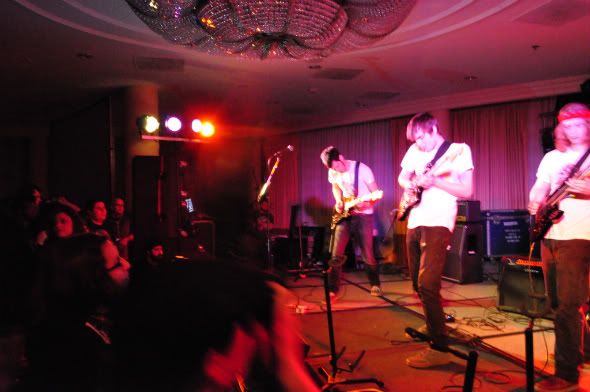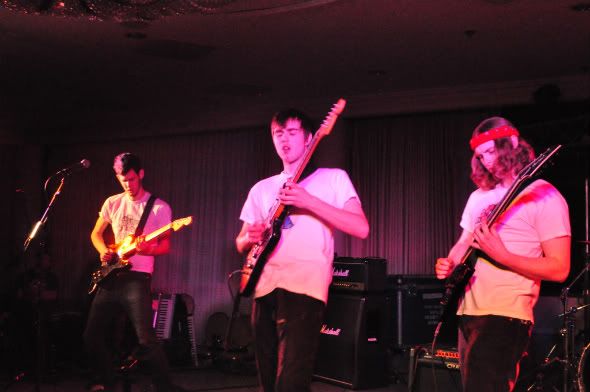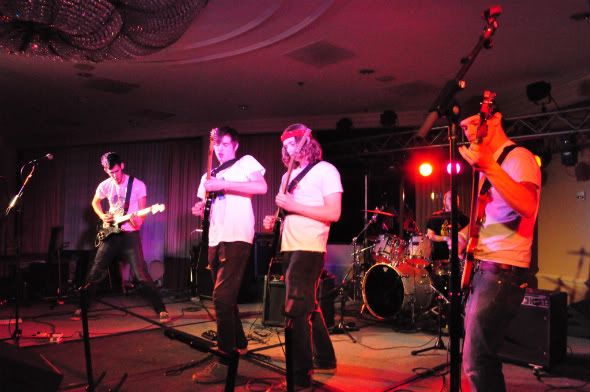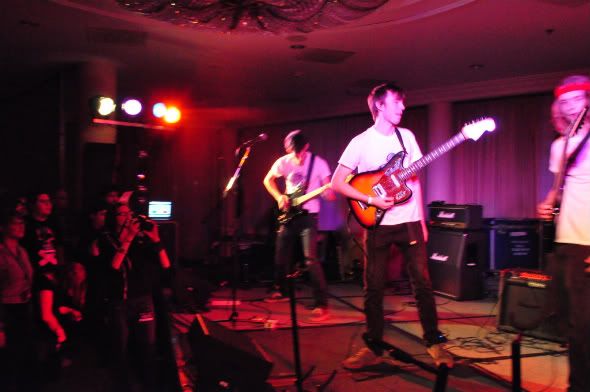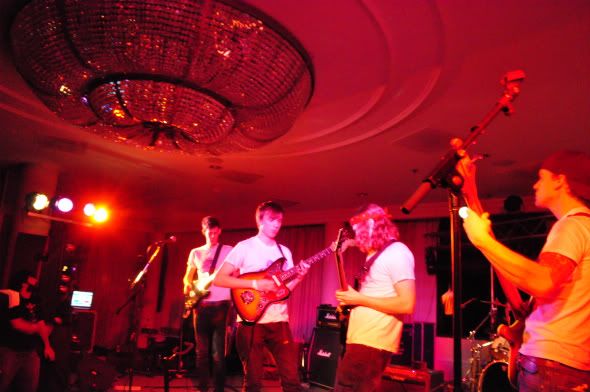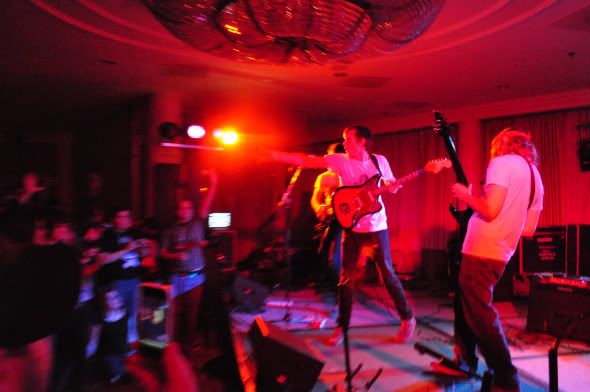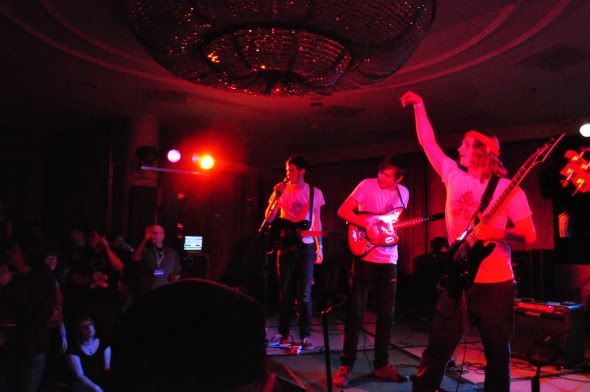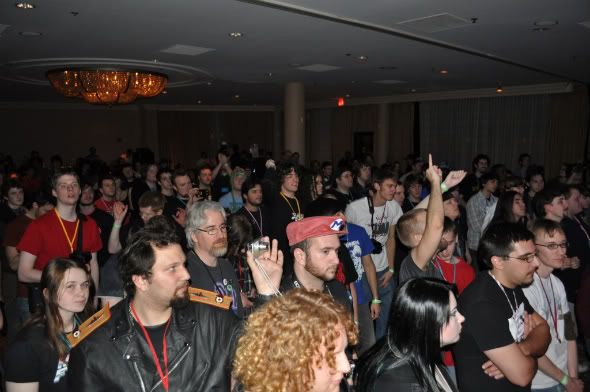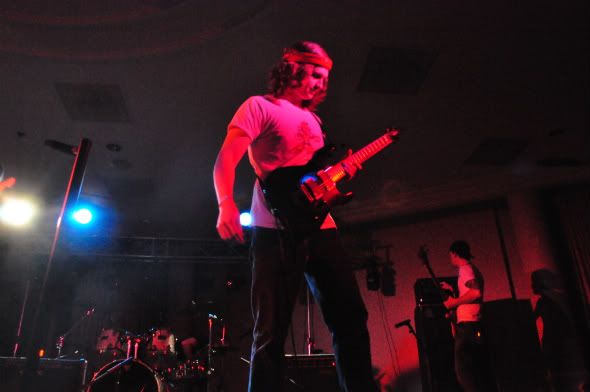 Video Provided by Sandrock0325
The next band up was my personal favorite for the evening, Rare Candy. There lead keyboards guy, Dominic Cerquetti did an amazing job keytaring up the place (he's wearing the team rocket shirt), with John "Pikachu" DeCampos who chanted the second phrase of the weekend (I want some pound cake) all show long. I get so caught up in digging there stuff that I fail at taking some great keytar solo shots.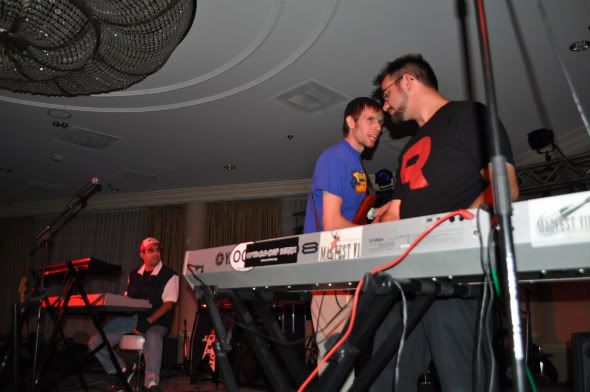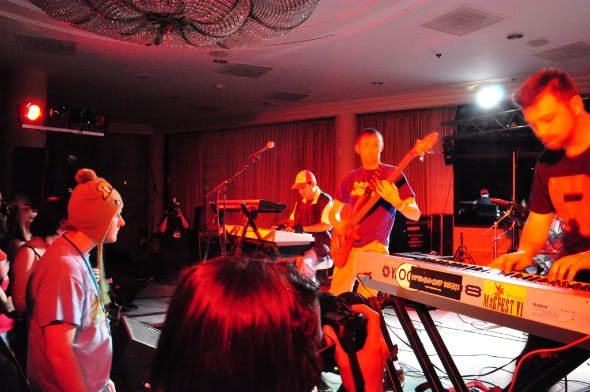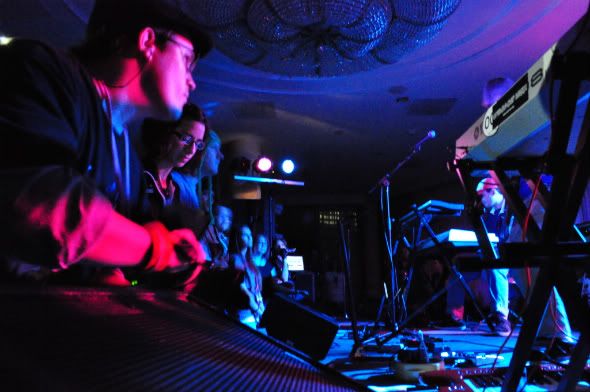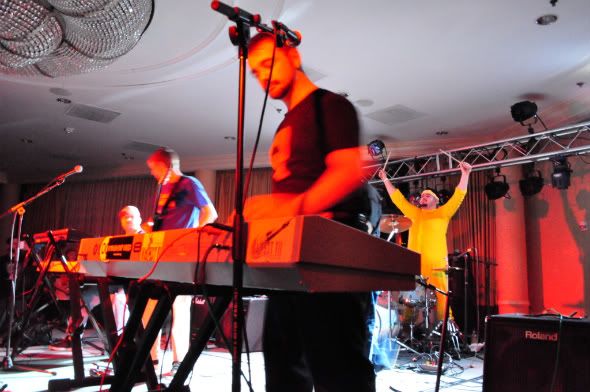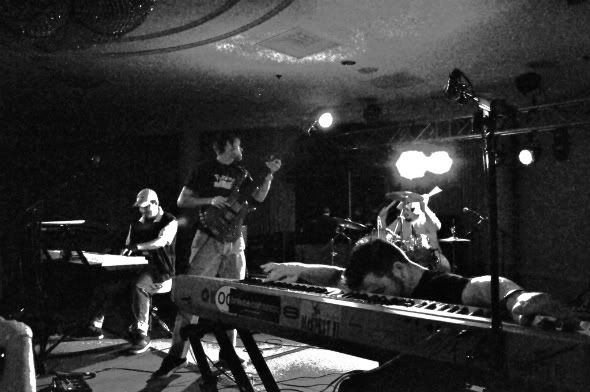 They started and ended strong, here are two videos from my favorite parts of their set playing Storm Eagle (Megaman X) and Castle Melody (Super Mario World 1&2) video by Onslaughttitude
After Rare Candy's set, I chat up with one of the Magfest staff members who was taking photos alongside myself and a number of other pros/enthusiasts. He lets me in on some of the perks for working on staff (room and food provided after working 1 year). BTW I am sorry for not detailing specifics like names so If you see yourself in this photo blog without any mention please kick me. I'm bad with remembering names took notes that weekend, but lost my notepad along with some other stuff that I'll mention later.
The last band of the evening was Bit-Brigade, another amazing VGM cover band that setup someone to speed run Ninja Gaiden while they were playing. My favorite part of there set had to be when they had a problem with the Nintendo controller set up. I guess it had to have been a stuck direction to the D-pad which forced the speed run to take a pause. However, the band was able to riff from said mistake by extending that section and naturally creating tension with one of my favorite songs in Ninja Gaiden. I'll post those videos at the bottom of their photo set.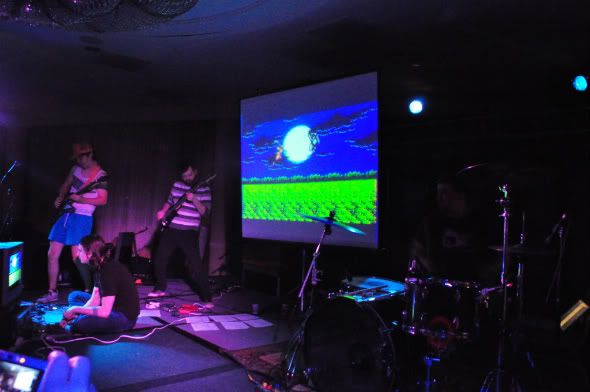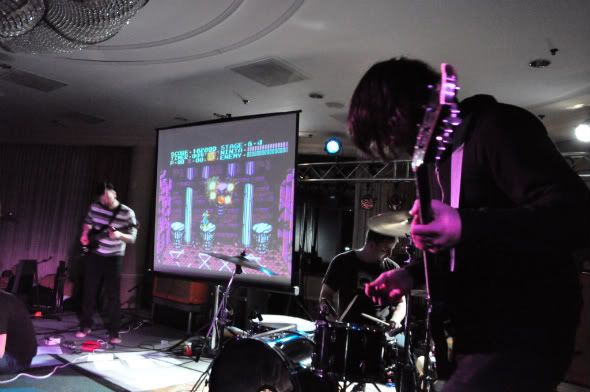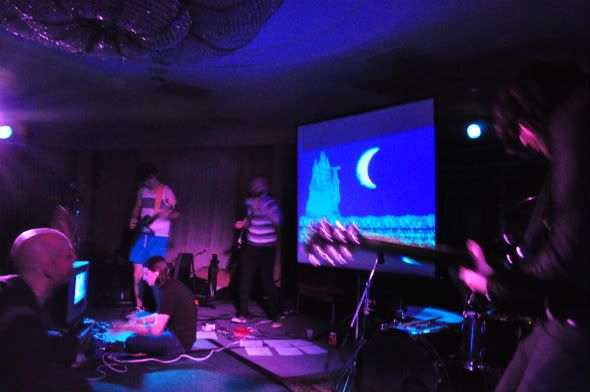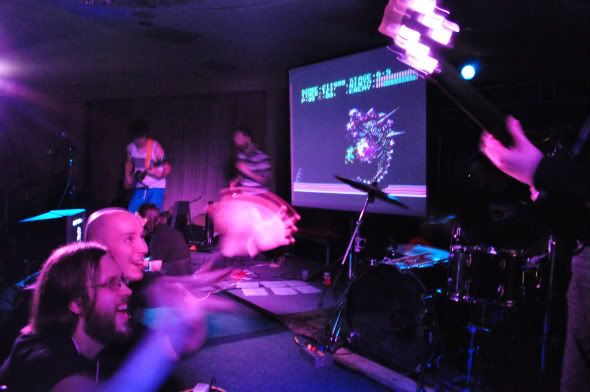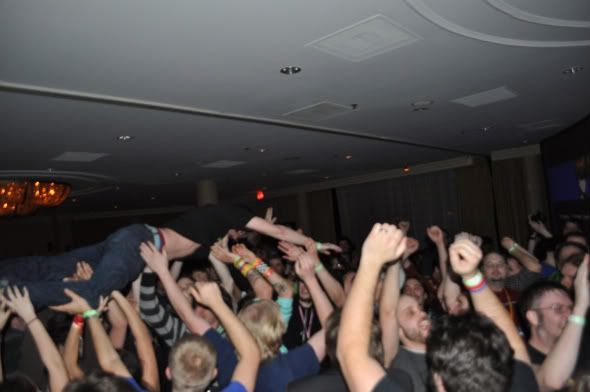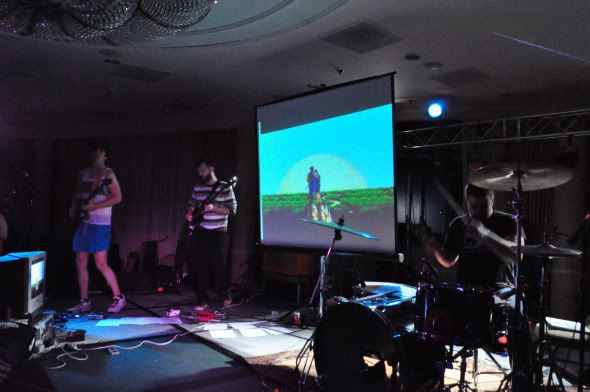 video by 8bitX
- 7:05
After Thursday night's concert, I head over to try and play some pinball but end up playing smash brothers with an interesting bunch. I sit down to an empty T.V. and without a minute passing by I was able to rally two young gamers who had to have been younger than 16 who really wanted to play brawl. The next challenger may have been the closest thing to a Juggalo so naturally I thought, "This is going to be the best game of smash brothers I will ever play". Now i'm no greenhorn in smash brothers. I've played my fair share of the game since it's N64 days so for me it's always a treat playing new people. After sitting down for an hour with these gentlemen, I came to these conclusion's
1- Juggalos perfer playing with Princess Peach
2-They will only play the Temple stage
3-They are opportunistic cowards.
My problem with said juggy was the fact that he was being a video game bully. I've seen a couple in my life, but he was really picking on these two kids until it would be myself playing against him for fifteen minutes in a twenty minute match. I play as Donkey Kong and I guess he saw some poetry in the fact that the fight was warranted. I walk around after getting schooled by a Juggalo in Smash Brothers just to see what was on the floor. It would be hard to list what was available so i'll just say they had everything, basically. One game in particular that I really wanted to try out was Taiko Drum Master after overhearing the song "Tank" from the Cowboy Bebop OST. The machine had quite a line of people playing so I spectated all over the place before I passed out for the night.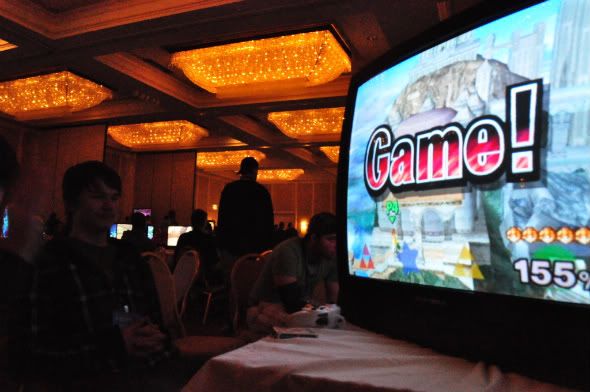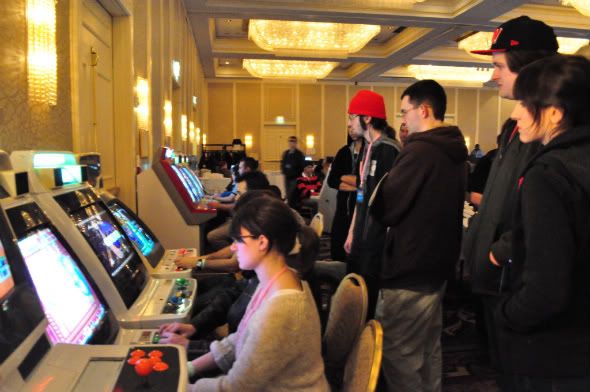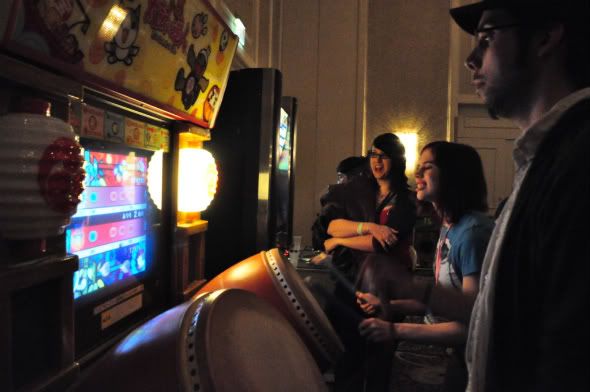 I wake up at 8AM to check out the Theater room. I wanted to see who would show up to watch HAWP in the morning before there panel started. I got there to see a pact room of people sleeping in rows of chairs and two staff people setting up the room for the day. I basically watched all of season one and parts of season 2. In that time I notice the room had gotten much more attention. It really put a smile on my face to see that room filled up with fans and sleep enthusiasts. I don't have any friends back home who like HAWP or even know what Destructoid is so it was cool to see people who were already big fans and those who were sleeping who had woken up to it. It was interesting to see the sleepy crowd fall in love with the show, hearing there laughs getting louder and louder after each episode and digging what they see. I guess falcon punching a pregnant women will do that.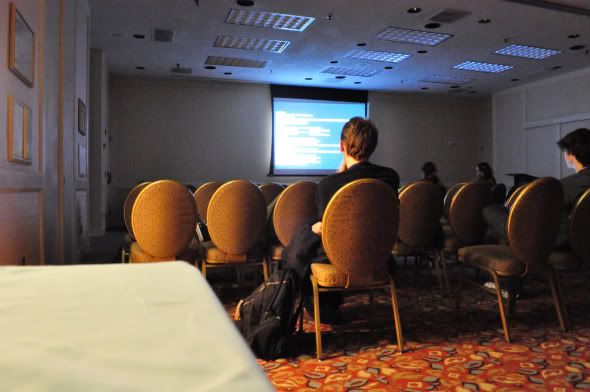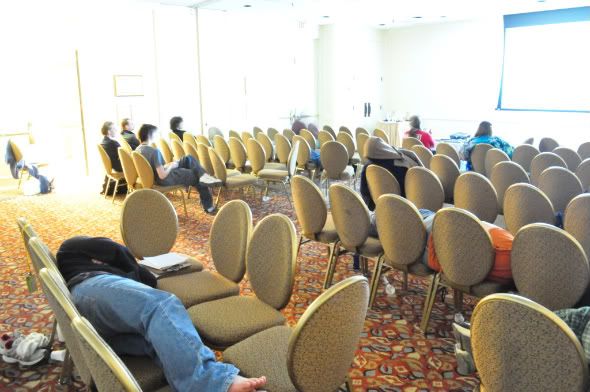 I don't need to really set this up. I took some video of the HAWP panel and took photo's of the rest. I would have taken video of the whole thing, but I only had one camera so I'm sorry for not getting everything. One thing in particular was a surprise visit from The Journalism Show's Topher Cantler who briefly hung out to say hello and eat cookies with Anthony & Ash Burch, Ashley Davis, and special guest Danny Baranowsky (composed the music for Super Meat Boy, Canabalt, HAWP, and Once upon a Pixel) I had brought a gift for the Burch family, an autographed copy of Patton Oswalts new book, "Zombie, Spaceship, Wasteland". My reasons for doing so were because I had been getting into lots of stand-up/sketch/improv comedy around the same time I had started listening to HAWP. It was an amazing time in my life and I remember specifically getting into HAWP around the same time I heard Patton Oswalts comedy album, "Feeling kinda Patton" so I thought it would be appropriate and that they would enjoy it.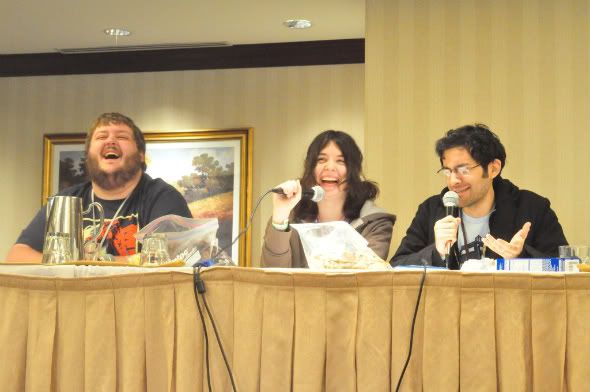 The girl in the green shirt/red scarf wanted to get t-bagged by Papa Burch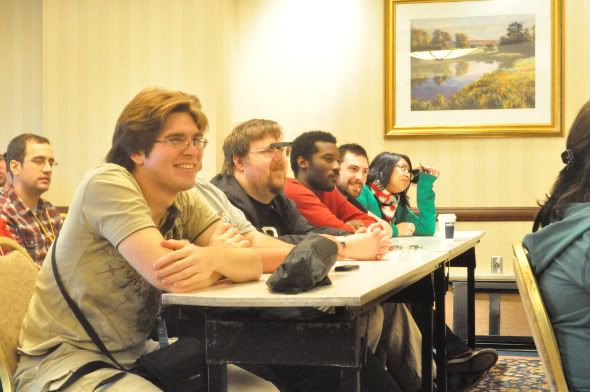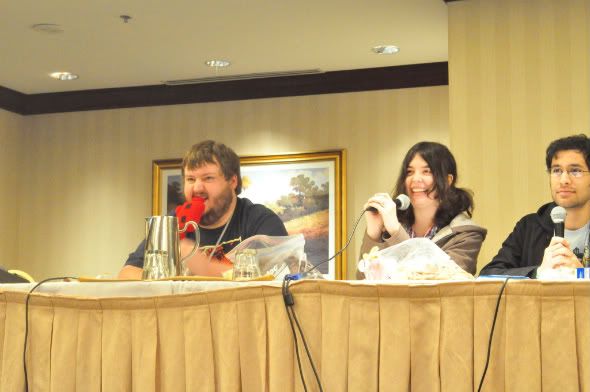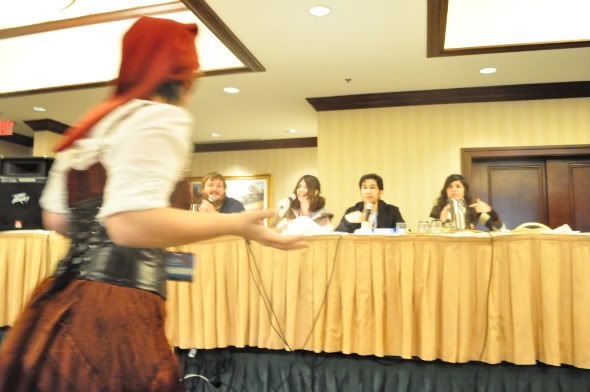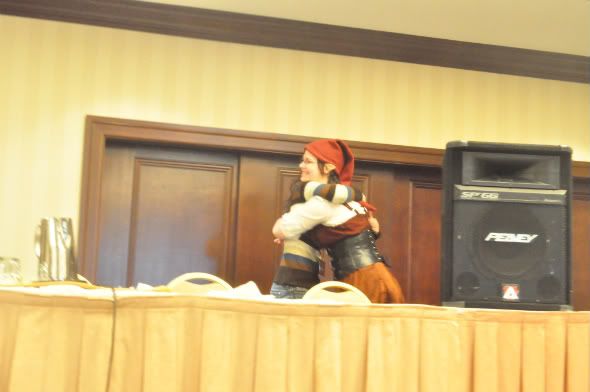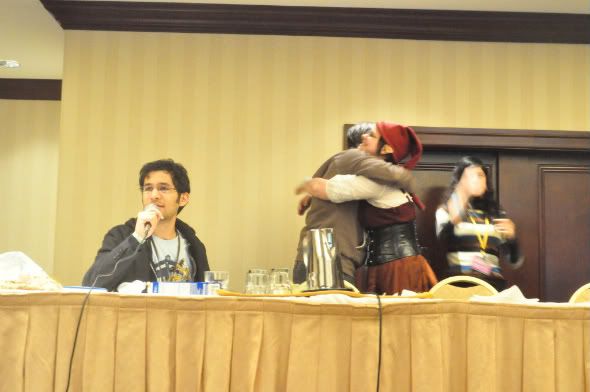 At the end of the panel I head for my room to get hit by a crowd of fans waiting to see Anthony, Ashx2, and Danny. On my way out I see the lovely Adam Dork with the world famous case from Operation Nugget. I should of asked to smell it, but uhh yeah..... I quickly say hello and get so nervous that I forget his name right off the bat. It takes me a minute to remember things and we part ways. He's a nice guy who I meet up with later in the weekend on two different occasions.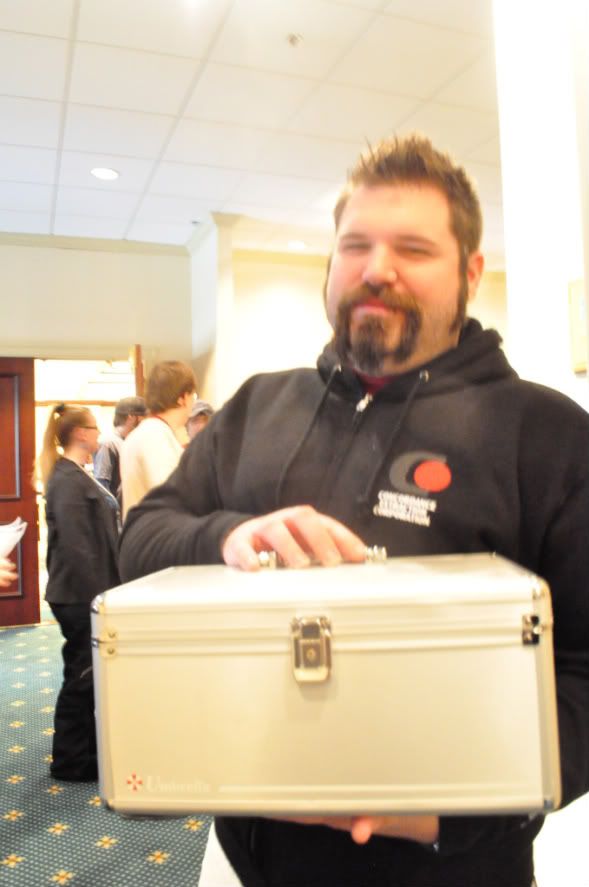 When I get to my room, I hurry to upload everything I took to catch the Hiroki Kikuta concert. Lets watch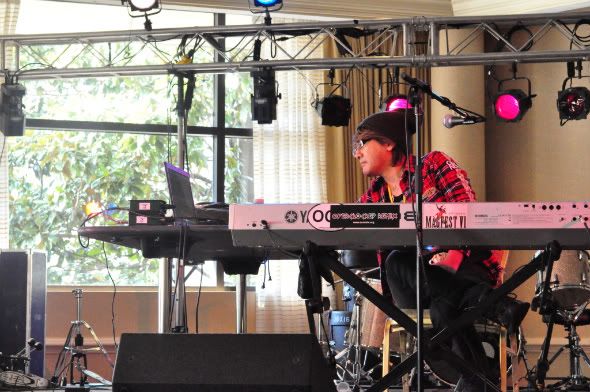 I step out a half hour early to get a seat for the John St. John panel. When I get there I get treated to see the other half of a pokemon panel hosted by artist/jack of all trades Dave Lister. When I get there they were three people pokerapping to win prizes. There was various type of pokemon tomfoolery including pokemon dodgeball, pokemon charades, pokemon name that tune, and so on. I also meet the lady elf who received a massive huggin from the HAWP panel that afternoon. She won some pretty neat figures. Lets go to the tape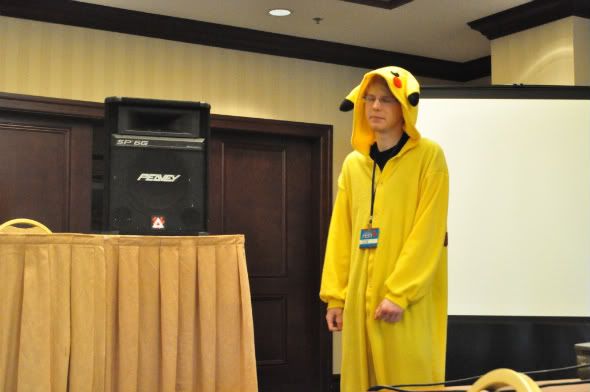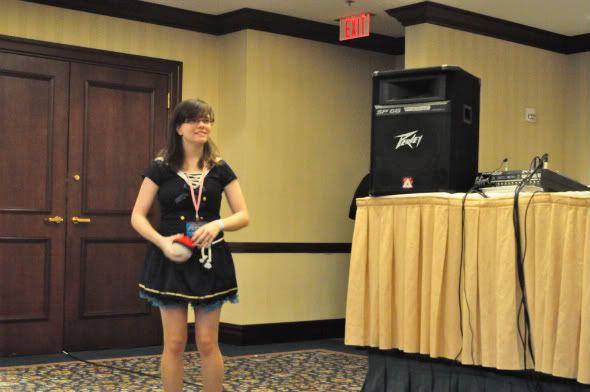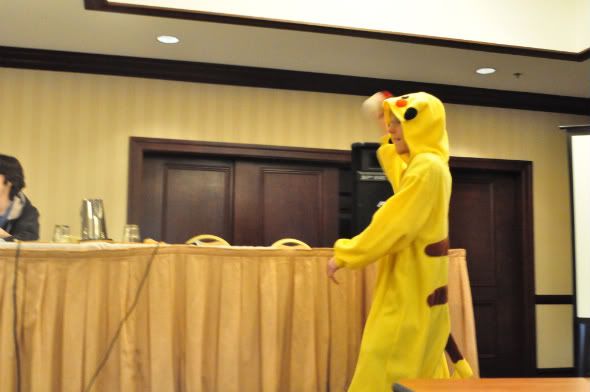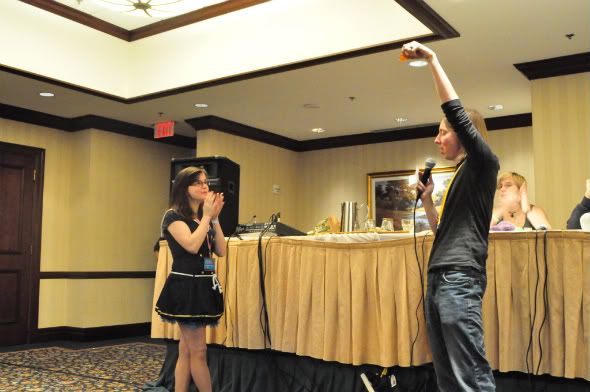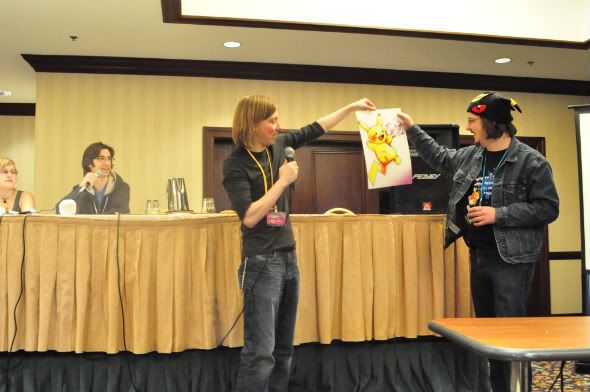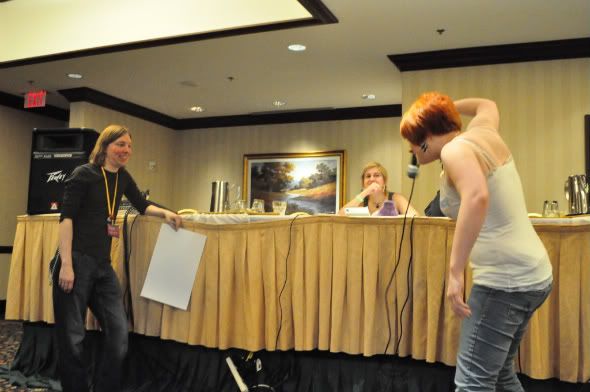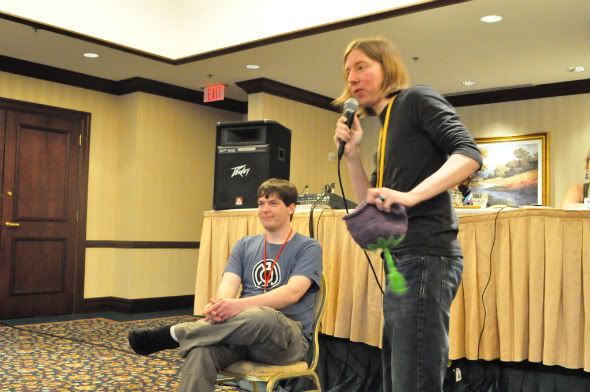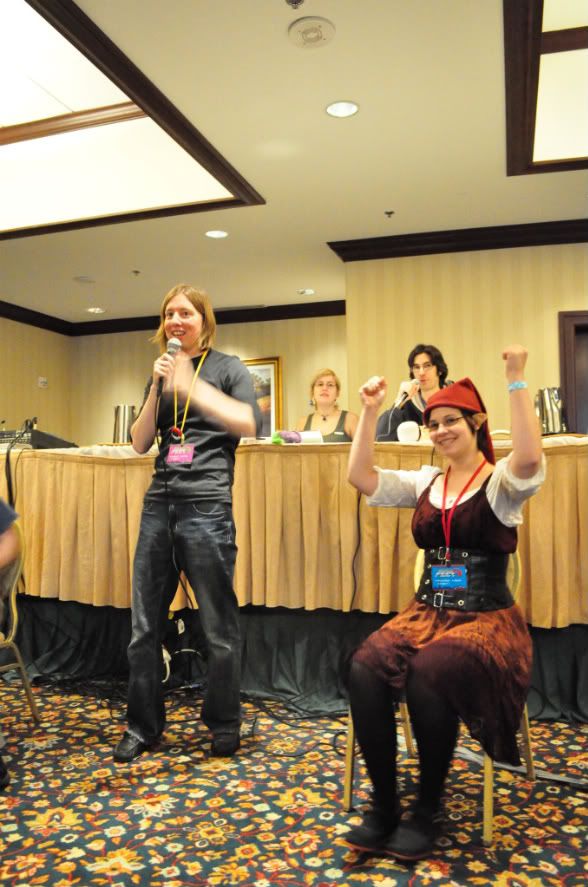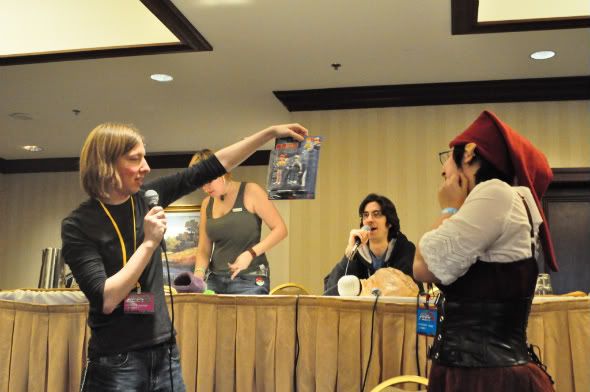 NEXT, the John St. John panel. His voice acting career is quite interesting, so getting to hear Big the Cat in person was truly an honor. Enclosed is video of the panel by magfest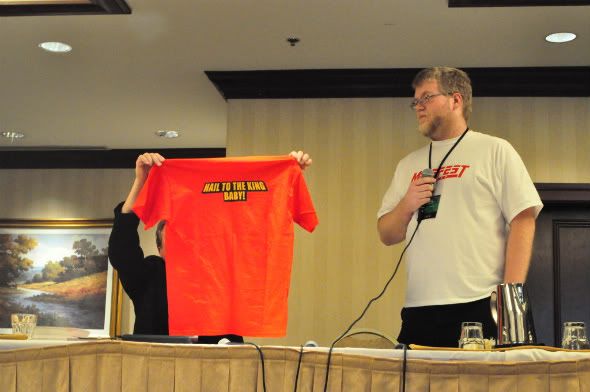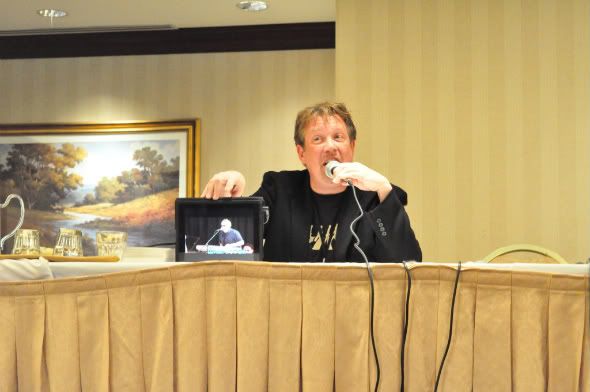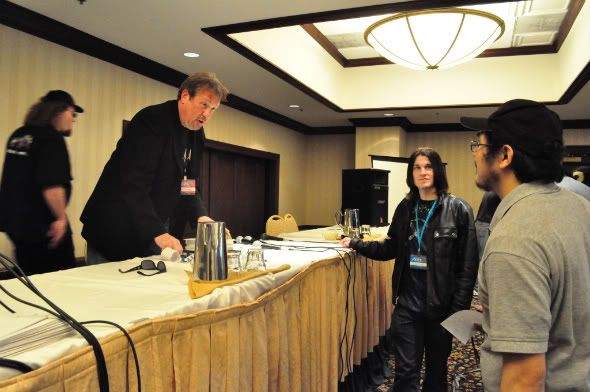 The second piece of art on the same wall from before. This time your looking at a T-Rex in a Macross jet (I'm sure there is a better answer than this, but I really enjoy the idea of a T-Rex getting his little hands on a Macross mech)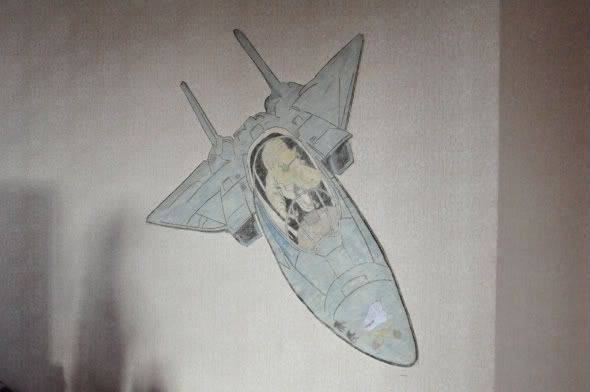 I walk around the convention a bits, checking out if there is still some cool merch to get. I was able to snag myself a $10 piece of Magfest money that I won for asking an interesting question to Mr. Johns. I asked him if he ever did voice work for a condom company, and he was able riff off that for some big laughs. I ended up spending it on two cell phone charms, a green Legend of Zelda fairy and a jug of Lon Lon Milk. I kept the Lon Lon milk and put it on my camera.
John St. John posing with his balls of steel.
Here we are at day two of concerts. First up we have Entertainment System. Two members that certainly stuck out were John deCampos (the drummer of Rare Candy) and Chris Baines (lead guitar of Rare Candy) Minds were blown, music was played, ears were popped, and some ok pictures were taken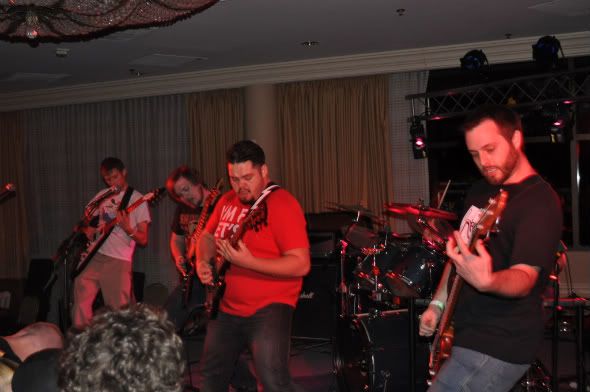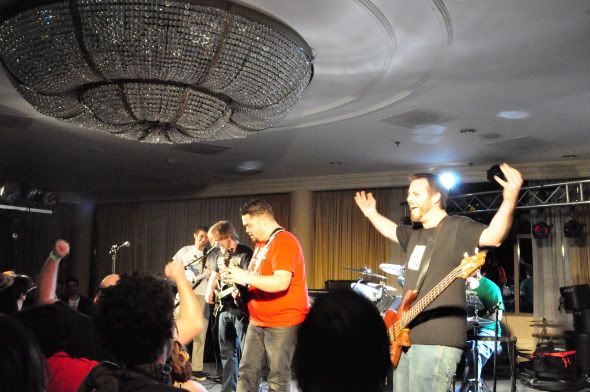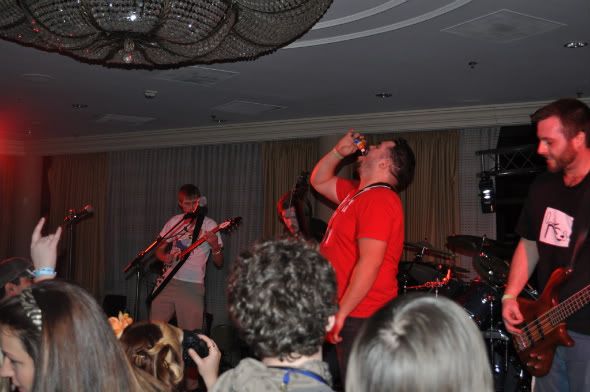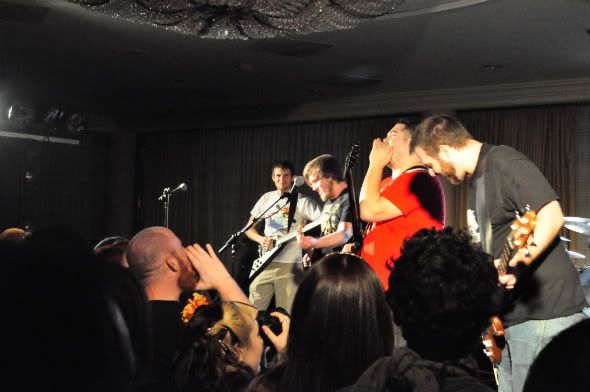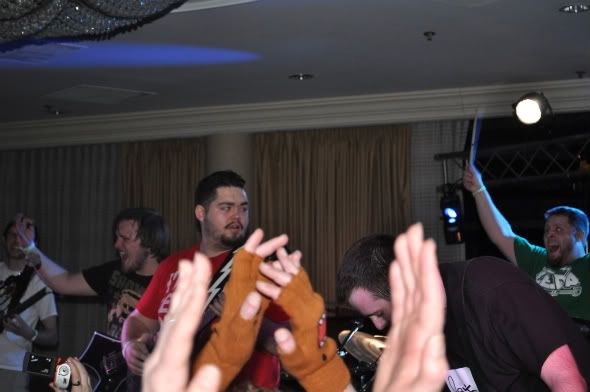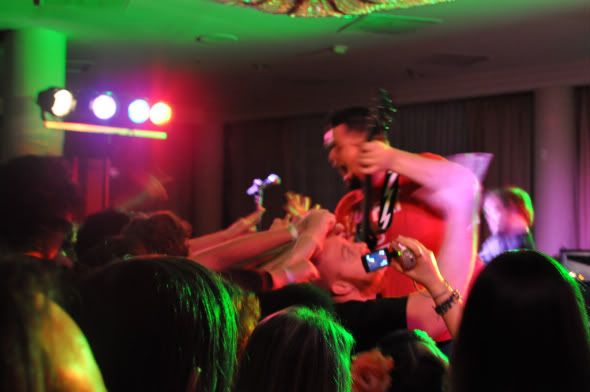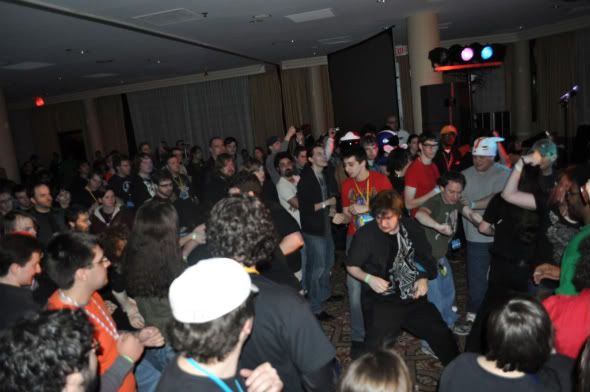 Video by Sandrock0325
Next up we have Arm Cannon. I try to not disappoint Brian by taking alright pictures and do my best to not get angry at drunk dudes who were totally grinding on my business by accident? Those photos have been omitted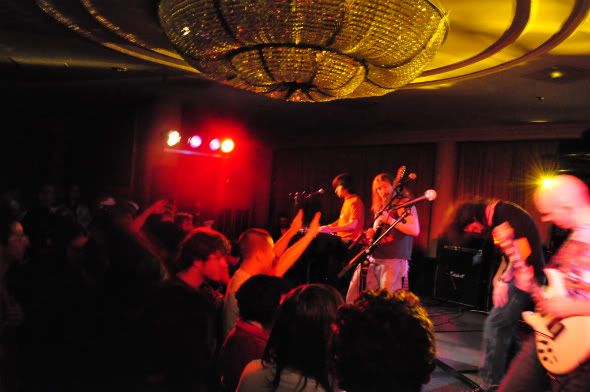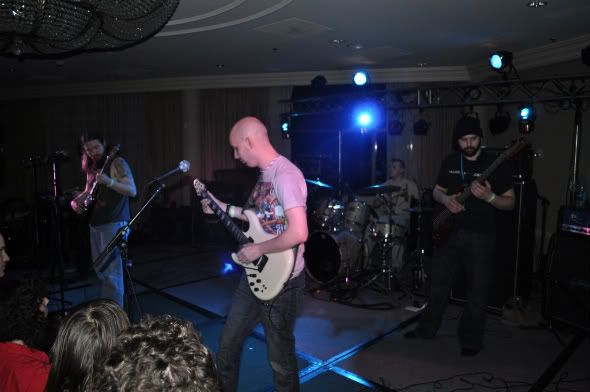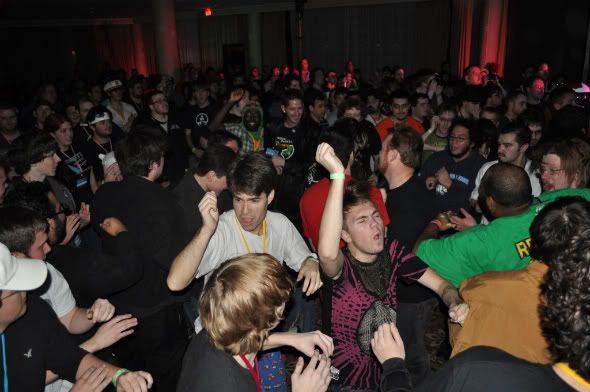 video by MrNailedtothefloor
Up next are the OneUps. They make amazing VGM while incorporating some great funk. I would call it baby making music for our generation.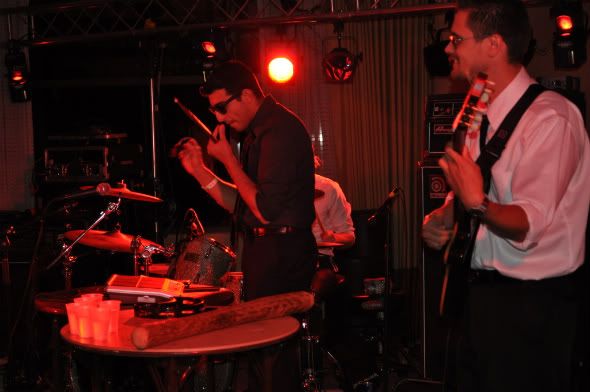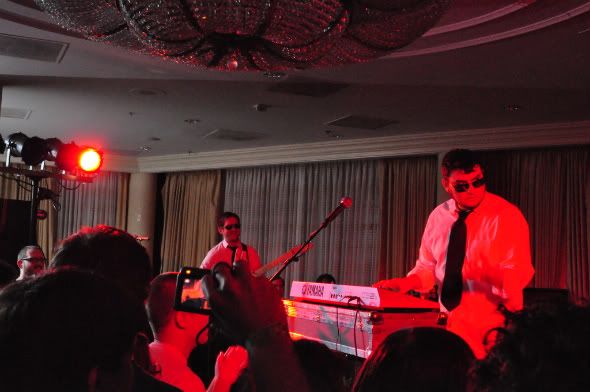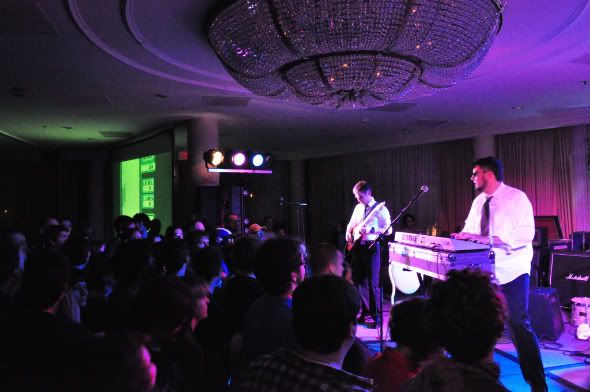 video by Dacvak
The Protomen were playing that weekend as well. This was part one of two sets they would play that weekend. There fan base kicked my ass and smothered me proper next to the right stage speaker. I try my best to not fall during this set and balance to the best of my abilities.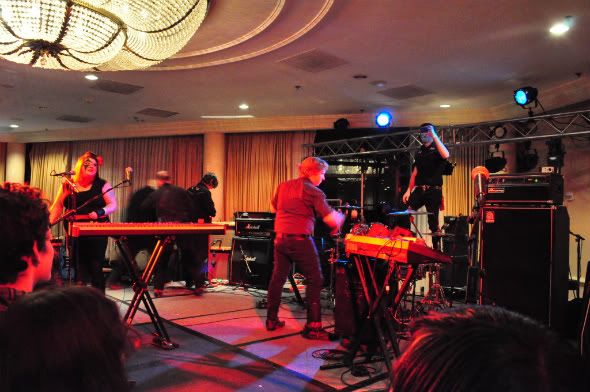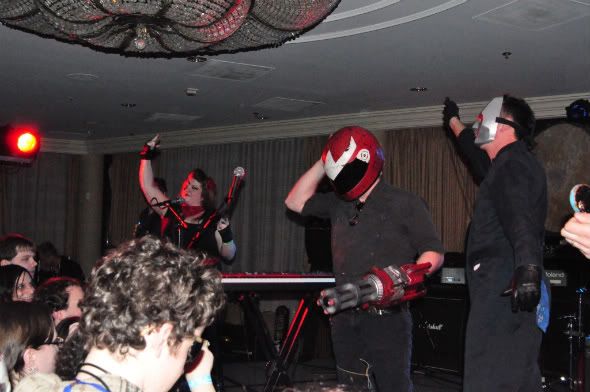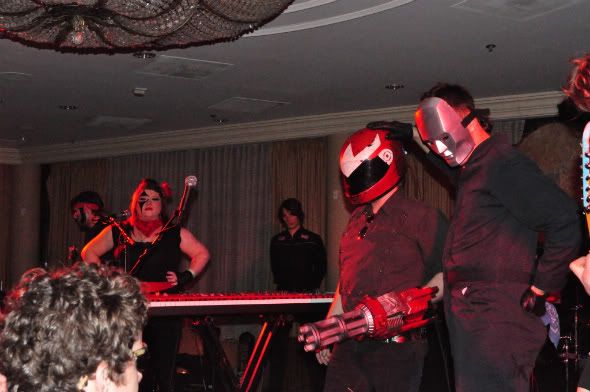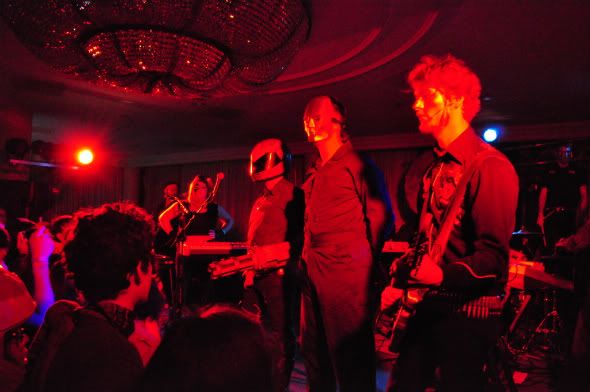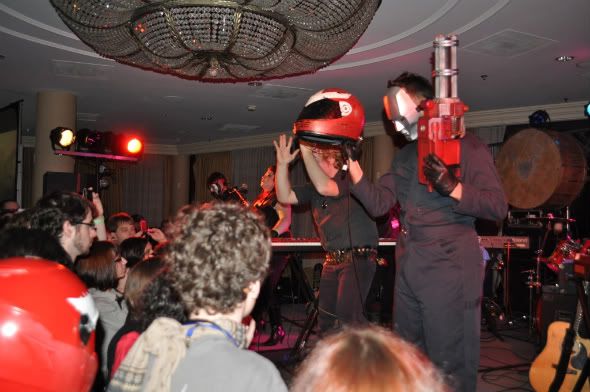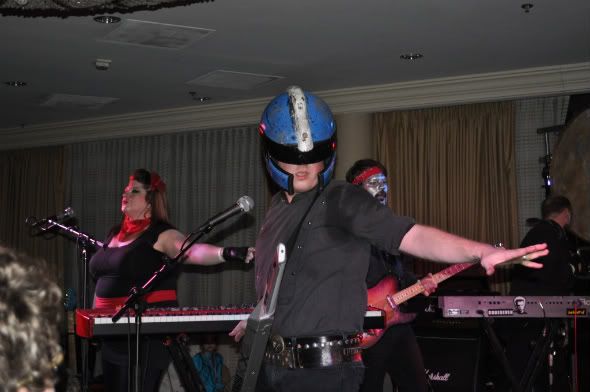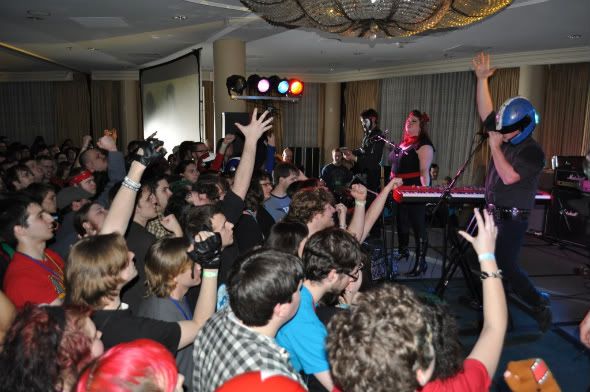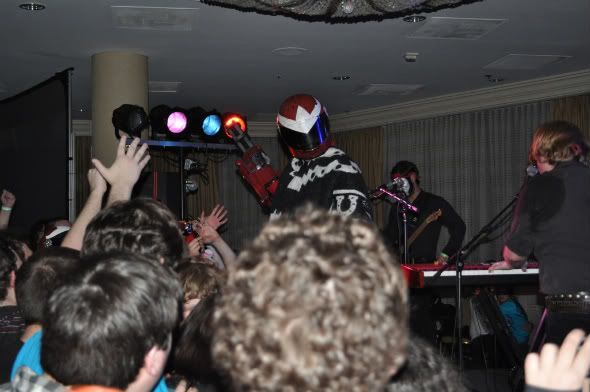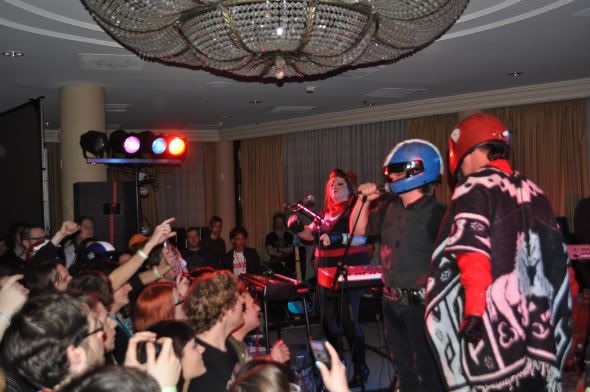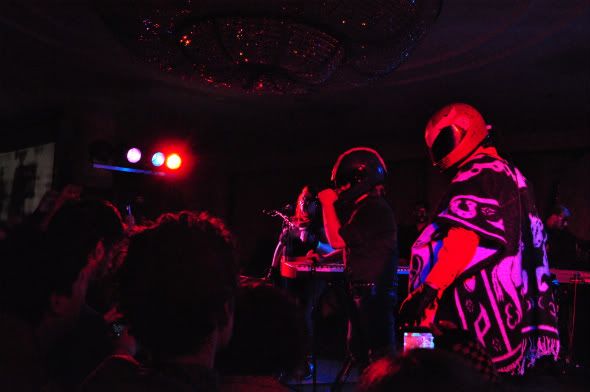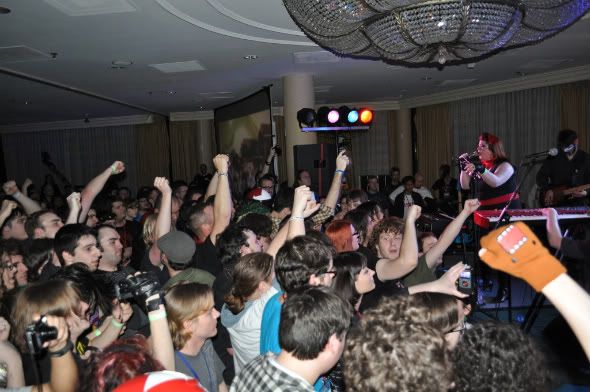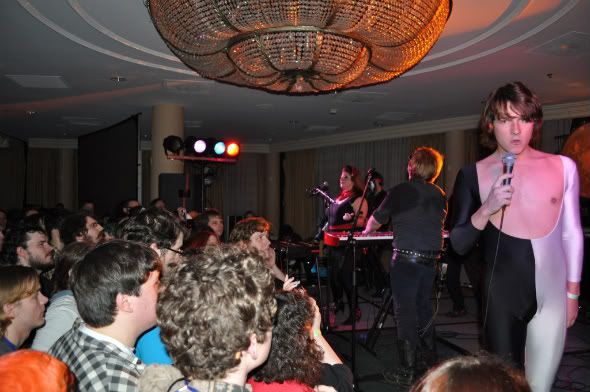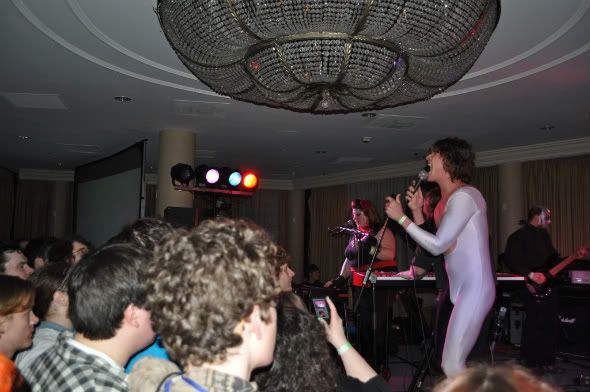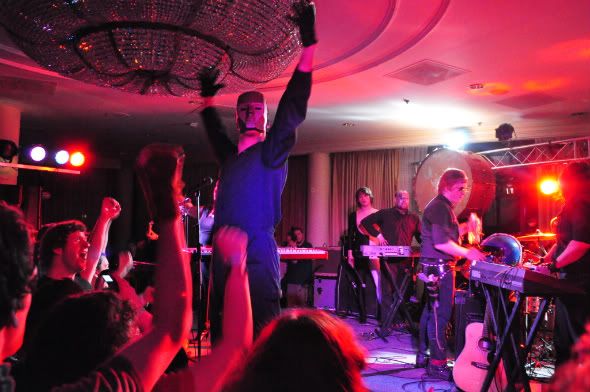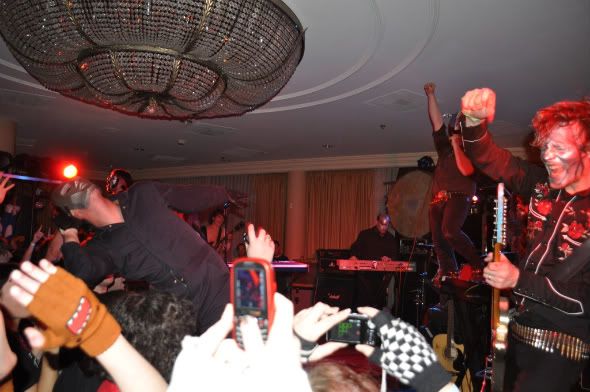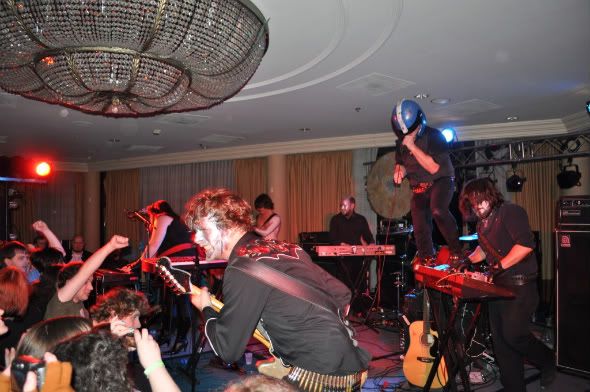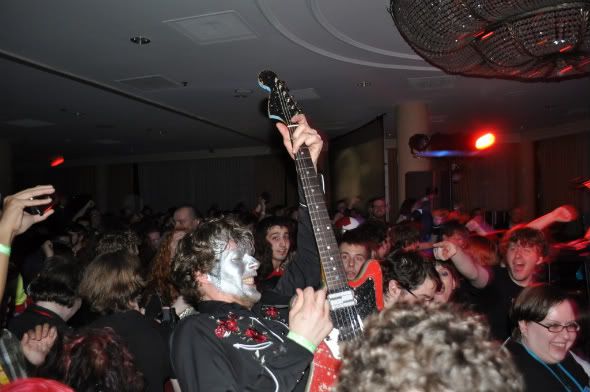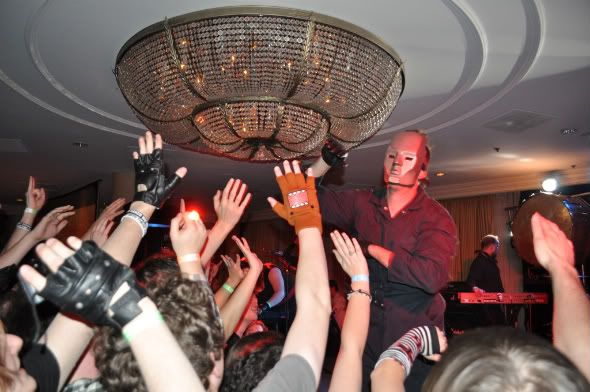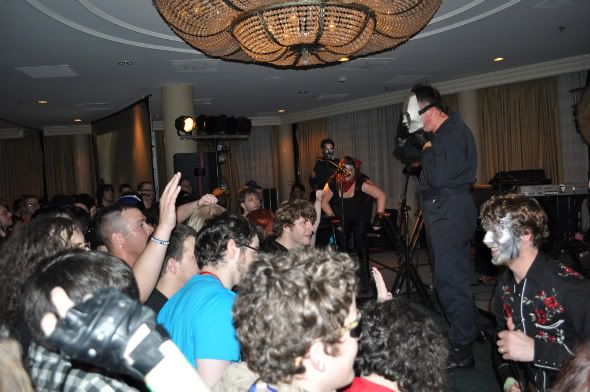 video by Onslaughttitude
Next up were The Minibosses. They were probably the first VGM cover band I've ever heard so it was going to be a real treat. They played a great straightforward arrangement that varied from their two great covers of Megaman & Contra songs to Batman tunes that i'm personally fond of. When they started playing Rygar I knew I was going to get some pushing and prodding in my direction. Lets just say someone punched my head and I sat down on my stool for the rest of the set. The person responsible knows who he is and was nice enough to get his girlfriend to apologize for his actions considering he was drunk off his gourd. Pictures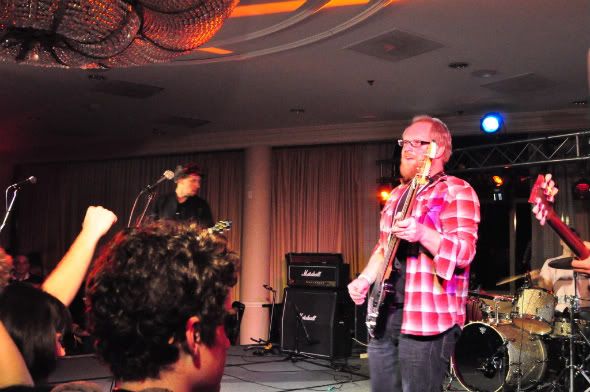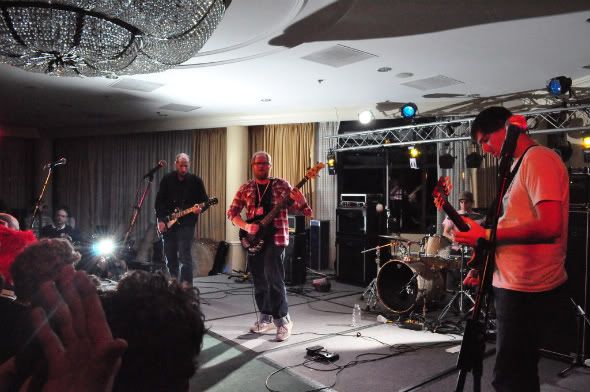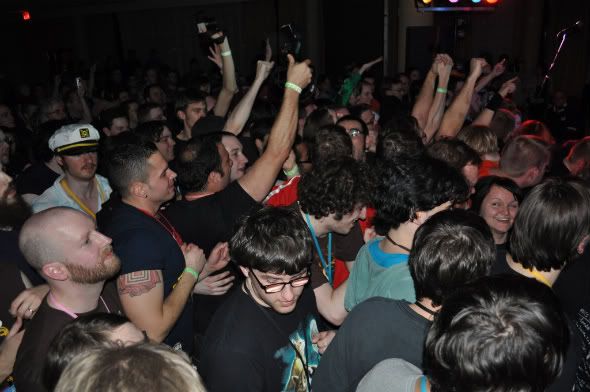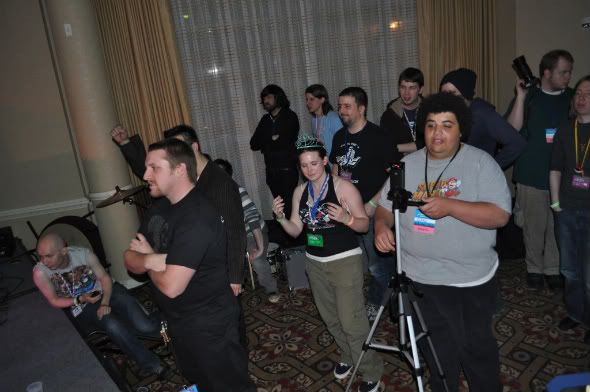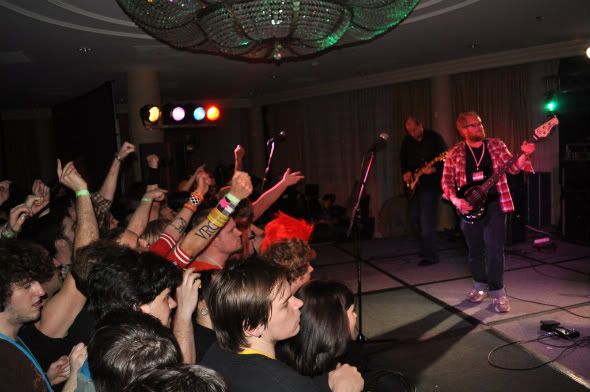 The last set of the night was Metroid Metal. I was very impressed with their set, starting off with an intro from tiny Samus Aran pictured below. They had also invited expert gamer "Nario" to join them on stage to play the original NES Metroid live. Best part about Nario's appearance was he had to play the game using a DDR pad. He did great for someone who had to play Metroid with a dance pad, considering he got to Norfair by the time they were finished. I take a seat half way through their set and enjoy the rest before heading back to my room for some shut-eye.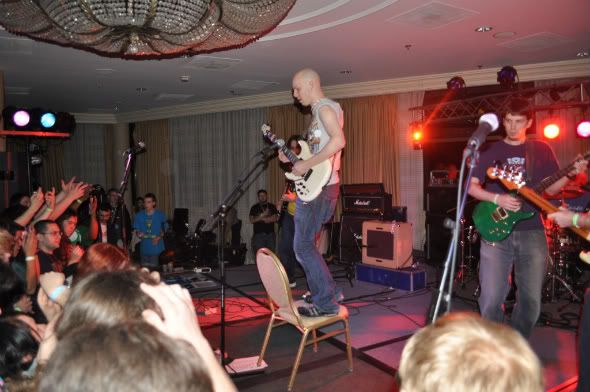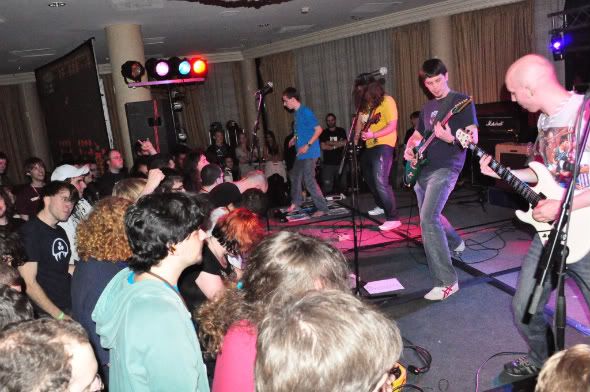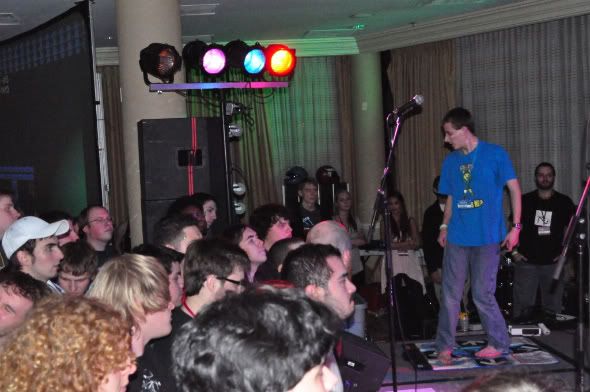 video by DJ17Nario
When I get back to my room I was greeted by another Destructoid gathering. I felt bad because my time at the concert prepared me for the smelliest mofo award for that weekend. I smelled horrendous so I went outside for most of the meetup to de-funk myself. Thank goodness for balcony's and cigarette's. I spend a good hour and a half collecting myself, getting some hearing back b/c of my amazing choice of being next to a speaker for all of that nights concert, and talking to some cool d-toiders and not so cool party crashers. I unfortunately took Friday night/Saturday morning to catch up on sleep. I end up missing Zen Albatrosses Chiptunes panel and the Destructoid group picture! I was kinda stoked to take it and felt like I let down my father after loosing a pee-wee game of football. I wake up in time to catch most of the Chiptune show missing two performer's, Inverse Phase (Mr. Magfest) and Note!
I get there in time to catch the beginning of Danimal Cannon's set (from Arm Cannon and Metroid Metal) All I can say is the man knows how to play guitar very well. It was great to see him incorporate his skills with his own chiptunes.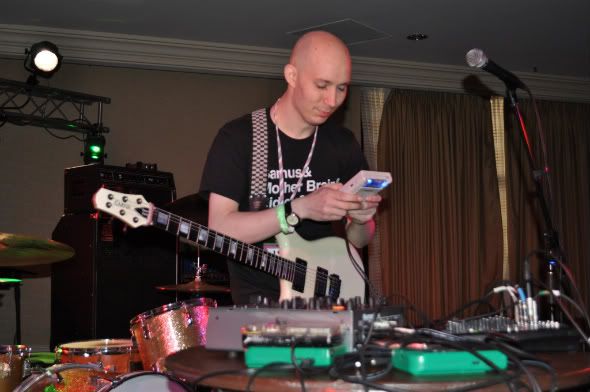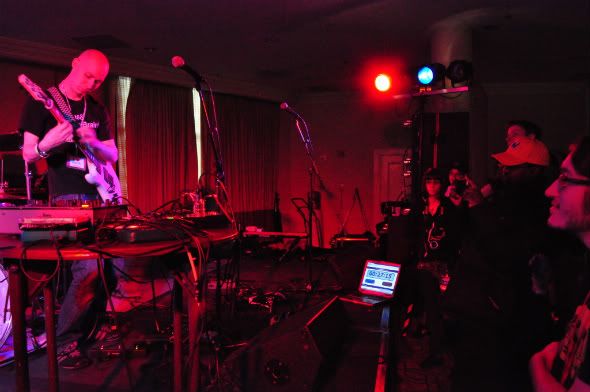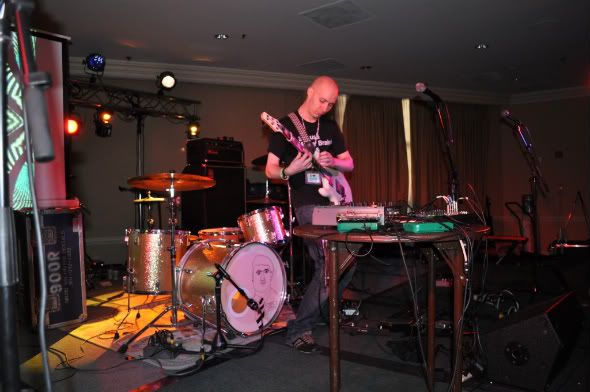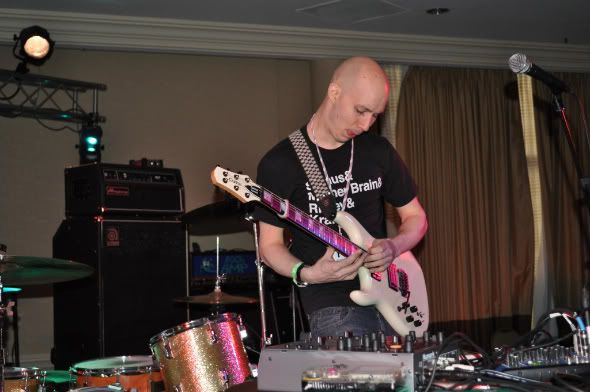 video by kozue255
Next up, we have Zen Albatross. A major player in the New York chiptune scene. Along with being the main promoter for the weekends chiptune show, he can also set the mood by romancing our ears and sleeping with the rest of our senses. While listening I realize my only sense that was in tact noticed Topher Cantler to my right digging Zen's set. It was like sitting next to Jack Nicholson at a Lakers game.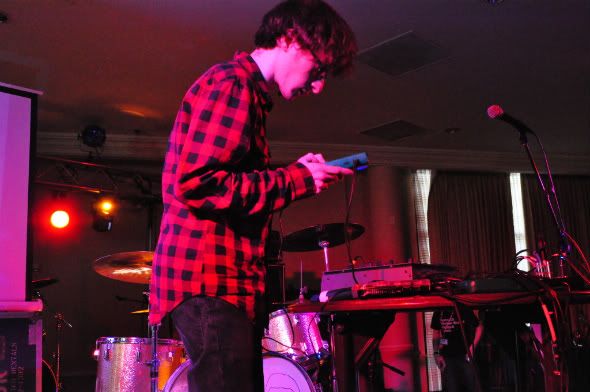 video by kozue255
The next performers, the Dark Warriors are musicians. They also play music. You'll probably here some of it if you've been checking out these Youtube links after each photo set I've done thus far.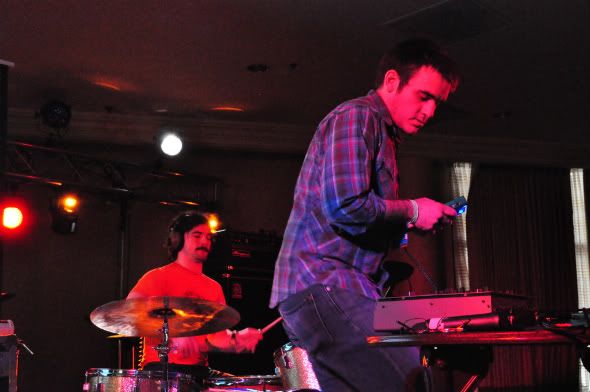 video by kozue255
The chiptunes did not stop getting better. Next up we have Noisewaves. The great thing about this particular set was that nobody had ever heard them perform. This was there first live show so we were all in for something. I'm glad that something kicked ass.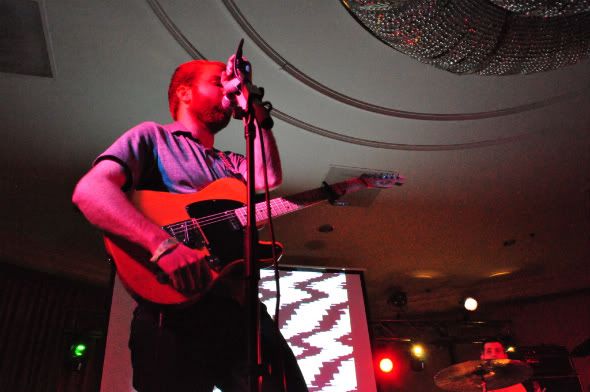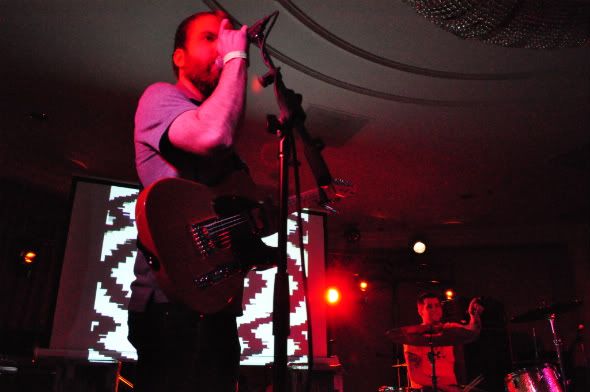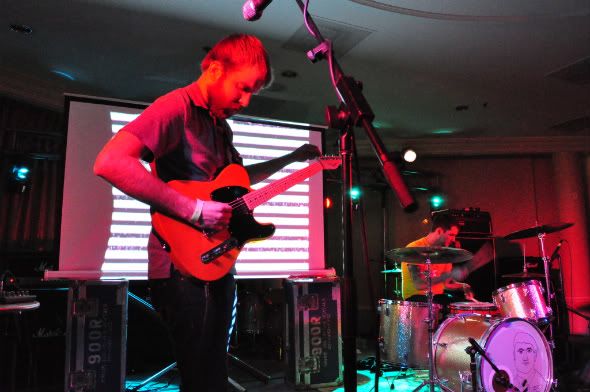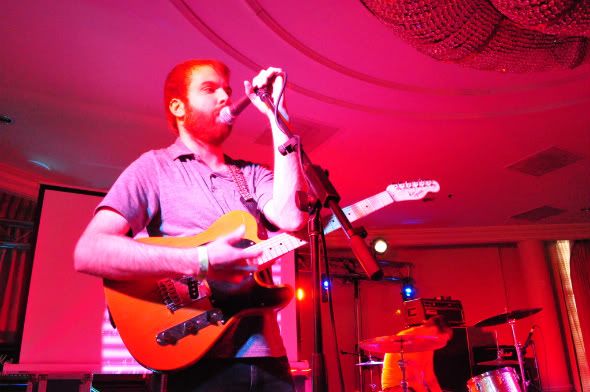 video by kozue255
Next up was my personal favorite set of the weekend. Local hero's George & Johnathan from New York had blown up that afternoon. My feelings were so confused after hearing Noisewave thinking this chiptune show couldn't get any better. They also premiere a new song, "Unicorns forever" that I recommend you guys and gals hear (you should really listen to all of their tunes from, "The Best Music" and "The Best Christmas" please)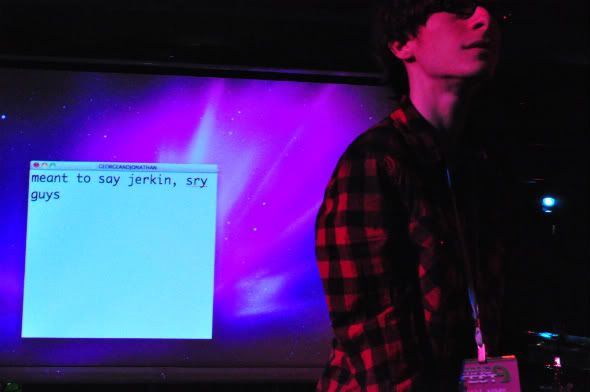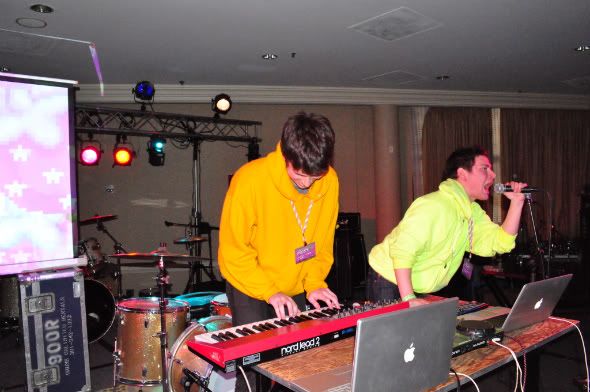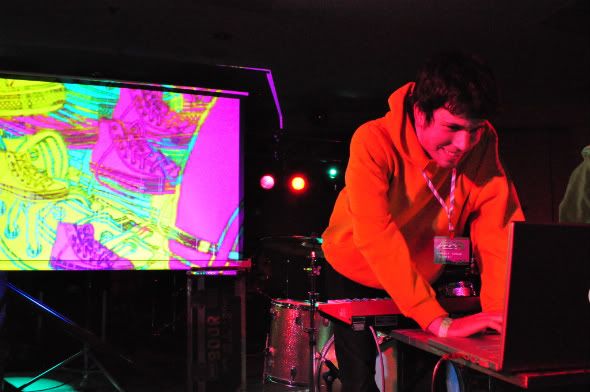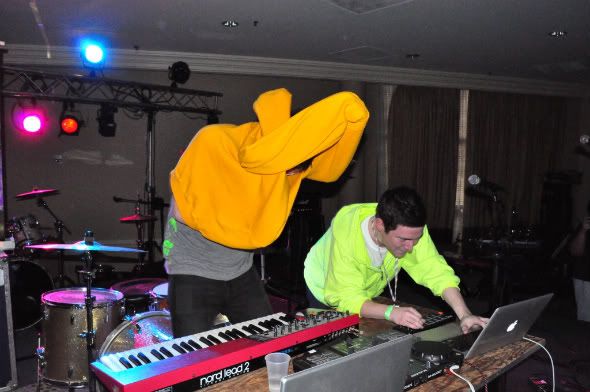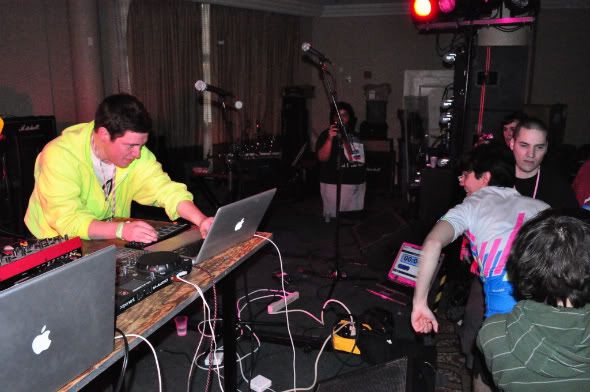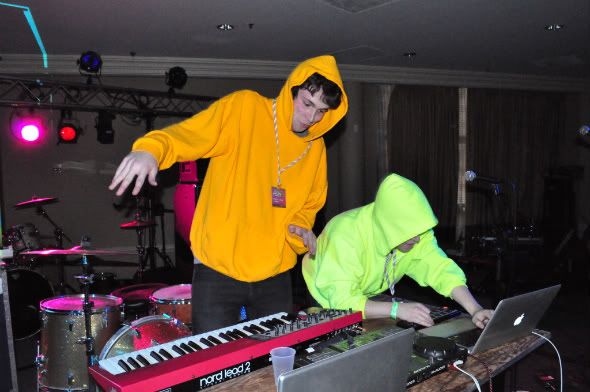 video by emma story
George & Jonathan: Unicorns Forever from Emma Story on Vimeo.
The last act, headliners Cheap Dinosaur certainly capped the afternoon on a great note. Look down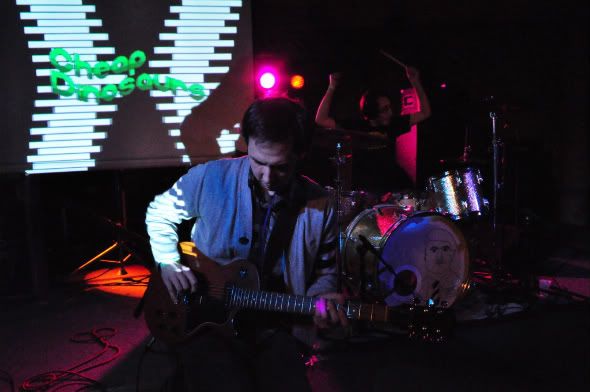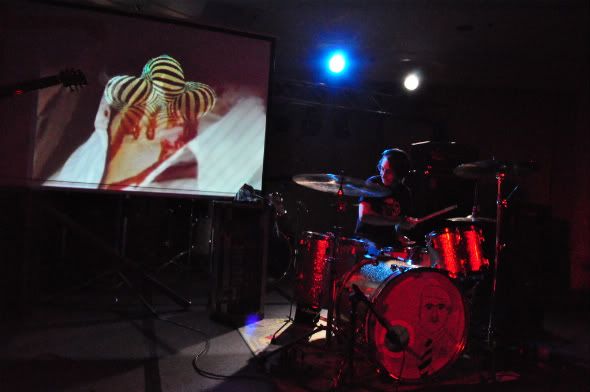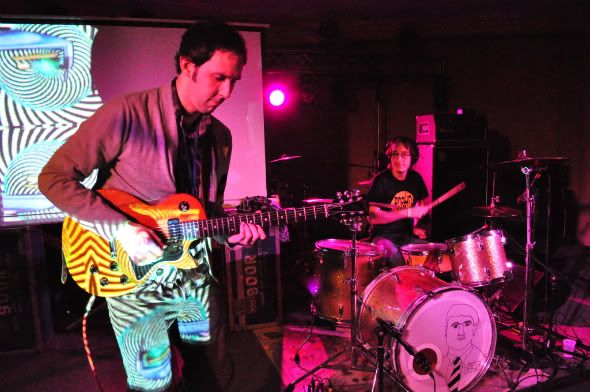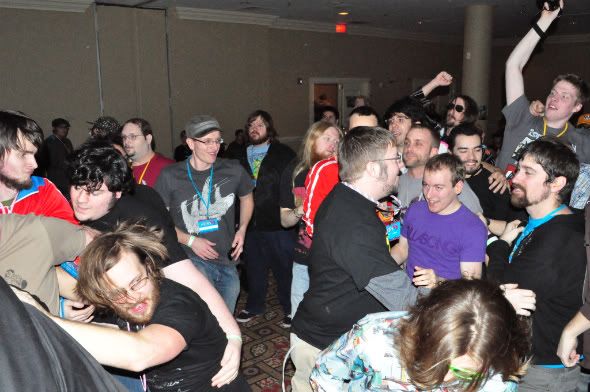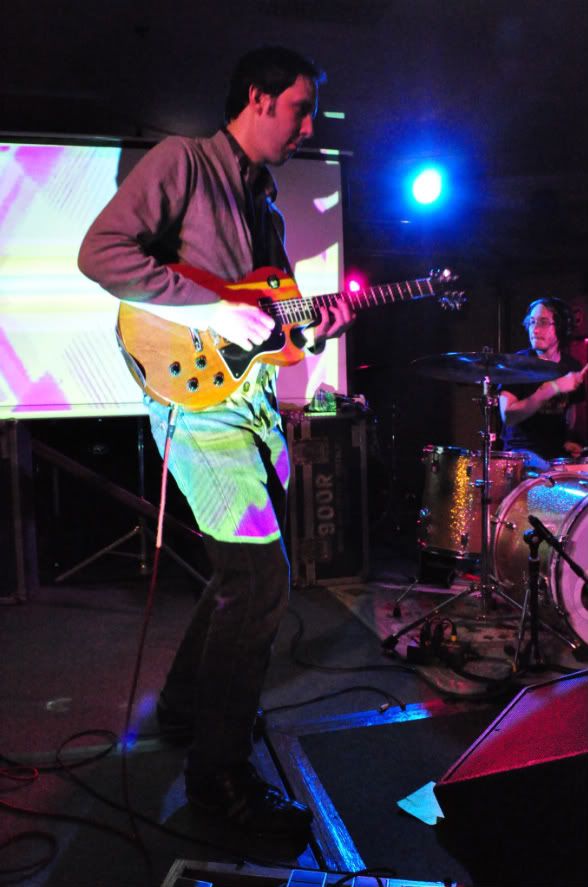 video by kozue255
After the chiptune show I headed to 7-11 to grab some 40's and wanted to see where the night would take me from there. I pretty much had the room to myself that afternoon. My roommate Hey Ricochet had been going in and out either staying in to watch pieces of the time travelers wife with me (that movie was silly to watch half way in. Erica Bana just came off as a douche bag who couldn't handle his business) or playing DDR and meeting other D-toiders. Sensian had stopped in to take a cat nap at one point. We had a great conversation about our family's traditions, his family being from the Dominican Republic and mine coming from the guinea pig eating center of the earth, Peru. The evening started off well. Both roommates had left at that point, so I helped myself to both 40's of Steel Reserve that I purchased before. I drank out of a wine glass all evening and really classed it up while playing Windjammers and Magical Drop 3 for a huge chunk of time. Before I knew it, 2 hours had passed and I was greeted by Hey Ricochet and had gotten an invitation to a party in a secret bathroom in the hotel. They called it party bathroom, I called it genius. So I collect myself and hide the second 40 in my hoddie. I run to catch up and find out they had planned a secret party in the men's bathroom next to a tabletop game that was going on. Adam Dork at one point joins the fun, brings a lady and moments later I'm standing next to two gentlemen making out while music was pumping from the handicap stall of the mens bathroom. I didn't have my camera so I ran back to my room just to have some evidence that this happened. I run back to check out the party, take a couple of photo's and hit up a rave that was going on soon.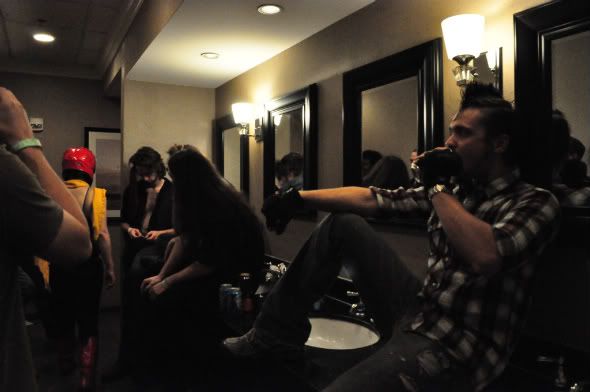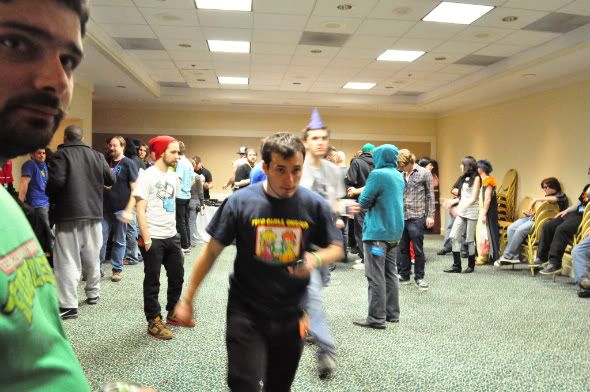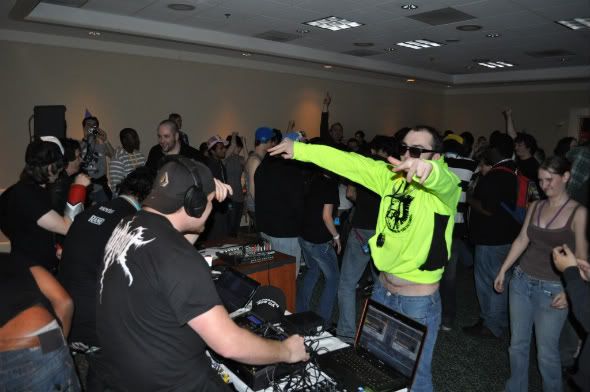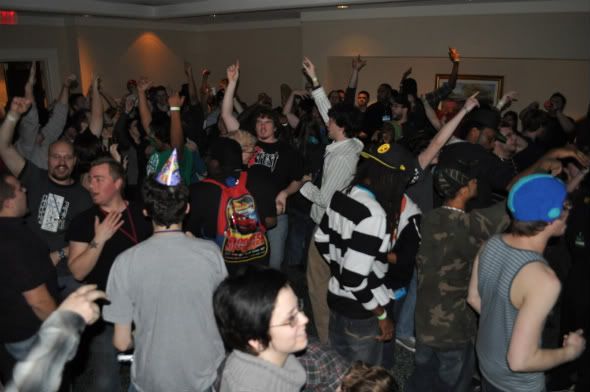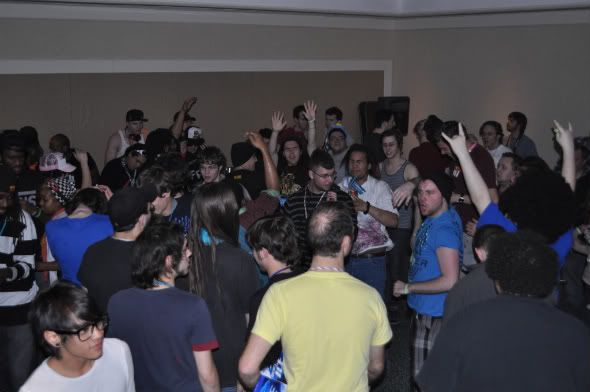 I was running out of magfest time. I wanted to see Brian one more time before I left home so I checked to see if he was in his room. When I got to the hotel elevators, I notice this dude completely wasted and John St. John was giving him some wise words (I find out that his room had a do not disturb sign so I try one more time on Sunday. I end up catching him on an elevator right before I left the convention and wished him the best.) I chuckle briefly and take a picture of two guys dressed up as Scorpion and Sub-Zero for some reason.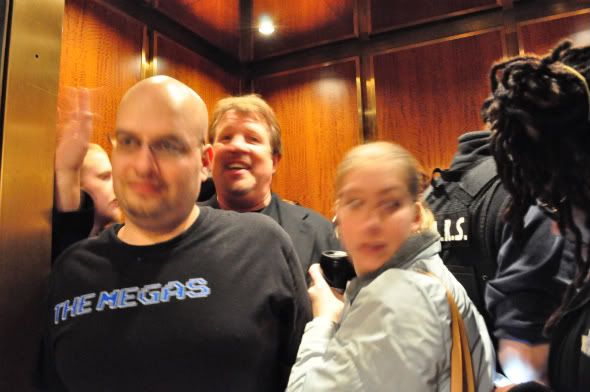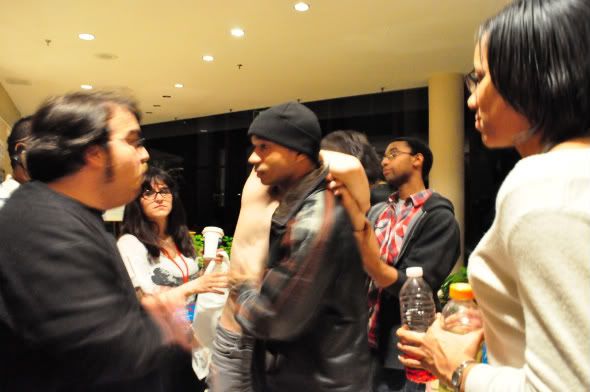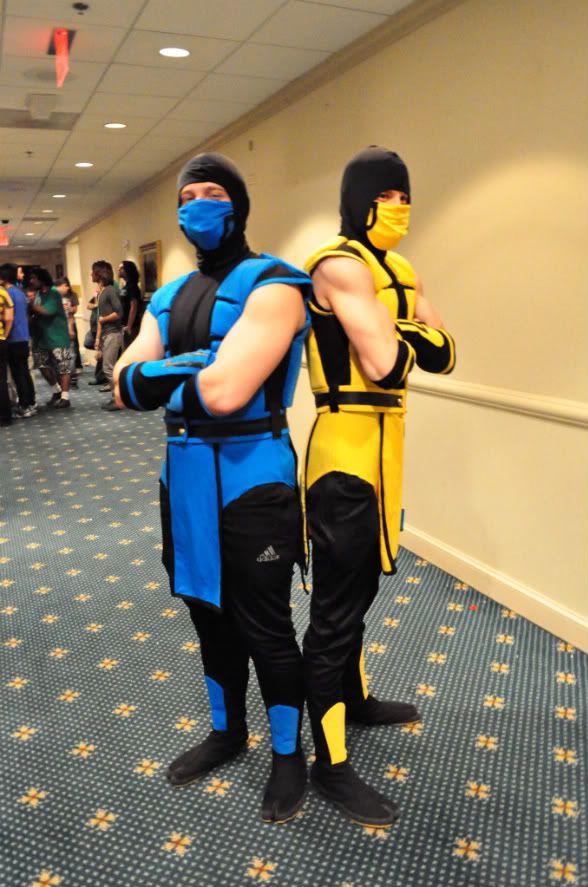 SUNDAY, I wake up a half hour before the Journalism Show panel and look/smell terrible. I bring my camera and try to bring my notepad. I unfortunately lose this, which is a shame because I had some good questions to ask. I know at one point I try to ask Topher a podtoid related question about Samits afterthoughts of an episode. It had focused twenty minutes of him being responsible for the bombing of Nagasaki because someone had sex with him. I try to ask this question, but fumble with my words and took me a day to realize I was out of place to ask him a question not pertaining to the journalism show. I'm sorry for asking a shitty question Topher. All in all I just wanted to take a photo of him and I did. He's smiling in it too so it was like taking a photo a surfing pikachu doing Capaweta.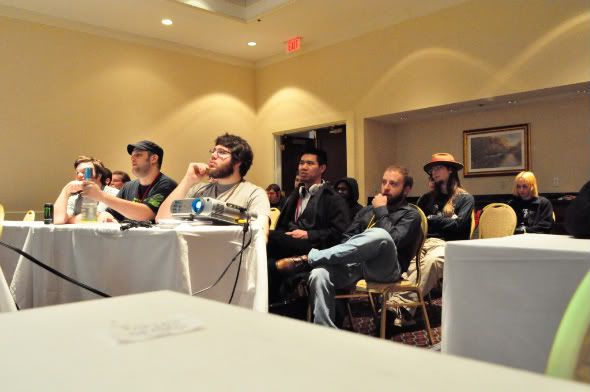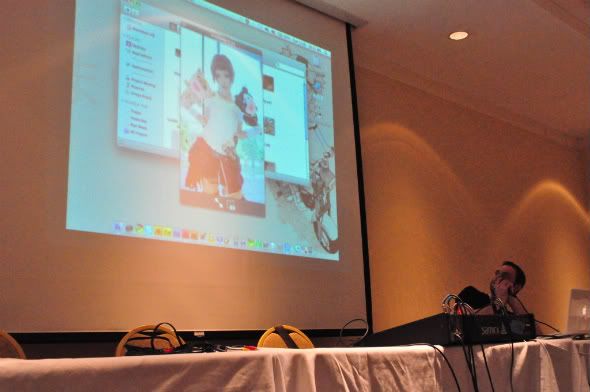 After the panel I rush to my room to pack up. Both roommates were leaving when the panel had ended so I prepare for the afternoon. I give Sensian and Hey Ricochet a proper send of by shaking there hand and taking a group photo with them along with fellow D-toider Agent Moo.
I later met up with three attendees of party bathroom. I take a group picture of the lot before going to the Magfest auction.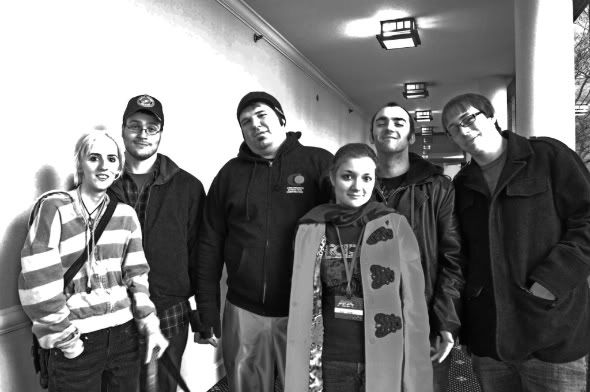 I realize while taking the last bit of photo's on my memory cards that I was missing one. I run to my room to find it being cleaned so it gave me the opportunity to look around. I unfortunately never recover that memory card, but find something to make up for my loss. Outside of our room on the balcony lay a nice winter cap.
Magfest had many great panels, guests, and treats for those who attend. One neat feature of this weekend was a treasure box with a simply, "take something, leave something" policy. I had traded something last night, a coupon for a sex shop that looked like a folded up $50 dollar bill for a book. This time I had something more substantial to trade. I had put the hat I found in the treasure box and waited near it to see if someone would trade it for another hat. While I was waiting I took some snapshots of some cosplayers, the auction, and man wearing robot stilts outside. While I was waiting for the closing ceremonies I was greeted by the lovely Adam Dork. He sat down and we had a conversation about the weekend. We talk for ten minutes and he is as lovely as everyone say's.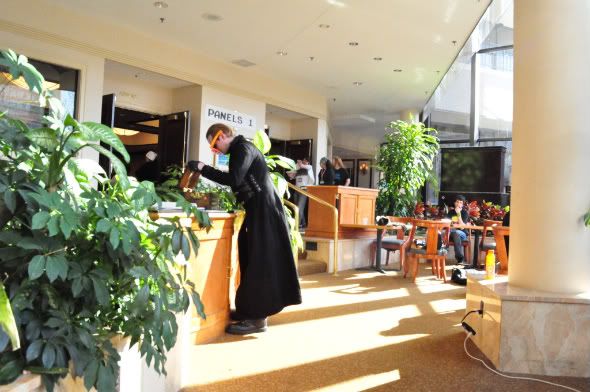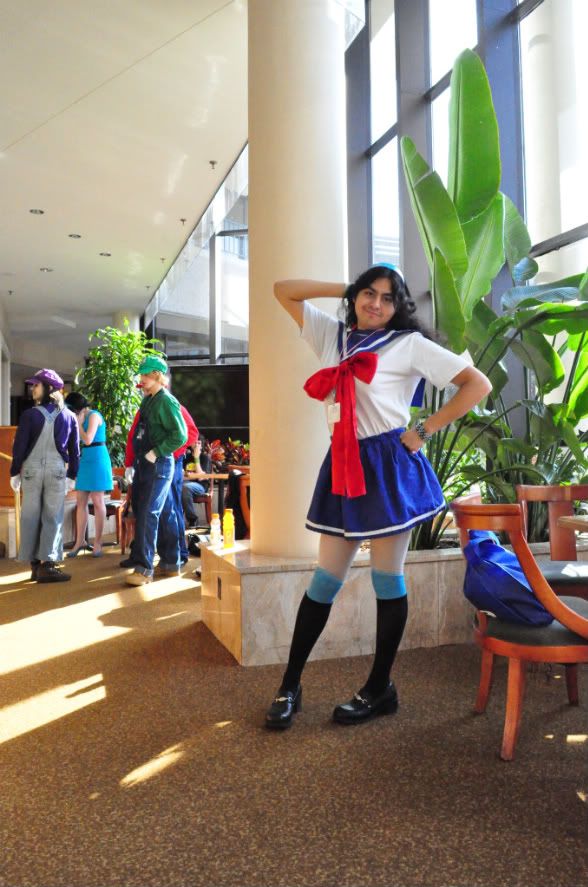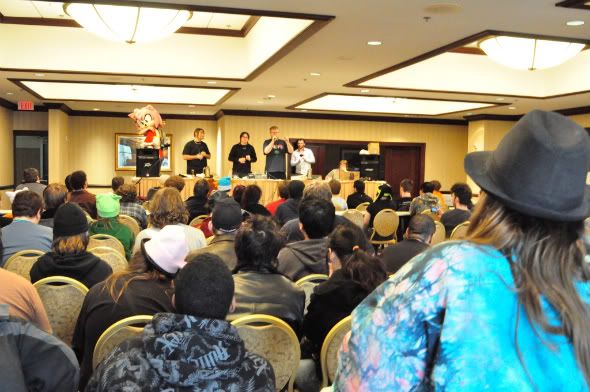 I took a delightful photo of the winner of an Amy plush. She showed me what Amy was made of.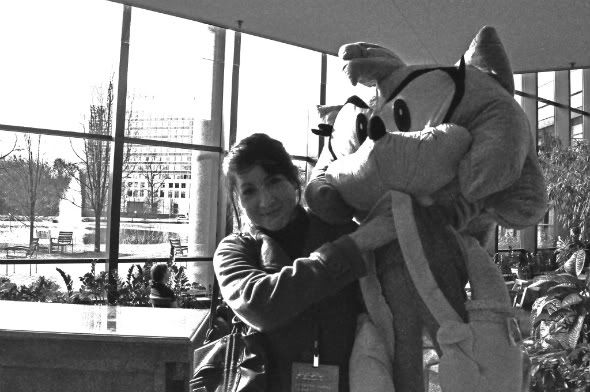 This was the last photo I took at the convention. I had stayed for the closing ceremonies because it's always nice to see a roundup of everyone who worked hard to make the weekend great. Mr. Magfest had spoken on behalf of everyone and was truly happy about the way the weekend turned out aside from the fire marshal warning him. He truly got emotional and started crying after seeing the fruits of his labor. The room was packed with attendees, guests, and staff who made that weekend. He received a standing ovation.
Before I left the convention, I noticed that someone was trading my hat for another so I dashed my way toward the box, grabbed a super mario hat and ran out to the front lobby to catch my cab that would take me to the bus depot. As I recounted everything that happened that weekend, I remember one thing in particular. This weekend would have never happened if it wasn't for Destructoid. Topher Cantler, Anthony & Ash Burch, Ashley Davis recommend me to come, the community was nice enough to help me in a tight jam and housed me for the weekend (Thank you Sensian & Hey Ricochet, both of you gentlemen are good people and am happy to have gotten to know you) and to hang out with you guys. I didn't get to meet as many D-toiders as i'd like because I smelled like an elephants dong, but hopefully we can hang out when I learn to bring more sets of clothing.
When I got home, I wanted to take photos of what I exactly took away from Magfest. I honestly spent less than $10 for everything that I took home. This first image is what I got for free in the convention. The book that I got for trading my sex shop coupon, the hat for the hat, and a flyer for a Peelander-Z/Rare Candy show that I liked.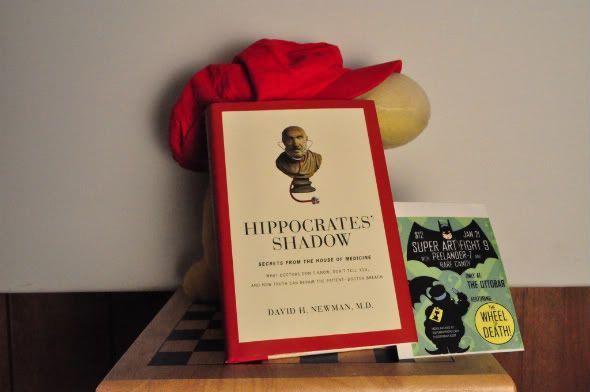 I found this horse mask in the middle of the street while I was buying 40's. It was still in good condition and there wasn't puke inside so I bagged it, but the best thing I got from this weekend was waiting for me at home...
Now one of my favorite t-shirts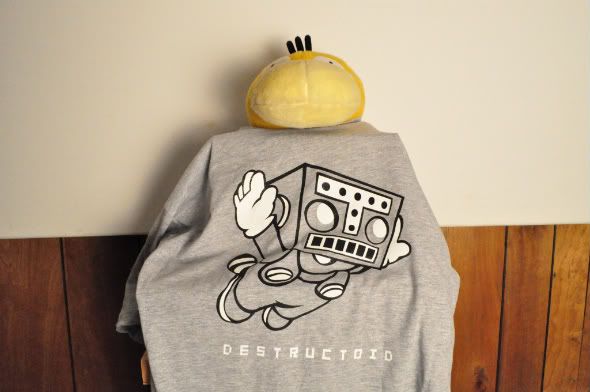 I would have gotten this out sooner, but there were many photos that were taken. I had a total of 3000 not including another set that was on a memory card that I lost. I'm glad that this is coming out now so that other people can see what kind of time you can have if you stick with Destructoid. I hope anyone who is attending PAX East 2011 who is reading this can see what kind of time you can have. I had one of the best weekends of my life, got to take some great pictures, hear some great music, and hung out with great Destructoid members. Thank you for making my weekend perfect
---
LOOK WHO CAME:
Pandaloons
Andrew Benton 1
AgentMOO 1
manasteel88 1
Halidar 1
Elsa 1
confusionbomb 1