Guess who's back?
Does the name Samurai Jack ring any bells? Maybe you remember it from your younger days. Maybe you occasionally saw it on Cartoon Network while browsing for something to watch, or maybe you are like me, a guy that watched the entire Saturday marathon to be ready for the long awaited conclusion.
Regardless of where you come from, the matter of the fact is that 13 years later, Jack is back, better than never and on Adult Swim no less, so let's talk about it. This won't be a detailed description of each episode since 80% of Samurai Jack's magic is its visual, animations, music and sound design so I could never do it justice with words alone. So needless to say, go watch them before proceeding!
As one final note, this new seasons is clearly aimed for the old fans, the ones that are now much older and mature. As such, this new season is touching on heavy subjects and is not afraid to show some blood, so you better be over 16. But hey, I'm not your mother so do whatever you want!
Episode 1 - "XCII"
" The mind is the most dangerous prison. For there, you are both the prisoner and the jailer."
Funnily enough, this episode is 40 numbers ahead of where we last stopped thirteen years ago (The Tale of X9 was episode 52). It's pretty on the nose way of telling us that Jack's been through a lot of stuff before our re-encounter today. Outta of all the currently available episodes this one is the most "traditional" to the past seasons. It starts with someone in trouble, Jack arrives, kicks some robotic ass and leaves. Only this time, he is wearing full shogun like armor (that shares an uncanny resemblance to his Father's armor), a sweet ass motorbike, a mask and a whole new weaponry including pistols, a staff and a freaking machine gun! Jack is not fucking around here! Also, the fact that Jack's first line in the season is a battle cry amuses me greatly.
After saving the adorable creatures, we get the new intro: Jack narrates how fifty years have passed, that he can't age and is pretty much hopeless for a better future. Yikes. Cue title card!
Following that we have our first set up in the format of the Daughters Of Aku, some weird cult hell bent on making Aku Senpai notice them by the only way they know how: killing Jack. We are shown the birth of seven new cult members (But the specifics are not given to us like, are they human? Why all the seven are women? Do they kill the males? We never know). I really enjoy this setup, it gives us a recurring enemy to look forward to. It is also implied that Aku cared about the cult in the past but stopped for some unknown reason that I'm hopeful we will find out before the season ends.
Next, we cut to Jack in his travels (presumably, while the new killers grow and are trained. Or do they age super fast? This is another thing that is not made entirely clear) and damn, HD does wonders for cartoons. Just admire the beautiful scenery below: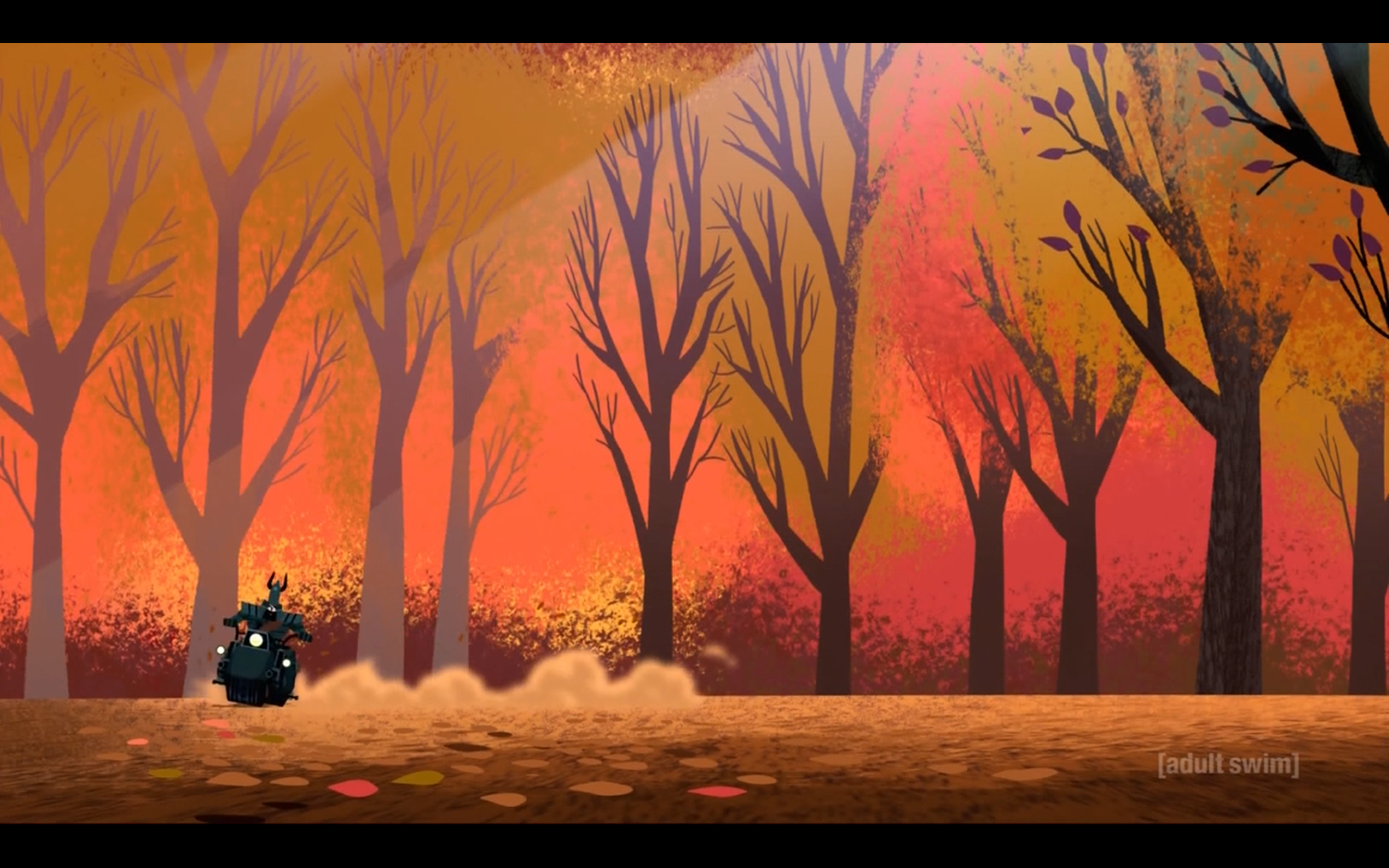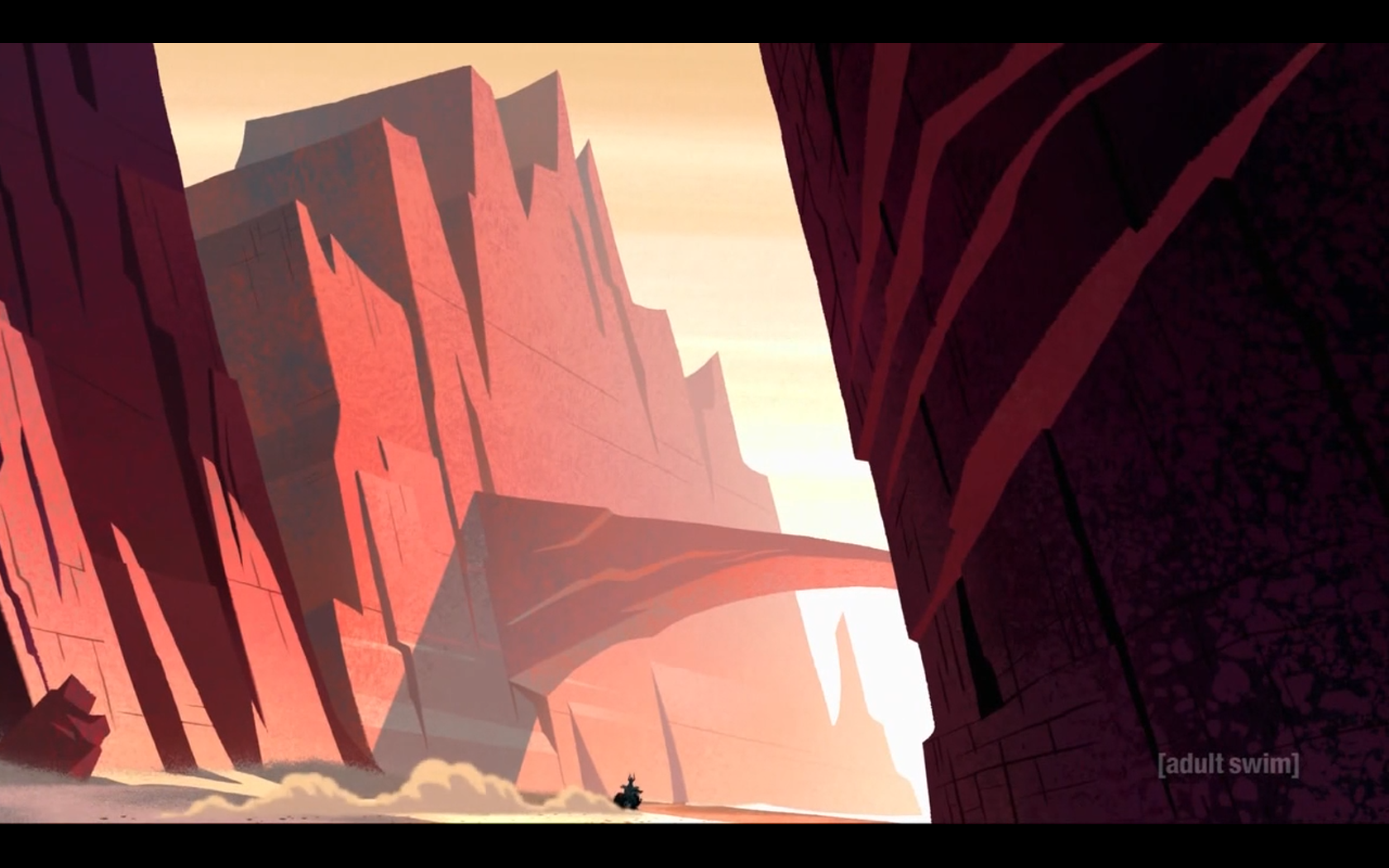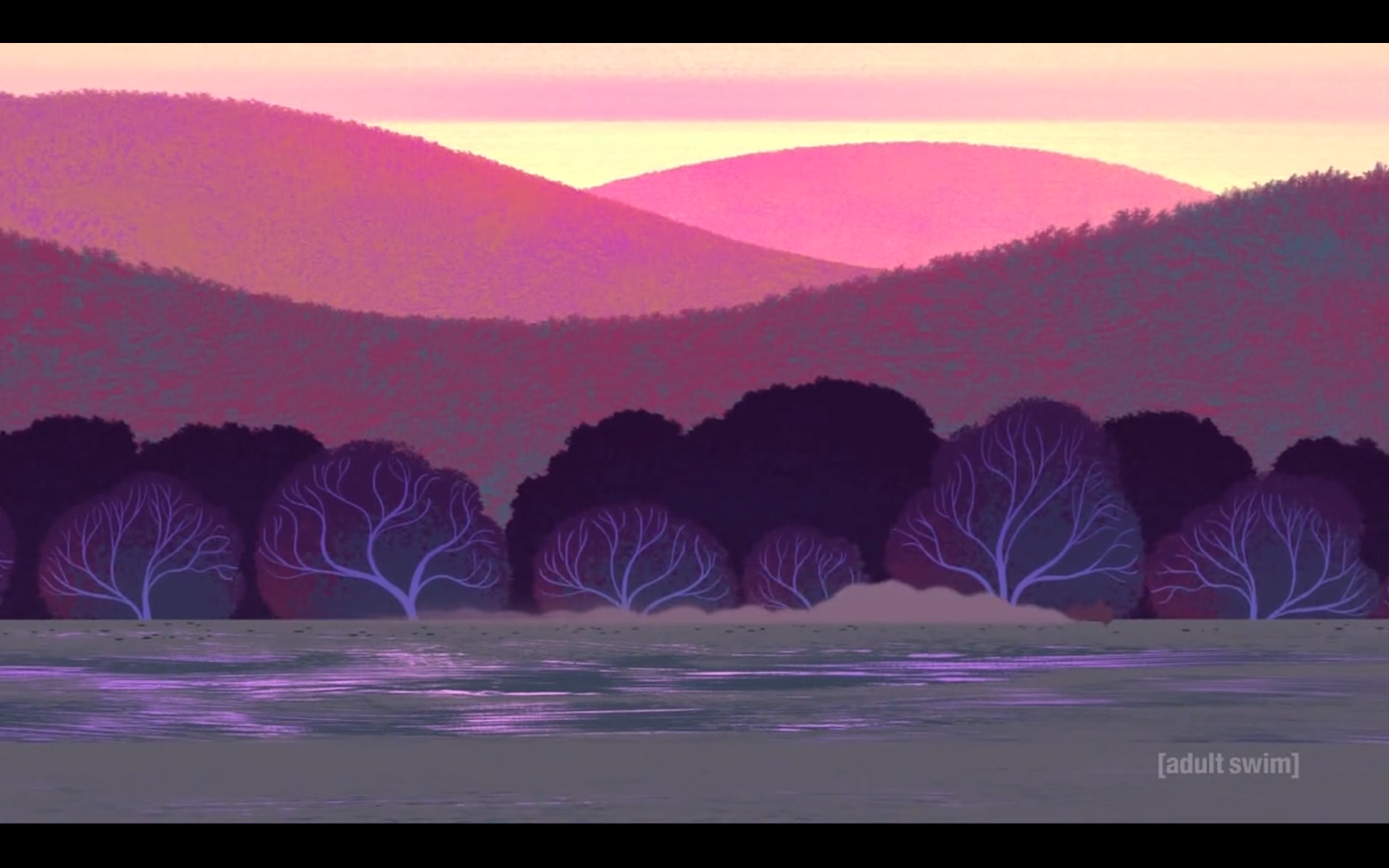 Then we get to my favorite moment of the episode.
Episode Highlight: Haunted
Jack arrives on a river and stops to take a drink. There we see how bad Jack's mind was affected by fifty years of God knows what. He sees his father, mother and all the souls of the ones he could not help in the past drifting in the river. It is clear that the weight of this unfinished task is weighing heavily on Jack.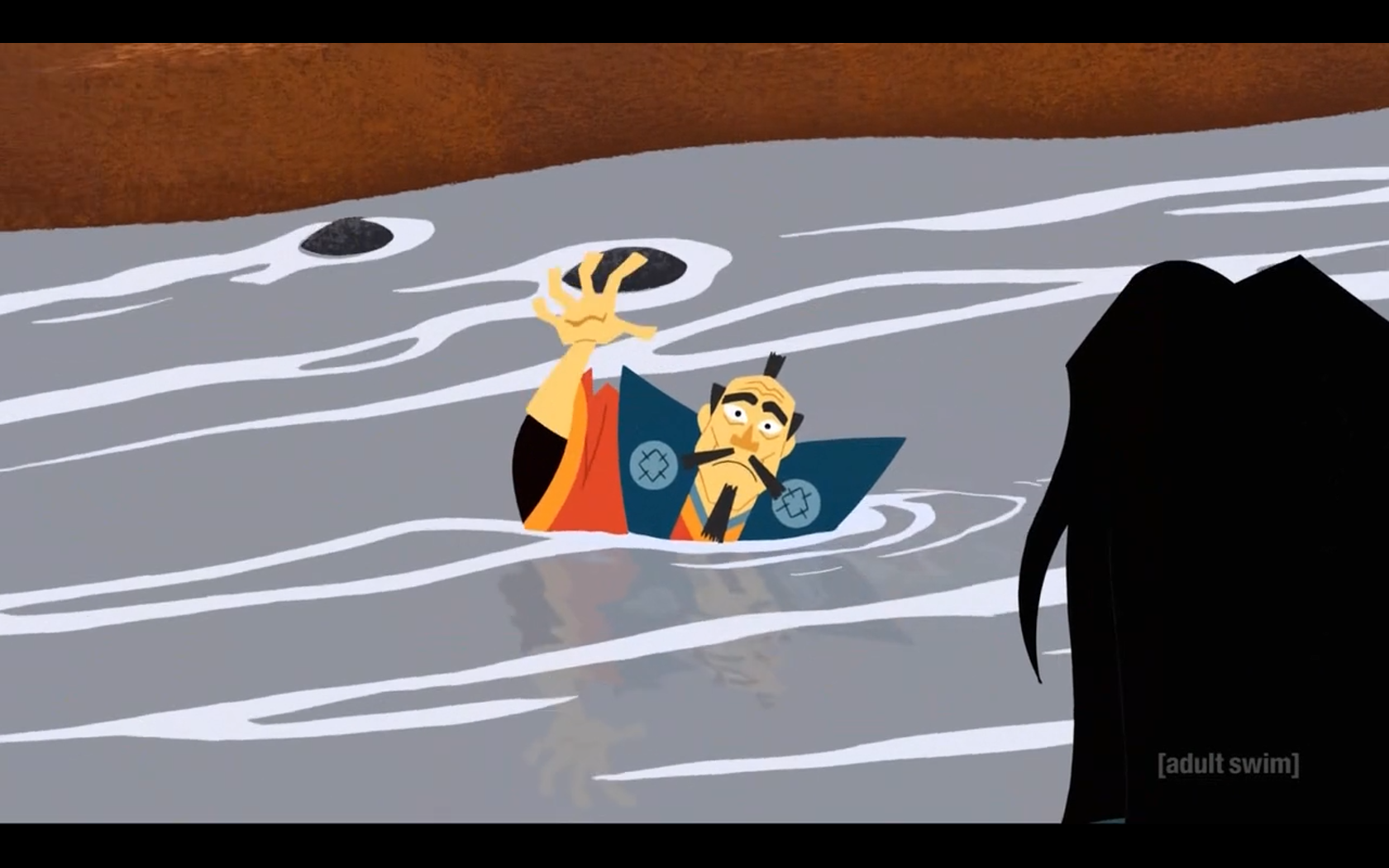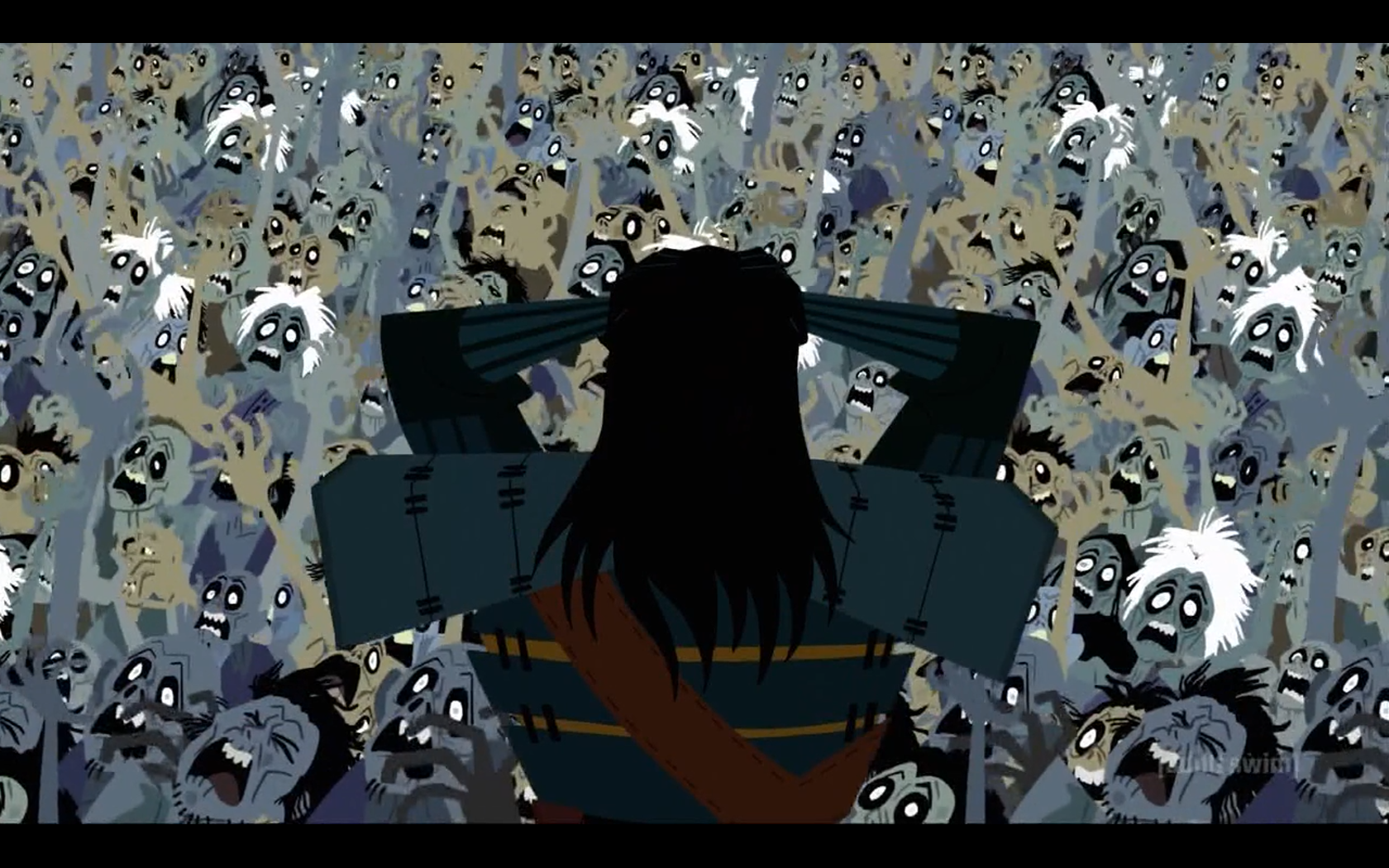 And then we got to see this Green Rider that seems to scare the living shit outta Jack. My bet is that this is either the manifestation of his guilt or inner dark side that he so desperately fights to not embrace.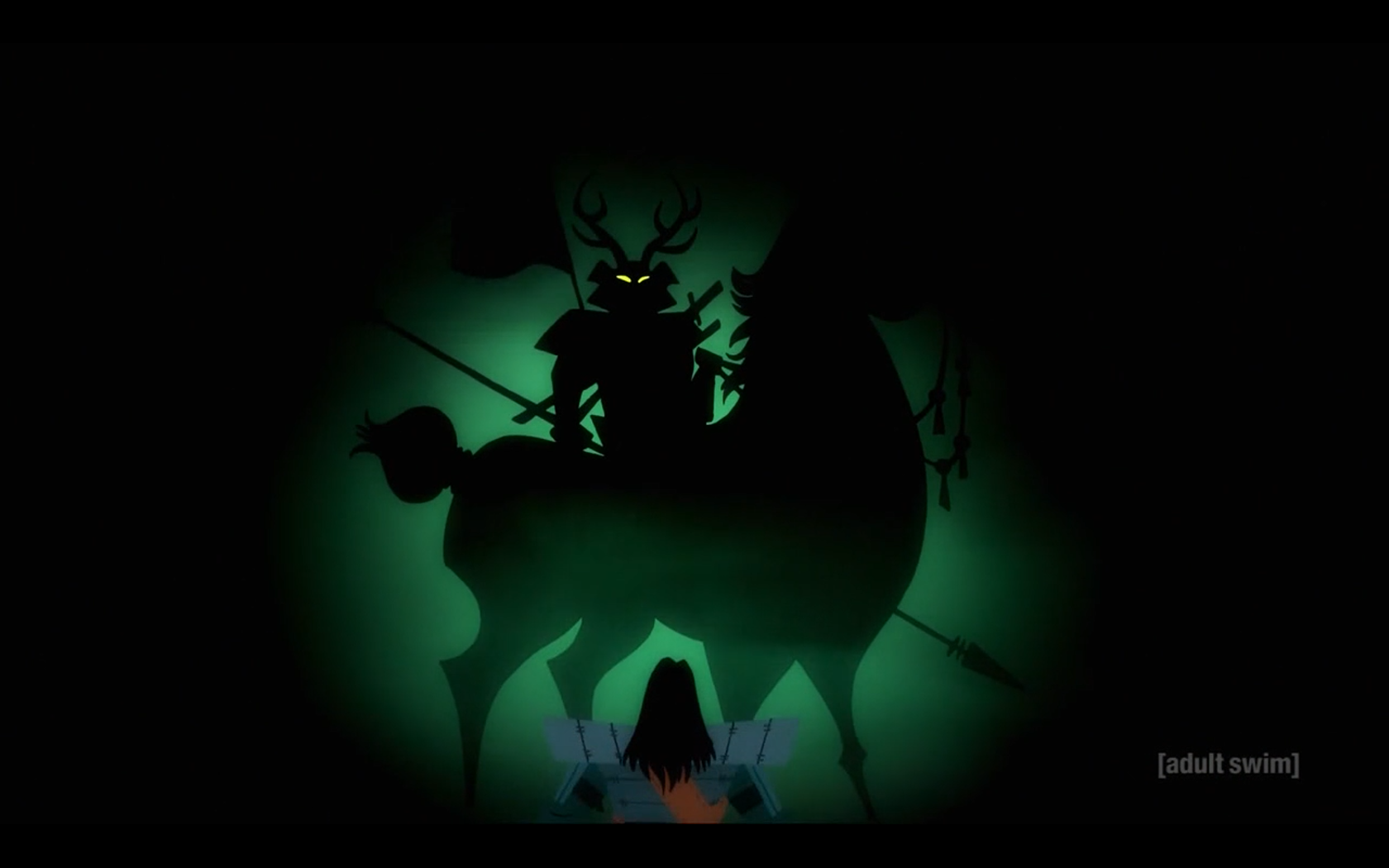 But wait there is more! Next Jack is eating a rat by a campfire and is haunted by Fire Father!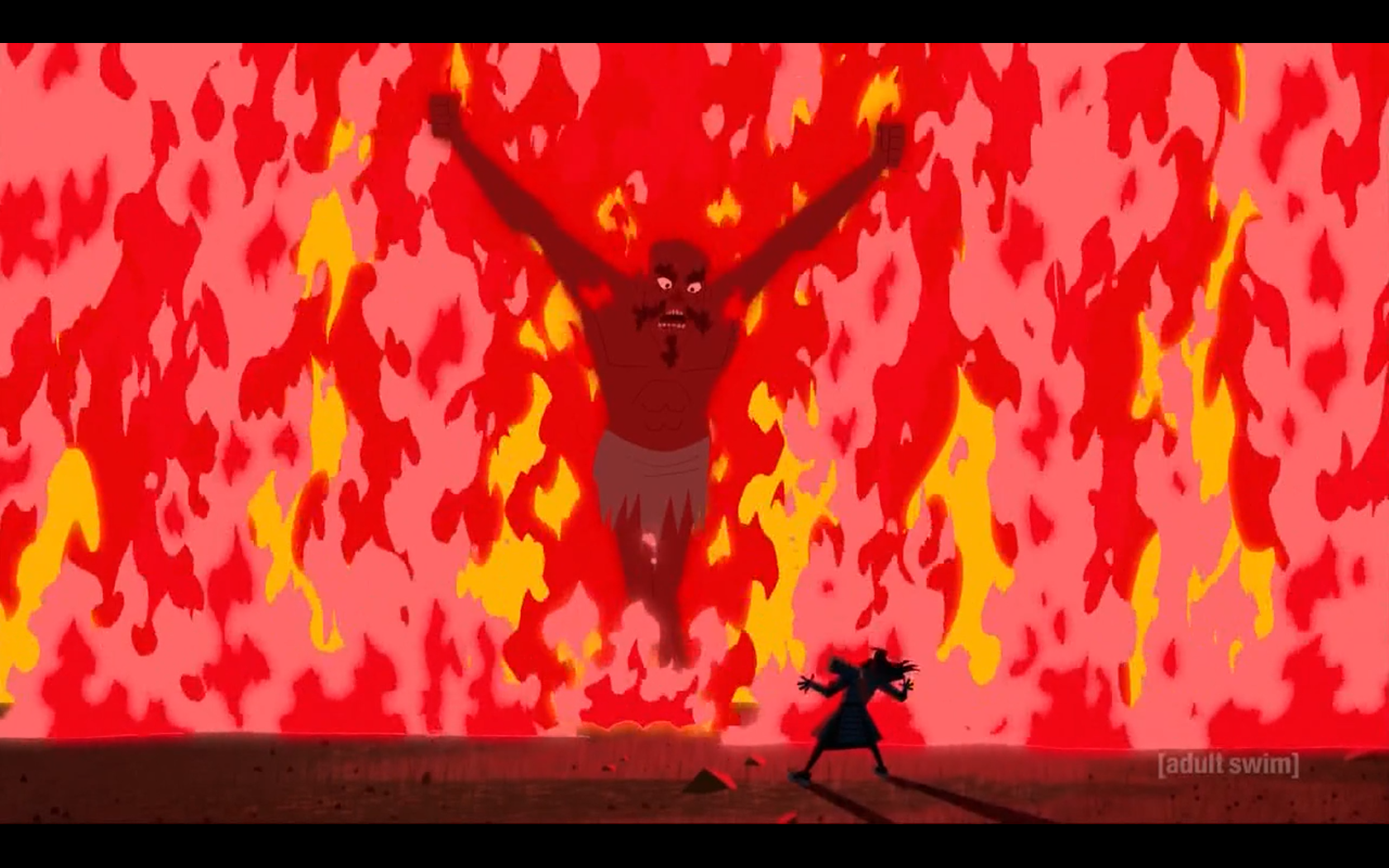 TL;DR: Jack is facing some mad PTSD. And then as if to ease some of the guilt, he finally heads for the source of the smoke on the horizon that he ignored days ago. There he meets the villain of the week: Scaramouch The Merciless aka Aku's favorite assassin, babe.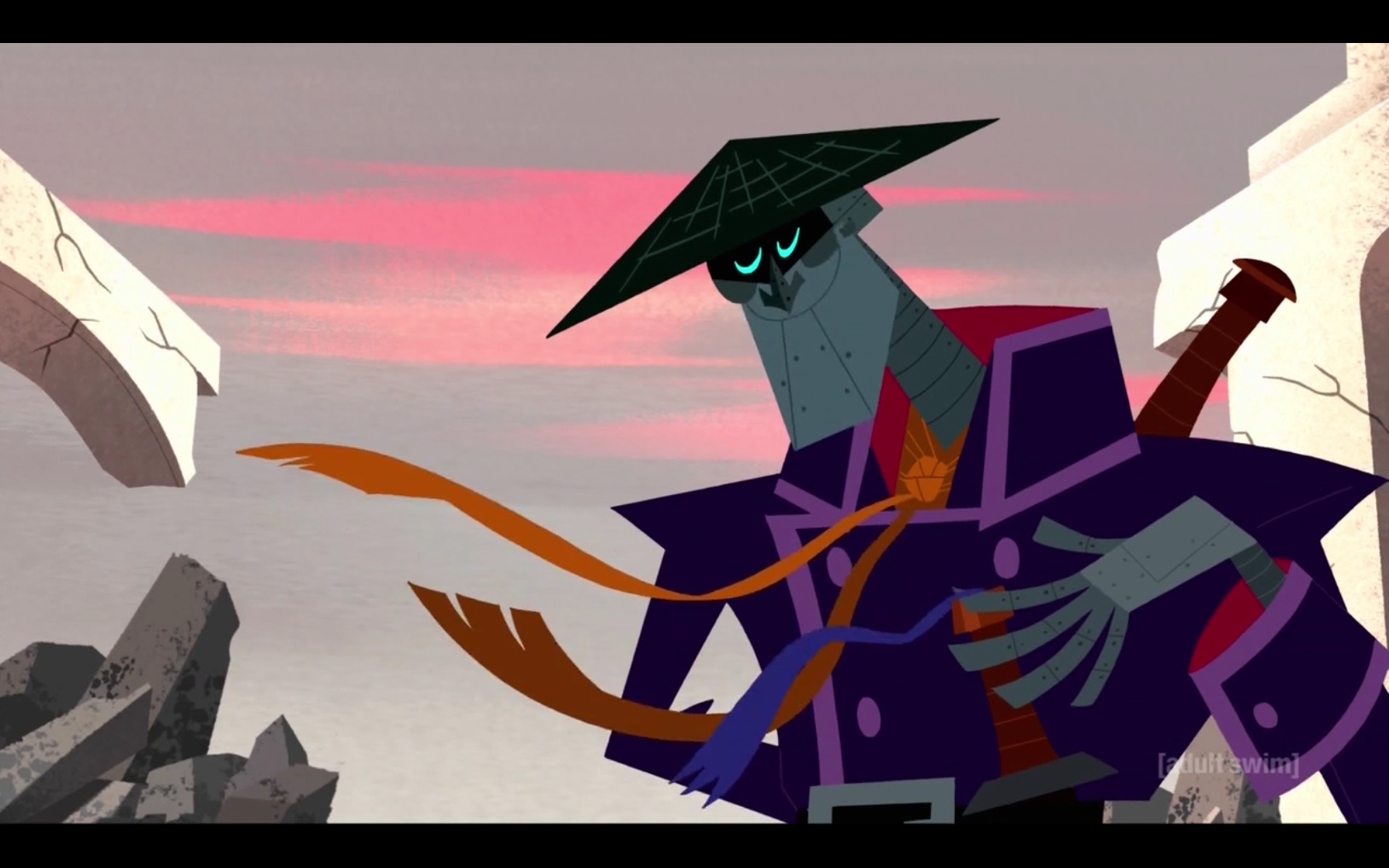 This is as classic as Samurai Jack can get: You have a villain oozing personality, with a very quirky way of fighting: he literally uses music to manipulate inanimate matter. Here we are also informed of the fate Jack's sword met: he lost it in some hole while fighting something (said something that could be the strange horseman he keeps hallucinating, at least that's where my money is). And Aku doesn't know this, something that Jack reeeaaly wants to keep it that way. So he is forced to beat the living scrap outta Scaramouch when he makes a phone call to Aku.
And beating Scaramouch he does (we also see Jack hallucinate during battle. His mind really doesn't care about timing huh?) in a battle sequence that proves this show haven't lost a step babe. It's extremely satisfying to see Jack live to his samurai title, using all of his entire arsenal with mastery.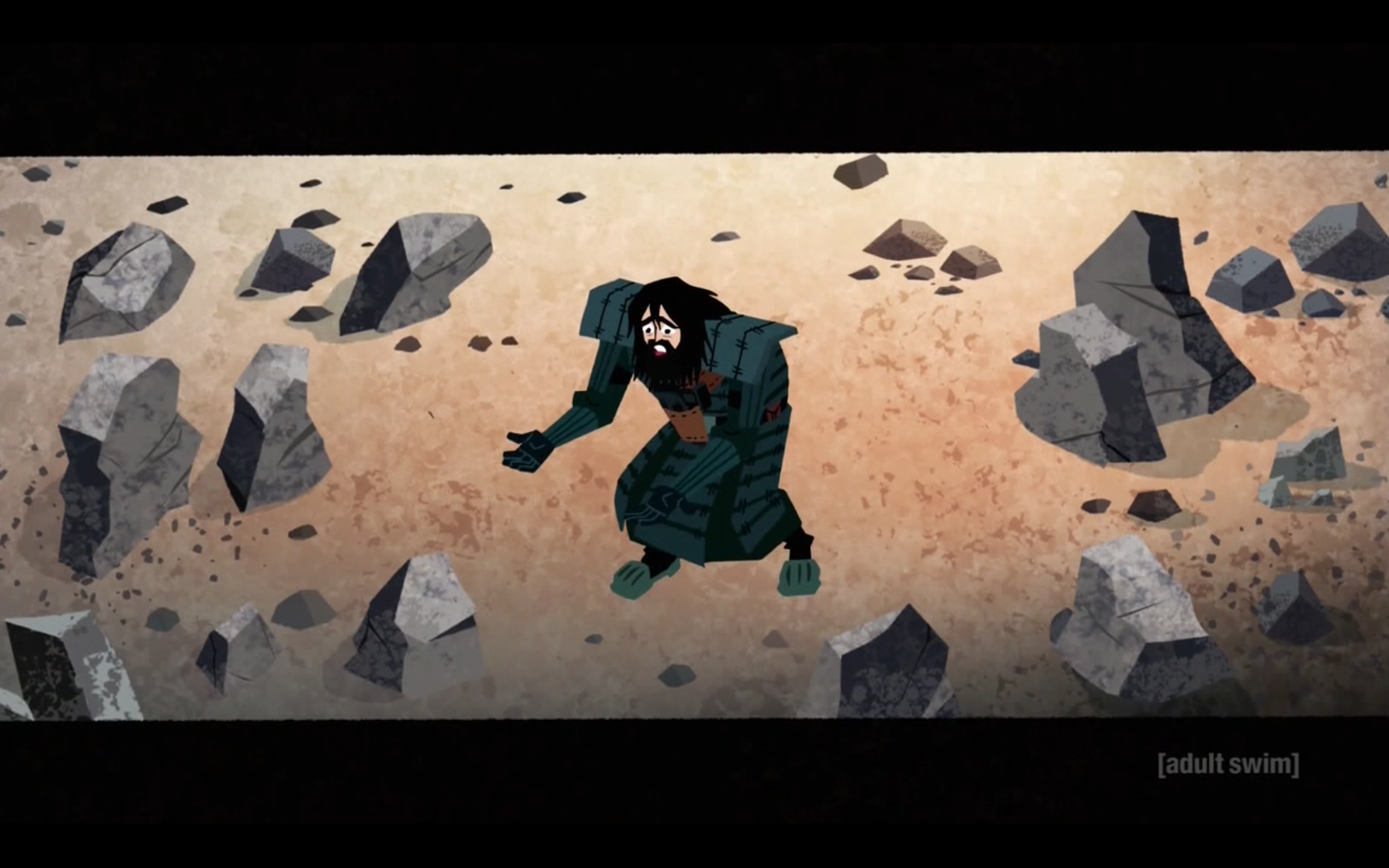 Battle won, Jack receives his loot (the sword that makes shit blow up) and moves on. One final training montage shows the seven Daughters completing their training and leaving the hunt. I honestly feel kinda bad for them: Their spent their whole (so far) training and being told that the only reason for their existence is to hunt and kill a man, being molded into killing machines and learning that the weak die. If that is not sad, I don't know what it is. All things considered, this was a fantastic way to start off, blending the new darker mood with the classic elements from past seasons. I look forward to watching the rest. One thing, the old intro as the end theme was kinda jarring, I was not expecting it, but I suppose it's a nice homage.
---
WATCHOUT!
And that is it for the first episode of this new season. Did you enjoy it? Did you hate it? Talk about it below! See you again next time.
- Wine, videogames and top hats.
---
---
LOOK WHO CAME:
Nior
Inquisitive Ravenclaw 41
Robo Panda Z 30
Uber Mashu 8
Wes Tacos 1