Remember how people said Microsoft's E3 presentation might seem... desperate? Well, if these leaks from
NeoGAF
are true... then they are really, really, really desperate.
So where to begin? Avatars.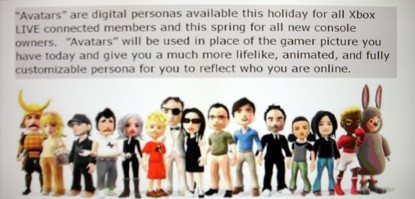 Yes, on top of creating a motion-sensing controller, Microsoft has gone the extra mile to copy Nintendo and create a Mii clone. To be fair, Sony has Home, but the more I've seen Home and read about it, the less I think it was created solely as a counter to the Wii and more to counter the likes of Second Life and other online MMO titles.
Activision is also apparently trying to take on Nintendo, as their new Tony Hawk game is going to feature a balance board. Probably not a surprise, really. But it's coming to the 360 and PS3, where it will likely be laughed at as a gimmick.
There's one thing I definitely want to be true, though, and that is:
Now, I knew this was coming. But after reading all about the new Forza, or what's purportedly going to be in it, I came. Apparently it will be so big it will need 2 discs, which makes me a sad panda. But, those discs will be crammed with 400+ cars, 100+ tracks, new racing modes that sound like the same ones from Need for Speed: ProStreet (oddly enough), crazy levels of customization and nearly realistic damage. Wow.
Also, this just in: in an apparent attempt to one-up Nintendo, Microsoft is announcing at E3 that they have purchased the rights to distribute the Vii in North America. MS claims that this "Wii killer" will be priced at $149 and is twice as powerful as Nintendo's own console. More on this as it develops...