So, if there's any question of the potential shoddiness of the bass pedal on the Rock Band 1 drum kit, I answered it this morning with a beautiful split in the pedal that happened right behind the spring in the middle of a Challenging song on Hard difficulty. I kept having a feeling it was going to go out sooner or later, but I was kinda expecting the orange plastic piece that regulates pedal movement in conjunction with the spring to snap.
The middle of the pedal literally split in half, and it was quite an awesome crack. I wish I had gotten a picture of it, but I didn't think I'd be posting this until my girlfriend suddenly decided that she was determined to salvage this thing, rather than spend money on a new pedal altogether.
Taking pieces of plastic from a mini-anatomical skeleton construction set, she cut up some pieces and made rods to act as splints on the top and bottom of the crack and duct taped the whole thing, before adding a layer or duct tape (rolled up) as padding on either side of the top splint. Images below. You might be able to see the plastic in the bottom view sticking out of the center.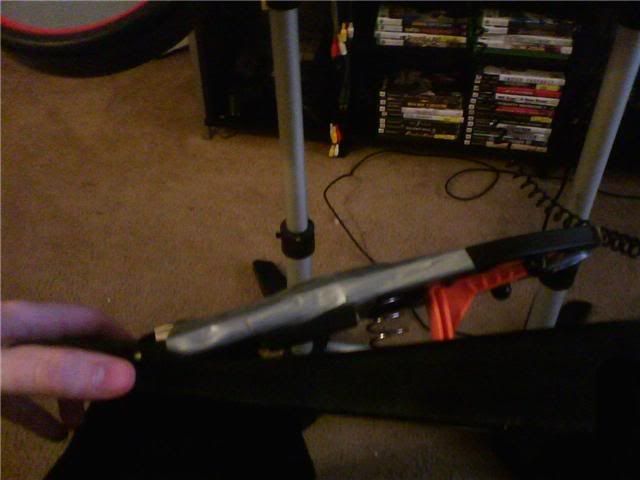 The result? Well, I'm still practicing hard on drums, but I didn't miss a beat with the bass pedal on the next few songs I tried. Moreover, the pedal feels a little more loose (the spring doesn't pop it up as far due to the underside splint) and it's actually EASIER to hit 1/16th bass pedal notes, it seems.
Always nice to save a few bucks now and then. :P