Go change your avatar, now!!
Another week, another PSN store update, the highlight of the week is of course:
From the people that brought you flOw, comes Flower. Despite me not liking flOw as much as I thought I would, this game looks more promising, and a looks a lot more worthy to 'play'. It's already garnered an impressive 88 from metacritic, and is downloading right behind me.
I was already tempted to buy it from the preview videos, but it seems it is a lot better than flOw, and the praise it's getting in reviews was enough to warrant a purchase off of me. However, this game won't appeal to all gamers, but, if you want a totally unique, original experience, go download it. Surprisingly, the download weighs in at 627 MB, must be all the amazing graphics making the file size bigger than one would think!
Price: 6.29 GBP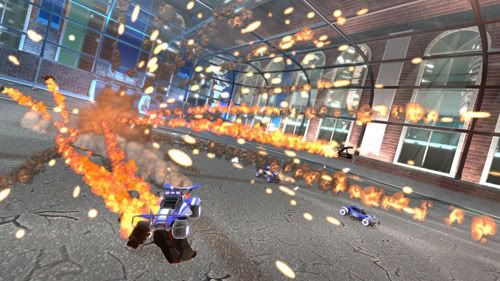 Wow, it takes a full minute just write the Godforsaken title, but, supersonic acrobatic rocket powered battle cars is now available to download, both in demo and full game form. I'm really interested in this game, all of the preview vids I've seen so far has done nothing but further deepen my interest in the game.
BUT, you will need to download the 'trial' version in order to play the full game, which in my opinion, is a good thing. Saves you the worry of spending your hard earned cash on a game you may not even like. The download size is a meagre 180MB.
Price (for full version): 7.99 GBP
Demos
Only two this week, and one of them is on the store already, well kinda.
Resistance: Retribution
PSP game, I have no idea what its like, sorry!
Motorstorm Pacific Rift Demo 2.O
This is a cool, but challenging racing game, and the demo is already on the PSN store. But, it seems that this version is quote 'definitive'. I havenít had a chance to download it yet, so I don't now how its been improved over the previous demo.
File size is a decent 637MB
DLC Packs
More LBP DLC!!! Nice to see it get supported so much for it, shame the BETA made me feel the game was'nt worth forty quid, I'll get it when it's cheaper.
Ape Escape costume: 1.59 GBP
Tora costume: 1.59 GBP
All star weekend 2009 has a FREE, yes free DLC pack out, it contains jerseys and a court for you playing pleasure. I for one think it's surprising to see EA of all companies put out free DLC, what happened to nickel and diming us, EA??
Videos
Tekken 6 new year trailer- oooh, yes, as a fan of tekken I'll be downloading this tonight.
SDTV flie size- 43MB
HDTV Size- 104MB (720P)
Inside FIFA Interactive world cup 09 trailer is now available, supposedly if you want to know how to be the best at the game, check it out as it has tips and tricks from the pros and the producers of the game.
Flower Trailer- Still not sure if you want to buy this? Then check the trailer out.
Themes
Seeing as I am complete theme whore, I'll be downloading these, and if they are terrible to look at, delete them!
Need for Speed undercover theme.
Pain: Hasslehoff theme- hehehe, this one actually has some staying potential,
it is
the Hoff after all!
All in all, not a bad week, I was anticipating Flower a lot, and I hope a lot of you were as well. Sony is stepping up the amount of stuff added each week in the lead up to spring, let's hope they continue they keep their word and further strengthen the PSN store.
Ciao, for now.