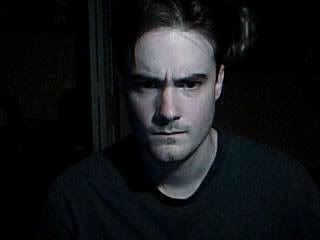 Current appearance as of 2009. Approach with Caution.
Name: Mighty Pinto
Age: Unknown (appears to be 29, though it is rumored he can possess the weak-minded, i.e. console fanboys, thus prolonging his youth)
Ethnicity: Variable (see above)
P.O.B.: Found in an undisclosed location somewhere in Atlanta, GA.
Likes: Complete Global Domination.
Dislikes: Anyone who gets in his way.
Known Facts:
Has many years of affiliation with the VGHU (Video Game Henchman's Union), and was a card-carrying member of several prominent evil factions:
- Former Member of MAD GEAR (quit due to injuries to the spine caused by a Spinning Pile-Driver; almost lost his ability to walk)
- Former Member of GELDRA (Shot in the face by enemy agent (Code Name: "Albatross"), required facial reconstruction)
- Former Member of Red Falcon (joined after his recovery, only to become one of the few henchmen who narrowly escaped Galuga Island's destruction.)
Currently works a menial IT job at Florida Atlantic University; although he vehemently states that he's merely "biding his time" until another union gig comes his way.
Currently Playing:
Dead Space 2 (360)
Splatterhouse (360)
Alan Wake (360)
Onimusha (PS2)
Alundra (PS)
The "DONE" Pile:
Phelios (GENESIS)
Street Fighter IV (X360)