WARNING: THIS PERSON HAS A TERRIBLE SENSE OF HUMOR, OFTEN TRYING TO BE FUNNY AND FAILING HARD, IS EASILY AMUSED, AND HAS A TENDANCY TO CLING TO OLD MEMES/JOKES. READ AT YOUR OWN RISK.
This is basically my game collection (minus N64, SNES, Xbox 1, and Game Boy games):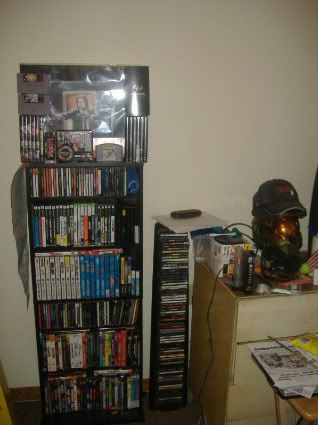 See more of my puny, meager collection (in image sizes that can be read) at: https://s22.photobucket.com/albums/b331/MPHtails/My%20Collection/
Well, if your lazy and don't want to read the whole sidebar, I'll save you some time and tell you that all you need to know about me is in this image:
That aside, lets do some lists, because I enjoy lists.
Honorable Mentions:Zombies ate my Neighbors , Super Mario World
13.NBA JAM
12.Sonic 3 & Knuckles
11.Tetris Attack
10.Sonic CD
9.Popful Mail
8.Bubble Bobble
7.Chrono Trigger
6.River City Ransom
5.Tecmo Super Bowl (NES)
4.Jet Grind Radio
3.Earthbound
2.NiGHTS into Dreams
1.Cave Story
I'm a really slow player. I rarely blast through games, regardless of genre or my own skill of it. Final Fantasy VII, for example, took me 8 years, 4 new files, 2 memory cards, and two copies to beat, even with a strategy guide.
Also, I cant frigging beat Chrono Trigger because my PS2 wont read the damn disc, same with Popful mail. This pisses me off.
UPDATE 4/24/08: I HAS CT FOR SNES. COMMENCING OWNAGE NOW.
UPDATE 5/3/08: I R WINRAR. Now to do the same with Popful Mail
As far as favorite bands go, I like more or less any song that catches my ear, regardless of genre or even quality (something thats also with every type of entertainment, I tend to enjoy lesser things). So, lets list, but with less numbers this time:
Smash mouth I reguard as my favorite band currently, but thats quite a changing area.
Gorillaz
Red Hot Chilli Peppers
Beefy
Rush
Queen
Duran Duran
Mew
and some others that I forgot.
As far as individual songs go, some of the ones that I favor due to memories or just general enjoyability are:
Fallen Horses- Smash Mouth
Waste- Smash Mouth
Then the Morning Comes- Smash Mouth
Eye of the Tiger- Survivor
16 bit vs PS3- Prinz Pi
Geto Highlites- Coolio
Flagpole Sitta- Harvey Danger
Rio-Duran Duran
Last Dinosaur- the pillows
Little Busters- the pillows
Scar Tissue- Red Hot Chilli Peppers
And of course, the rock prayer:
IN the name of the [Bohemian] Rhapsody, the Freebird, and the Holy Diver, May we all ascend the Stairway to Heaven.
Of course, theres more, but i just feel like stopping there.
Movies, well, theres Rocky III, IV and Balboa , Spaceballs, Snakes on a plane, Breakfast Club, Ferris Bueller, the View Askewniverse movies and the like, but my all time favorite is BASEketball. SO many underrated one liners.
Television, lets see. Red vs Blue, House, WWE Raw (yes, imma rasslin guy yee haw), Chappelle's Show, like over nine thousand 80's and 90's toons, Saved by the Bell, Fresh Prince, Psyche, Full House (i was raised on it, so it dosen't count), Simpsons, KING OF THE HILL, Shin Chan, FLCL, and such, but as far as favorites go it's gotta be Mystery Science Theater 3000. Dont let anyone tell you different, Red Zone Cuba is the best episode, even if it's not Final Sacrifice with ZAP ROWSDOWER.
My Systems, let me show you them.
-SNES
-64
-wii
-Genesis
-Sega CD
-Saturn
-Dreamcast (ITS STILL THINKING)
-PS2
-360
-Xbox 1
-DS
-PSP
-GB Pocket
-GB Brick
I like more under the radar.cult games like Earthbound, Popful Mail, Mr. Bones, and such, but usually due to their rarity they are a little pricy and thus I haven't played a truckload of them. I used to be a huge Sonic nut (even going so far as to read./collect the Archie Sonic comics even far after i stopped enjoying them), but thats since waned considerably. Though forever loyal to Sega in my heart (and, to a lesser extent, Nintendo), I can't survive on Shmups alone, and therefore branched myself out to accept all makes and models of vidja games and vidja game accessorries.
Well, if I think of anyting more, I'll be sure to add it so noone will ever read it.