Cloudphobia
is a horizontal scrolling mech shoot 'em up. Your main objective is to protect your mother ship at all costs. Your mother ship is off screen on the left side. You have two health meters, one for you, and one for your mother ship. Every time an enemy slips past you, your mother ship loses health. Meaning you can die even if your character's health bar is full. So try to keep the screen cleared. You will learn to stay on guard while dodging enemy projectiles. This fast paced freeware shooter literally had me on the edge of my seat. By fast paced I mean the "time attack" variable of the game.
http://youtube.com/watch?v=KisYQRmoTl4&feature=related
This game has very smooth graphics and the sounds are a perfect match. Fyu-Kosay (game developer and music producer) creates some of the best game sounds and level music. He is very well known for his work in japan. Every thing from the explosions to the jet thrusters are done magnificently.
There are 2 mech robots to choose from. The first mech or flying robot, is equipped with a long range laser blaster and lock on missiles. The second mech is equipped with a wide range sword and the same lock on missiles. Both ships have speed thrusters that you will use often to beat the time attack. You can acquire power-ups to inflict more damage on your enemies. You can also increase your score using combos. On a side note I would like to mention the fact that I love the huge red numbers that display on screen while getting a combo. The only downside to this free game is there is only one level.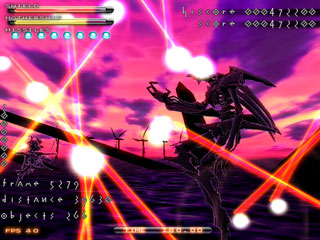 Wanna beat the game and brag to your friends? Cloudphobia allows you to connect to a network and upload your replays and high scores. This is a very cool feature when you like to keep an eye on your progression.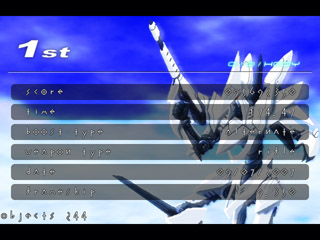 Lets take a look at the default controls. You can always change your controller layout in the options screen.
You control your mech's movement with the up, down, left, and right arrows.
Z-Primary fire
X-Missiles
C-Thrusters
Released: 2004.07.02
Developer: Fyu-Kosay
File size: 8.36 Mb
Operating System: MS Windows 98/Me/NT/2000/XP/Vista
Download
it
here