[Here at the The Low(er) Tier, we aspire to be more than just podcasters. We want to bug you with written words also. From time to time, we will take turns writing and we ask that you allow us to vomit these words on and into you. Be our baby bird and let us be your mamma.]
What up folks? Mike/Phil here. We know it's been awhile since we put out an episode. We are sorry to the few of you that listen. I mean that. As we've pushed forward doing this thing, people have come and gone (look at the sidebar now). I'm very thankful to have done this with all them and so honored to have had them help me. Life gets in the way though, schedules collide, all sorts of stuff happens when you podcast. It's weird and stressful. Right now, I've been working on episode six for almost two weeks now. Had my first edit get corrupted, then had a late interview to put in and then other responsibilities have kept me from finishing. We had a blog to put out and that straight disappeared. It's weird maybe, but this stuff worries and stresses me. It's ok though. It also allows to have fun with my friends and (hopefully) entertain you folks.
Another fun thing that a few of us have gotten into is; developing our own game. A friend has done the concept art/main art and all around design and Jesse and I are plugging away at the development part. We don't have any more to say on that at the moment, but it's really exciting and fun stuff. Especially for me. I'm 31, an old man in the games world. I gave up my dream of working on games or just in this industry, a long time ago. Now here I am, living my fucking dream at 31. That's so insane and awesome to me. I've been floating on cloud nine for a couple weeks now. The tools and guides to this stuff is so plentiful and cheap, if not outright free. I never could have imagined this, back in the days of
C++
and
Visual Basic
. As I said in my recaps today, I'm a busy ass man these days, but goddamn am I happy with it.
Now onto the part where I buy your love. This time the lovely folks at
Rebellion
have been kind enough to give us a 4-pack of
Sniper Elite: Nazi Zombie Army
for
Steam
. This is a damn fun game. I'm a huge fan of the
Sniper Elite
series myself and I enjoy
CoD
zombies as well. So at first glance I was sold already. I'm now about 4 hours into the game and damn. That's all I can say. This is a really tense, fun shooter. It absolutely shines in co-op too. The minute you see the numbers stacked against you, you will crap your pants. Now I'm a bit of a masochist and have been rolling mostly solo. So it is doable if you don't have friends. It's not like that other games zombie mode alone. This is a fully standalone dealy too. You don't need to own
V2
to play it. It has a great horror vibe that will remind you of the 70s and 80s. I just really dig it. I hosted it last week for FNF and I shall be hosting it again. A lot probably. Plus look at the cover art above. Totally metal.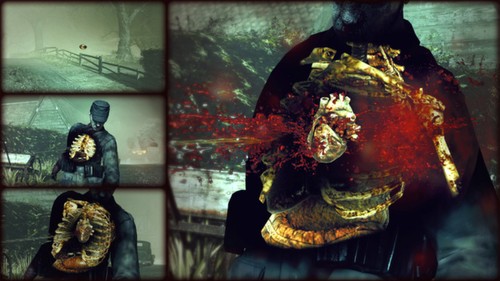 You must be asking, "How do I win?"
Simple. leave a comment on this blog, telling us your favorite horror movie of all time and why you love it(or hate it) so much. If you don't watch horror, I want to know what movie/tv show/whatever, scares you the most and why then. I don't want comedies or spoof movies either.
You little butt munches follow the rules or I'll let Smurfee in your house while you sleep. I'll give him the mayo too.
Contest Ends: March 18th
-Mike
---
LOOK WHO CAME:
LowerTierPodcast
smurfee mcgee 1
shaxam1029 1
Panzadolphin56 1
DepressedOptimist 1
BrowneyeWinkin 1
ShadeOfLight 1
M Randy 1
Occams 1
Char Aznable 1
Usedtabe 1