Everyone knows that movies based on games are fantastic
*high fives Uwe Boll*
.
And everyone knows that games based on movies are even better.
But why is it only the high-octane action blockbusters and kids animations that get the crossover treatment? Why is there little to no room for artistic dramas to be converted? While Activision work out how solve that problem (Call of Duty: Schindler's List edition?), I've conceptualized a video game for Lost in Translation.
If you're unfamiliar with this movie, it stars Bill Murray and Scarlett Johansson as characters emotionally lost in strange and wonderful Tokyo, Japan. Besides using 80% of the movie to boost tourism to the city, the other 20% features the main characters trying really hard not to bone each other. They exchange intimate glances and occasionally touch each other softly. It's lovely.
The game will be a modern text adventure. You'll play as Bill Murray, whilst Scarlett Johansson becomes an unlockable player after completing a single playthrough. *If you complete a second playthrough, a bar of tofu will be unlocked as a playable character.
Here are some in-game screenshots I came up with:
You're due to star in your first commercial, and already Tokyo is being really Japanese to you. How will you handle it?
You and Scarlett Johansson are no longer strangers in the night, but how will Bill Murray cope?
That famous end scene. That whisper. Now, not only do you get to know what Bill Murray utters in Scarlett's ear,
but you get to decide!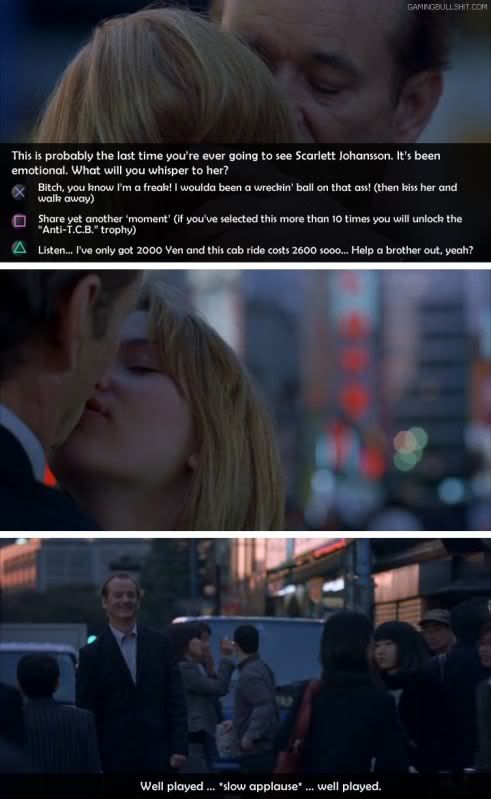 As a pre-order bonus you'll get the Japanese chat show host as a playable character. Enjoy his wacky mini-games as you collect as many used panties as possible in the allotted time (online leaderboards also available).
Lost in Translation: The Video Game - RRP $59.99 (360/PS3/Wii/PS2/Saturn)
------------------------------------------------------------------------
*update: the ESRB deemed "the tofu sidestory" far too explicit for inclusion
---
LOOK WHO CAME:
Lou Chou
Sean Daisy 1
Gregory Edwards 1
KingOfRedLions 1
princevaliant 1
Caitlin Cooke 1
Dr Rainbow 1
Ben Davis 1
Jed Whitaker 1
Fame Designer 1
Handy 1