Iíll start with Fusion, because this one was sort of hit-or-miss for most Metroid fans. It wasnít the linearity that bothered me; I never did any of that sequence-breaking that makes the Metroid games so popular. Hell, I kind of liked it. The premise was good, Metroid meets Starcraft (although the idea of an alien species turning things into monsters is older, I always associate it with the Zerg). The story was interesting, and the levels were pretty fun; it's like they got a list of all the things I didn't like about other Metroids, and fixed... some of them.
No, my two main problems were this bitch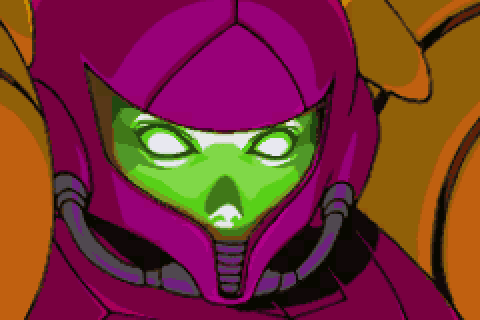 Stupid unbalanced Copy Samus
and this dick.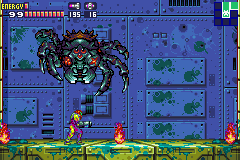 Yakuza. GOD I FUCKING HATE THIS GUY!
The parts with SA-X Samus were really just unfair; itís like the developers just boosted SA-X Samusís damage ratio to ludicrous amounts and called it a day, instead of actually trying to make things a legitimate challenge. The part where sheís chasing after you, and you have to escape (I think itís before Yakuza, but itís been a while since Iíve played), for example. I get that itís supposed to convey how strong Copy Samus is, but it just gets tiring after she keeps killing you over and over again. The boss fight was also bad; she still does a lot of damage, and youíre reduced to scurrying around, trying not to lose an entire tank of your health from one of her shots. Samus is supposed to be the deadliest force in the galaxy, a one woman army. The boss fight should have been epic; Samus coming face to face with her mutated, evil counterpart. Law versus chaos; technology versus the organic. The ultimate showdown between Samus and the abomination of the SA-X parasite, with the fate of the galaxy hanging in the balance. And yet, there I was, scuttling around like a cockroach.
And the Omega Metroid. That was yet another tease. Even after the sub-par boss fight against Copy Samus, you still think there's hope for a great final boss. I mean, just look at his sprite! It's so cool! Yet... look at this video.
The first thing you may notice is the setup. Samus is sprinting back to her ship, heavily wounded after her battle with her copy, when she is suddenly ambushed by an omega metroid, the
second
most powerful type of metroid there is. Defeat looks inevitable, yet Samus rushes in bravely to try to destroy this monstrosity, only to be knocked back with ease by one swing of the creature's claws. Suddenly, help appears, in the unexpected form of Copy Samus. In an homage to Super Metroid, it heavily wounds the omega metroid, yet is quickly dispatched. It gives the rest of its life energy to Samus, knowing that only she would be able to destroy the most powerful form of its hated enemy, the metroid.
The second thing you notice that he only has
one attack.
That's right, this towering biological monstrosity has one attack, and is quite possibly the easiest boss in the game. Metroid Fusion ends, not with a bang, but a whimper.
And then there's Yakuza; making bosses this annoying should be a capital offense. Heís got that one attack where he grabs you and smashes you repeatedly against the ground, and then the goes up about one Samus-height (note to self: make Samus-height an official measurement), and then comes down again and picks you up before you have a chance to recover and smashes you again. Thatís not that bad in and of itself; even if itís an unfair boss, itís still tolerable if you can immediately try again after he inevitably wipes the floor with you. But no, you had to go through a long, tedious bit of getting to him again, which took about five minutes. This doesnít sound so bad, but you have to make that trek every time you die. And I died a lot.
Now, onto Metroid Prime. Prime started out good,
damn
good. The ambience was great; it was really creepy, the music was good, and finding out the story by scanning everything was pretty cool. The bosses were also awesome. Like that giant flower thing that was mutated by phazon; you know the one. It was awesome.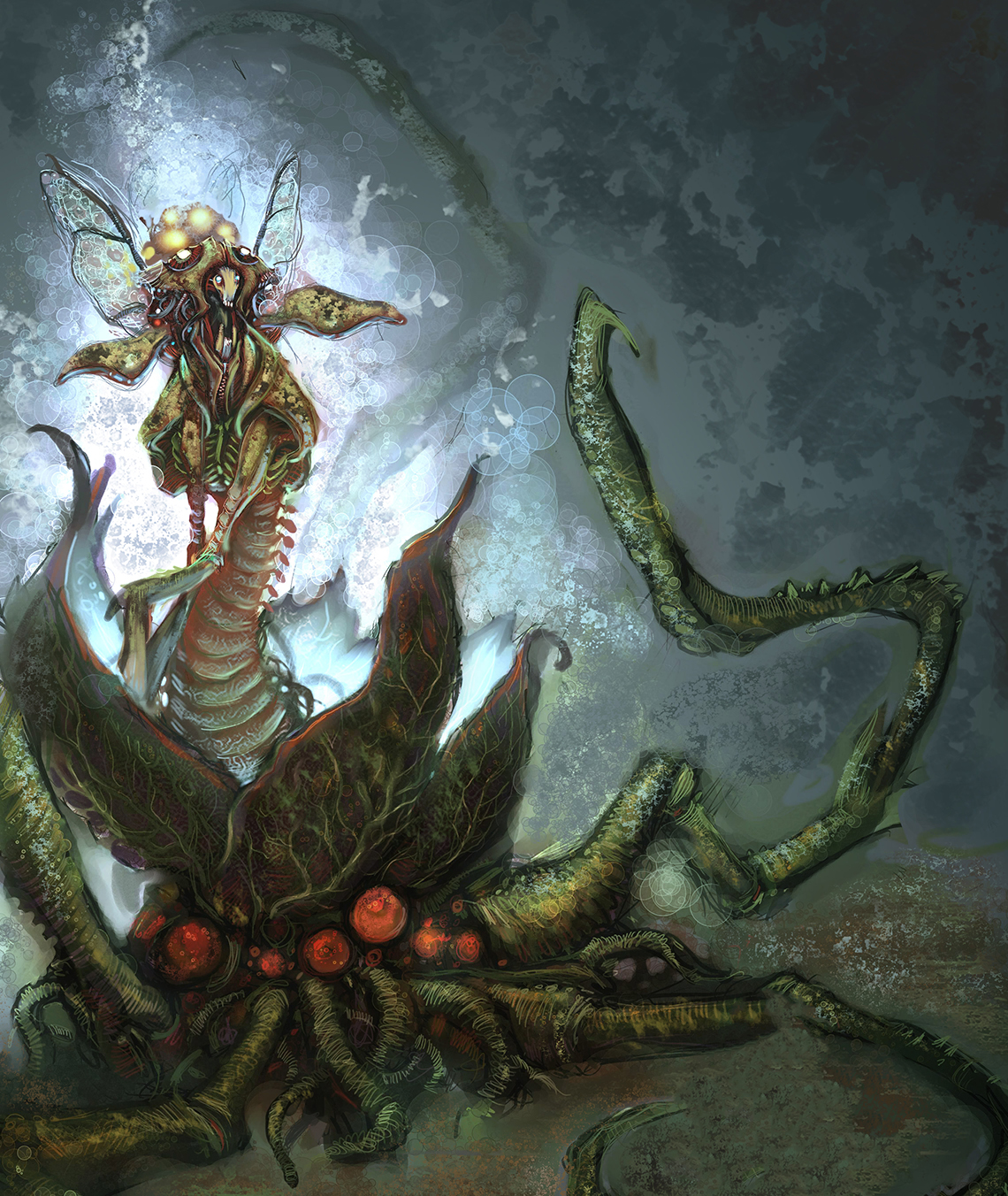 Yeah, this guy.
Or the rock golem guy.
This dude.
He was fun too. But there were several problems, the first of which was the space pirates. They were actually really cool enemies, all insectoid and reptilian and whatnotÖ awesome. Really fit the whole creepy mood the game gave off. But, whenever the space pirates popped up, the game became downright painful to play. The lights shut off, and playing in total darkness was just annoying; whatís the point of making such a huge, expansive environment if no one is going to see it? You were supposed to use the infrared or x-ray visor, but that was just really awkward and ugly. Also, the music, which normally was rather enjoyable, suddenly became painful; itís like the game composer was playing a cruel joke on all us.
Another big problem was the controls. Hereís how I fought most bosses: Hit left on the d-pad to bring up the scanner visor, hold down R, move the crosshair towards the enemy, oh crap itís attacking, hold down L, release R, dodge, hold down R, release L, move the crosshair again, hold down L, now itís locked on, release R, dodge while itís scanning, read the entry, repeat, only for attacking this time. Itís been a while, maybe I got some of the buttons wrong, but thatís pretty much how it went. Not to mention the doors that only opened whenever you killed all the enemies. Enemies, I might add, which respawned. For example, the room with the big tree and all the poison around it, had three chozo ghosts in it. So, every time I got lost, which was a lot in an exploration based game, I had to go through that room. And I had to fight those ghosts again. And again. And again. And those ghosts were annoying as hell. I actually got the lava beam, but then it said that I had to go find the nine artifacts to open a door, and I just couldnít face that prospect. I'm aware that this means I miss out on some of the best bosses, Meta-Ridley and Metroid Prime, but... I dunno.
Oddly enough, writing this entry makes me want to play those games again. Maybe one day I'll finally finish Metroid Prime. Maybe, one day, I'll be able to enjoy these games.
Author's not: Sorry about posting this again, but I worked hard on this, and I wanted it to show up on the recent blogs.
---
LOOK WHO CAME:
Lazerpig