Today we look back at three software companies who gave us years of amazing games, only to be become so successful that they caught the eye of larger software publishers, who then bought them up and devoured their talents.
So here's to the fallen heros:
***
New World Computing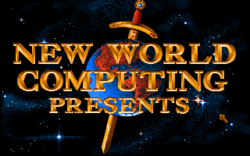 New World Computing, Inc. was a computer game development company founded in 1984 by Jon Van Caneghem and Mark Caldwell, best known for its work on the Might and Magic computer role-playing game series and its spin-offs, especially Heroes of Might and Magic. When its parent company, the 3DO Company, declared bankruptcy in 2003, New World Computing ceased to exist, and its assets were sold off to other companies.
A list of noted titles:
Anvil of Dawn
Chaos Overlords
The Faery Tale Adventure
Heroes of Might And Magic 1-3
Might and Magic 1-9
Joe & Mac
Planet's Edge
Nuclear War
Might & Magic - Darkside of Xeen Intro:
http://www.youtube.com/v/6vLSoU0E07M&hl=en
***
Dynamix
The company was founded in Eugene, Oregon in 1984 by Jeff Tunnell and Damon Slye. Their first title, Stellar 7, was released before company founding and was later re-released with the Dynamix name on it. They made a number of games for the Commodore 64, among them Project Firestart which was one of the most atmospheric titles for the C64.
In the following years, Dynamix created a line of action games for Electronic Arts, including one of the first games for the Commodore Amiga, Arctic Fox. Later titles were developed for Activision. After self-publishing their games for a short while, in 1990 Dynamix was bought by Sierra On-Line.
Once part of Sierra, Dynamix created some of their most famous games, including a line of adventures and flight simulations that included Red Baron and The Adventures of Willy Beamish. They also created the puzzle game The Incredible Machine, along with the spinoff Sid & Al's Incredible Toons. Another successful product line was the Front Pages Sports series, designed by Pat Cook and Allen McPheeters which included Football, Baseball, and Golf. Versions of Red Baron and Front Page Sports Football were included as part of the ImagiNation Network.
In 1994, the first game in a new series called MetalTech was released, a giant robot combat game with similarities to the BattleTech universe and games. This series resulted in two Earthsiege games and eventually Starsiege. As a side development of the Starsiege game, the successful Tribes series was created. Dynamix also created Outpost 2: Divided Destiny, the second game in Sierra's strategy/survival franchise, Outpost.
The Dynamix studio was closed by its parent company Sierra in August 2001, as part of Sierra's restructuring under Vivendi Universal. Several veterans of the studio (including Tunnell), however, stayed in Eugene and founded a new studio / electronic publisher, GarageGames.
A list of noted titles:
Stellar 7
Skyfox
Caveman Ugh-Lympics
MechWarrior
A-10 Tank Killer
Deathtrack
Red Baron 1,2,and 3D
Rise of the Dragon
The Adventures of Willy Beamish
Heart of China
Aces of the Pacific
The Incredible Machine
Betrayal at Krondor
Space Quest V: The Next Mutation
Metaltech: Earthsiege
Starsiege
Starsiege: Tribes
Tribes 2
Red Baron Gameplay:
http://www.youtube.com/v/rY5mDKmS_xk
***
Black Isle Studios

Black Isle Studios was a division of the computer and video game developer and publisher Interplay Entertainment, created specifically for the development of computer role-playing games. It was based in Orange County, California, USA.The division was formed during 1996, adopting the name "Black Isle Studios" during 1998. The idea for the division's name came from the Black Isle in Scotland - founder Feargus Urquhart's native country.Black Isle Studios is most famous for working on the Fallout and Baldur's Gate series of computer role-playing games, though it only published the Baldur's Gate series.
In 1998, several key members responsible for the division's first title, Fallout, left Interplay to form Troika Games after they "were unable to come to an agreement with Interplay as to how [their] next team should be structured". On December 8, 2003, in the midst of serious financial difficulties, Interplay laid off the entire Black Isle Studios staff. As of 2007, Interplay has neither explained the move nor clarified what the future holds for Black Isle Studios, but considering the fact that Interplay itself is now a company in serious financial straits, the future of Black Isle is grim indeed. Many former Black Isle Studios employees now work at either Obsidian Entertainment or Bioware.
A list of noted titles:
Fallout
Fallout 2
Planescape: Torment
Icewind Dale
Icewind Dale: Heart of Winter
Icewind Dale: Heart of Winter - Trials of the Luremaster
Icewind Dale II
Baldur's Gate: Dark Alliance II
Last Kingdom
Among the products whose development Black Isle assisted are:
Baldur's Gate
Baldur's Gate: Tales of the Sword Coast
Baldur's Gate II: Shadows of Amn
Baldur's Gate II: Throne of Bhaal
Lionheart: Legacy of the Crusader
Fun Fact:
The studio used to code-name its projects after U.S. presidents and vice-presidents. The system was reportedly created by Josh Sawyer (aka JE Sawyer), who joined the company in 1999.
A list of some BIS projects with their code names:
Project King - Stonekeep II, canceled in 2001
Project Adams - Icewind Dale: Heart of Winter
Project Washington - Black Isle's Torn; announced and canceled in 2001
Project Madison - Icewind Dale: Trials of the Luremaster
Project Monroe - Icewind Dale II
Project Quincy - Lionheart: Legacy of the Crusader (This was a ruse by Feargus Urquhart, as there never was a U.S. president with that last name and Lionheart was not developed by Black Isle Studios. Lionheart was also codenamed Fallout Fantasy.)
Project Jackson - Baldur's Gate: Dark Alliance II 2003
Project Jefferson - unofficially known as Baldur's Gate 3: The Black Hound; project name mentioned as early as 2001; canceled 2003
Project Van Buren - Fallout 3; canceled 2003 as PC staff was laid off
Fallout Intro:
http://www.youtube.com/v/oUX6LrrksS8