We have Atari Plug and Play, and other crappy "Systems on a controller", but did you know that China gets a freaking SNES/N64 in a controller? Or how about a Dreamcast clone that has more features than the original? Check out the awesomeness!
***************************************************************************
Nintendo IQue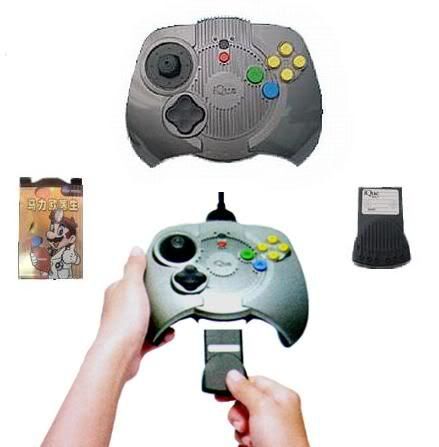 China has been a piracy plague for videogame manufacturers for years. Many home consoles have been cloned and sold throughout the streets of Hong Kong. Why spends more money when you can get a cheaper clone?
Although many of their older consoles have been cloned, Nintendo realizes there is still money to be made there. So in November of 2003, They announced a low cost system to debut in China. The system called "Ique" (rough translation = God's Toy) is not necessarily a new console. Nintendo used nanotechnology on their Nintendo 64 console (similar to Sony''s PSX) to create a single chip solution containing CPU, Graphic Engine, etc. This new design allows doubled operating speed, reduced electronic noises, low power consumption, and most noticeably a reduced size. The picture above tells the tale. The heart of N64 has been built into a single controller. The nanotechnology design also gives Ique the ability to "hardware emulate" the SuperNES system.
What makes it even more interesting is the fact that Ique, although essentially an N64 machine, does not use cartridges. The console uses a 64-megabyte Flash Card as a game media. These Flash Cards will be used to download and store N64 / SuperNES games. The overall concept works similar to Nintendo's efforts with the Famicom Disk System. Gamers simply purchase a game title and download it onto their Flash Card. This design makes the games cheaper for purchase.
So how will Nintendo discourage piracy? Each Ique flash card contains a digital signature specific to that unit. So a flash card from one Ique will not work in another. The flash card also stores a download log. This log records what games have been purchased. This will prevent downloads of games not purchased. It also works for the gamer. If a purchased game is deleted simply to make room for another game, it can be downloaded again for free the next time. This download log system is also used to allow time limited game demos.
The Ique retails for Yuan 598 (Less then $100USD). It comes packaged with the unit, a power supply (220V), and the 64megabyte flash card containing 5 pre-downloaded games. Doctor Mario is a full version title, but Zelda 64: Ocarina of Time (10 hours), Mario 64 (7 hours), Wave Race (1 hour) and Star Fox (1 hour) are time limited demo versions. The package also contains a serial number and password that allow you to download new titles to your system at locations throughout Shanghai, and possibly through the Internet. Full versions of games cost 48 Yuan (approximately $6USD per download), and contain in-game manuals.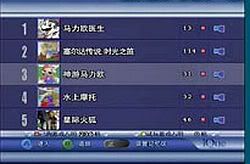 An interesting device that can be imported, but may also appear on other shores.
FACT: The Nintendo Ique uses an operating system called UOS (Updateable Operating System). This allows Nintendo the ability to possibly change features in the unit. These changes simply need to be downloaded by the gamer onto their flash card.
**************************************************************************
Treamcast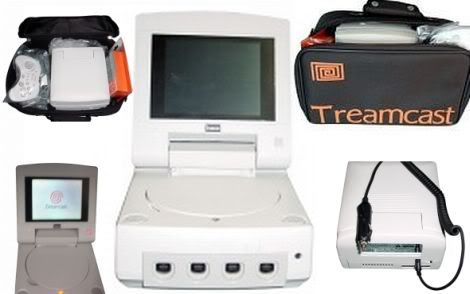 It seems to have been the going trend in the year 2000. Take an LCD screen and attach it to a console, provide an alternate power source, and you get gaming on the go! It's been done with the PSOne and the GameCube consoles, but who would think to make one for the Sega Dreamcast? Apparently the people of China felt it was a good idea. From the streets of Hong Kong comes the Treamcast! For around 1500HKD (around $192 USD ) you could get your hands on this portable Dreamcast .
The Treamcast unit comes in it's own soft nylon suitcase styled carrying bag sporting it's name. The bag contains velcro straps similar to a laptop bag, and open slots for game storage. The Treamcast bundle comes with the system, two 6 button Neo Geo CD style game pads, wall power cable, car adapter, and a remote. Why a remote? Treamcast not only plays games. It can also play VCD (Video CD), SVCD, and even MP3's. Other modifications include a brightness regulator knob for the built in back lit LCD screen, and also input jacks for speakers or headphones. There is even an adjustable volume knob. To top things off, the Treamcast is completely region free.
When placed side by side with the actual Dreamcast you can clearly see that the unit is a lot bulkier, but generally the same size. The LCD display works well, but like most displays of this type can get blurring during fast pace action. The control pads work amazingly well, and are suited better for fighting games. However they lack the ports for both the VMU and rumble packs. So you may have to pick up an official Dreamcast controller to get the most out of certain game titles. All in all the Treamcast is a remarkable system.
FACT: You don't have to take a trip to China to get your paws on a Treamcast. You can find the unit available at many game import sites.