So I finally in some candy based insomnia got to watching another episode of RWBY to review. I watched episode eleven and the thing is despite being Juane focused well...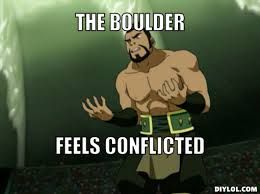 The issue is despite there being things I like this series seems to be diving so straight faced into cliché that it just kind of gets on my nerves.
I mean the series at first was revealed to all take place at a "special" academy, then we got the friendship work together stuff, then the over the top expressions, now there is going to be a tournament, there is also the pointless bully character that just eats your time, and they even got a chick with animal ears now. Animal ears that clips through hands too.
It is just at times like the writers watched a bunch of anime and just regurgitated the basics without doing anything with it. I mean I'm not saying it is the worst representation of these cliché elements I'll give it that.
The issue is though that it makes me so uninterested in watching the show I half the time think I should just wait until all the big fight scenes are compiled together and skip the plot entirely. Which I don't want to do but even if a show is known for its action scenes you should still be able to make someone give a damn about the context around that action.