I like how Tubatic went about this, what with a Top Ten list and all, so I shall do the same! So without further ado, here are ten reasons why YOU, yes you Mr. PAX Attendee, should take my avatar with you to PAX and carry it around like a creepy security blanket. Once my avatar is adopted, I will send the adoptee a larger version of it.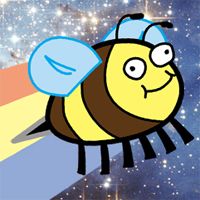 ----
1. First off, it's a mutherfuckin' bee! What's cooler than that? Oh wait, it's in space. AMAZING. And I drew it myself. That makes it self-sustaining.
2. I was a frequent user of the Goodwill thread on the RetroforceGO! forums. My best find? A complete in box 6-pack of classic LucasArts games that fetches for about $90 on the internet. I bought it for $15.
3. I have played the classic PS1 game LSD and have lived to tell the tale.
4.
I made a RetroforceGO! game last year.
How's that for dedication?
5. I will be going to my first year of college in two weeks. So even if I wanted to go to PAX, I couldn't because I am fulfilling my patriotic duty. What have you done with your life today?
6. I am down with friendly, non-sexual cuddling in bed with friends. And so is my avatar.
7.
I was Mr. Destructoid for one glorious day.
It was amazing.
8. PAX spelled backwards is "XAP" which could be pronounce like "ZAP" which kinda sounds like "ZZZ" which kinda looks like "BZZ" which is the noise a bee would make and my avatar IS a bee. Coincidence?
9. I've purchased three different Dtoid t-shirts, so if I were at PAX I could promote Dtoid for an entire weekend. Could the same be said about you? Well, my avatar could make that possible.
10. Because I love you.
---
LOOK WHO CAME:
John Charles Holmes
smurfee mcgee 1
mourning orange 1
Funktastic 1
Beyamor 1
Handy 1