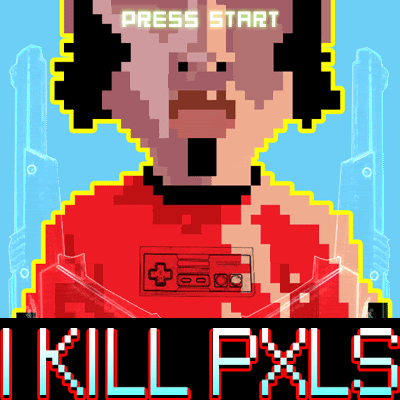 After a whole lot of pixelated blood, sweat, and tears, the first I KILL PXLS album is done and out. As promised, I've decided to release it upon the internet masses for free and you can download it now at the new official site
WWW.IKILLPXLS.COM
. It's being hosted at a few different sources so hopefully you won't have any trouble getting it but let me know if you do.
At the new website, you'll also find pages with download links for the other releases (
"Your Arcade is a Dance Floor"
&
"LOST LVLS"
) as well as all of the remixes I've done so far. Pretty soon I'll have a page up for everything else like wallpaper, photos, and lyrics too.
There's also a donate button on the front page if you want to contribute but don't feel obligated to. Most importantly I wanted to get the music out there and that's why it's up for free.
Thanks to everyone at DESTRUCTOID for all your support and feedback and shiz. I really appreciate it. Now go download the album, fire up Audio Surf (or Vib Ribbon if you're cool like me), and enjoy!
Also, Dance BITCHES!
Track list:
1. Mega Love Gun
2. Princess P
3. Your Last Life
4. 3D Lover
5. Mid-Boss
6. My Final Fantasy
7. Blocks in the Sky
8. These Streets of Rage
9. WWJTD?
10. Continue?
11. Destructoid Theme
=GuitarAtomik+