You may or may not recognize that phrase. Was it a curse word? Maybe. Sure sounds like one. But it's not a phrase I came up with. No, that honor goes to Disney. Why? Because it's a popular phrase from tonight's movie! What's tonight's movie? Why, its.....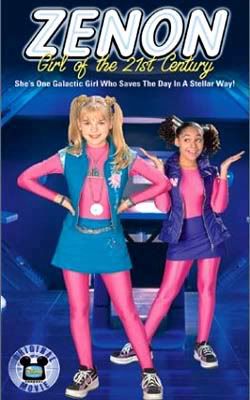 ZENON: GIRL OF THE 21ST CENTURY!!
Tagline: She's one galactic girl who saves the day in a stellar way!
That's right. We're watching Zenon. And yes, that's a pre-teen Raven Simone. This was a request by another viewer, and I think it's actually a great choice. How many movies are there that have a pre-teen who lives in space, has a spunky black "gurlfriend," is a huge fan of a terrible Australian singer, AND spouts out random things that are considered "space slang?" Not including the 2 "Zequels" this movie has, I'd say not very many. So be here tonight for this super-shitty Disney Channel Movie!
ALSO, I've got some more HILARIOUS US Street Fighter cartoon for us to watch as well as some more Swat Kats and, fresh to the lineup, REBOOT! Here's the Lineup schedule:
PRE-MOVIE LINEUP
Starting at 6PM CST/7PM EST
NEW Swat Kats
(1 Hour)
NEW Reboot
(1 Hour)
Street Fighter US Cartoon
(2 Hours)
Movie Tiem!!
(10PM CST/11PM EST)
OH! And be here tomorrow when the Super Bowl starts as I will be streaming the PUPPY BOWL!!!