If you ever go to the Mission District in San Francisco and are just craving a milkshake or some decent diner food. There is a place on 24th street called St. Francis Fountain that is pretty amazing. Not only can you get a fine milkshake at the place, but they also sell vintage Topps movie and entertainment cards for the 70's, 80's and early 90's. One of the sticker packs that caught my eye at the place was the Video City sticker cards.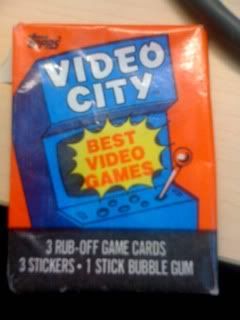 I remember my mom buying these for me when I was young, but it's been so long that I forgot about them until I saw the Turbo scratch off card included in one of the packs. The date on the packs state that these were produced in 1983, so these cards are a good 26 years old. Kinda crazy that I remember them due to the Turbo cards, but they also had some stickers with some horrible artwork for Frogger, Donkey Kong Junior and Zaxxon. Anyway, I'd figured that I'd post them so you all could see. Sorry about the quality of the pics, I took them at work with my iPhone, but they get the message across.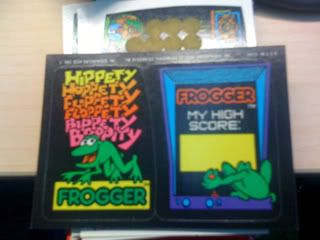 They had another card set that was dedicated to Donkey Kong Junior and I'll probably go back and pick up a pack of those later, but I just wanted to so you all how awesome the art was for these cards. There were some other cards that I wanted to pick up for the nostalga factor as well, ""they also had Yo MTV Raps cards, cards from the movie Dune, Garbage Pail Kids stickers and New Kids On The Block cards"