(Written after I beaten the game)
I'm a huge Metal Gear Solid fan. I haven't played the Metal Gear games, but I did read up on what happened. I played MGS1, a little of 2, 3, 4, and a little of Portable Ops (to be fair, I hated the controls so much that I ended up youtubeing what happened). On my spare time, I love to wikia game series, and while I wikia things like Silent Hill, Final Fantasy, etc., I'm usually always reading up Metal Gear Solid. That being said, I couldn't believe that not only was the PSP was getting 1 MGS game, but 2 (!), AND the fact that Kojima himself calls it "The MGS5 at heart," I knew that it was going to be awesome. Sure, Portable Ops left a bad taste in my mouth, but I can't deny that it was a good game. I mean, some of my favorite MGS moments were in that game, like when Elisa told Big Boss that "one of his children will bring the world to ruin and that another would save it," foreshadowing the events of Metal Gear Solid 4. However, Portable Ops is kinda like a spin off, and Peace Walker was meant to blow us away. Does Peace Walker walk with peace, or will it bring destruction?
Story and presentation
4 years after the events in Portable Ops (and 10 years after Snake Eater), Naked Snake, still refusing to be called Big Boss, is running the Militaires Sans Frontieres (Solider Without Borders) with Kazuhira Miller when a man known as Professor Galvez walks in with a little girl named Paz and an offer: Paz's country, Costa Rica, is being invaded by strange men, and they are suspicious of their activities. He offers Snake a base in return for his help, but he refused, seeing as he doesn't want to be mercenaries. His mind doesn't change even when he finds out that Paz has been tortured because she caught something on tape that she shouldn't have. However, when he finds out that the thing that Paz caught on tape (recording) was evidence that The Boss was still alive, Snake quickly agrees to the mission.
Now, I know what the diehard fans of MGS3 are thinking: "What!? The Boss is still alive!? That's so much bull! It completely ruins the MGS3 ending!" Yes, I know they thought that because I was one of them. Still, I was intrigued, so I decided to keep going, and boy, was I happy that I did, as to me, this was one of the best storylines I've ever played, Metal Gear Solid or not. While I'll try not to spoil too much, this game deals with things like nuclear deterrence, the Cold War, human rationalities, and the true meaning of peace. I mean, even though this game is rated T for Teens, the story really needs to be experienced by mature gamers. The fact that Peace Walker's true objective to spread peace by becoming to most powerful nuclear weapon is a little ironic, but thought provoking... Would people really not use nukes if they are threatened with a nuclear strike themselves?
And don't get me started with the whole deal about The Boss: If and how she's still alive, I'm not going to reveal, but I will say that this is the kind of conclusion that Naked Snake needed. As players remember, Naked Snake is STILL wearing The Boss's bandana, and he even now sports to same exact scar as hers (although in that game it was a snake, in this game... it's a spoiler), so it's important to not only Kojima to finally conclude that story, but to us as a gamer to find out the final resolution between Naked Snake and The Boss, as well as his acceptance to the name Big Boss. There are two endings in the game however, and it fills in the holes of Big Boss pretty well; youíll find out why he went from a good person in MGS3, to a poor misguided soul in Metal Gear.
He sure as changed, hasn't he? They grow up so fast...
Yeah, as you can tell, the story is pretty damn deep, as well as engaging, but not everything is entertaining however; Rather than have long conversations by Codec, most of the conversations will take place in the form of recording sessions. That means that from anywhere from 2 minutes to 10 for a single session, you'll stare at a single picture hearing either an important conversation, or a really boring, unnecessary one. Being the kind of person I am, I took the liberty to not only play, but to actually pay attention to every single cassette tape... I got to say that while you'll learn about the plenty of characters in the game, you'll be bored about 75 percent of the time (and note, this is with voice acting... better install that game unless you want to read through it). I personally didn't mind listening to it, but only for a few select tapes did I actually care about what they were saying. Still, the storyline in the game is still as great as all the other MGS games, no matter what the haters say.
Game play, controls, and modes
While the series has a good rep for having an awesome story, let's not forget one of the real reasons people play video games... the game play. Well, instead of a control scheme akin to MGS1, 2, or 3, this game's default controls is similar to the control scheme of MGS4, which is an over the shoulder view much like Resident Evil. The analog stick is used for character movement, the face buttons are used for aiming, the shoulder buttons are used to shoot, and the D-pad is used for everything else like switching weapons to proning. From my experience, this is definitely a step up from Portable Ops, but I still had some minor problems with it. For example, the analog stick is NOT sensitive at all, so trying to sneak up on people is much harder than previous games without the sneaking suit. While the face buttons makes combat easier, it doesn't have the right feel that you get from a console game. When you shoot up close, the aiming reticule tends to go for the head (with auto aim it goes for chest), but when you're trying to snipe, you'll have to move the reticule yourself, and that can be hard to accurately get a headshot when the person's moving. Plus, you can't even prone and move at the same time! Instead, you get a realistic "crouch and walk" feature, but not being able to prone isn't helpful.
Still though, the controls are a definite step up from Portable Ops, so I at least finished the game, but the controls arenít what deserve the credit. For most games, I can appreciate a user friendly experience, so when this game is that, PLUS time friendly; I knew that this game is widely accessible. In previous MGS games, you always had to procure weapons and items on sight, which allows for slight item management, like when to use a ration or when to shoot. In this game however, the game is divided into missions with Snake returning to base after each one. This allows for a much easier experience as you can save after each mission, and get your supplies back. Even better is that weight and camo plays a role in this game, so carrying too much or too heavy supplies will make you louder and more visible. Sure, while you can't carry like 10 weapons anymore, it's definitely nice to be able to judge a mission and to bring only the things you'll actually need for it, and it's really appreciated to be able heal and get more healing supplies after a mission.
Those fools will NEVER suspect a battle hardened soldier in a pink box...
How are you able to get supplies at base? Well, the recruiting system in this game is back, and it's better, albeit totally different than before. In Portable Ops, you had to knock out a person and, in a best case scenario, drag him to a nearby teammate and let him do all the work. In this game however, while you'll fight the mission solo (offline), you can easily recruit teammates with the Fulton system: Just knock out the person you want, equip the Fulton system, and then press the action button next to them to instantly (and strangely, quietly) evacuate them. It's pretty cool to use because you're graded for each mission and to get a high score, you can't kill people, so rather than knocking them out and rushing to the nearest area exit (as each "region" is divided into several "areas"), you can just take them off the field, no dragging involved. The bad side is there later on, you'll rarely have enough of these things to successfully take out every single enemy, but at least you can be smart about who you take out and who to leave.
Anyway, while Snake is off fighting his own fights this time, the soldiers (and prisoners) he recruits are taken to the MSF base where you can assign them a job to the Mother Base. Every soldier and prisoner has different skills such as Combat experience or Research skills that you can use to produce weapons, items, and more. It's an interesting concept as it feels like you have support, and later on in the game, it's nice to see how big Mother Base has grown (visually by a 3D model). The best part of this though has to be what's called the "Outer Ops," which is a "simulation" of sorts where you can assign your soldiers in the Combat Unit to battle with the enemy a la Pokťmon (you recruit soldiers, select 8 of them, and then send them off to fight in a Pokťmon styled fight). While it's exciting at first, you'll eventually realize how shallow this mode actually is; For one thing, attacking is nothing more than just sending out the troops; That means that whatever happens in an actual battle is out of your control, and when you can lose units and vehicles due to poor A.I., it's irritating. I mean, what kind of a soldier would use a M1911 against a tank, but a Carl Gustav against a normal enemy grunt with only like 1000 HP? Still, it's a nice addition since you can at least feel that there are other people fighting other than you.
Features and Final Notes
This is arguably one of the best MGS game ever. While 1 is what most of us got into, 2 was a unique experience, but 3 and 4 really hit home for a lot of us. Still, with so many things that Peace Walker has done, it's no wonder why it's considered the 5th installment of the series; There's simply too much stuff in here. While it certainly displeases me that the product placements are out (bye bye Doritos, Mountain Dew, and Famitsu magazines), at least 90 percent of what's left is very nice to have. While there's over 100 side missions to tackle in Extra Ops, there's still so many things to do in this game that it's mind-blowing. I already mentioned the Outer Ops, which is a horrible simulation, but the real reason why you'll be going there (other to beat missions and acquire new weapons and goodies) is to test out your Metal Gear.
Yes, in case you didn't read or played Metal Gear, Big Boss does eventually makes a Metal Gear, and while I won't spoil what happens to this one (Metal Gear Zeke), you can at least use him for your own. To create him, all you have to do is replay certain key boss fights and attack only a certain spot. Of course, it's never a guarantee that you'll actually get a scrap metal (to create a part, you need 5 "scraps" of the part you want), replaying the missions is significantly easier when you acquired new weapons, but it feels like it's more of a Monster Hunter styled way to create Zeke (since you have to repeat missions, boss fights, and even then still not get a part). Oh, did I mention that there's Monster Hunter styled missions in this game?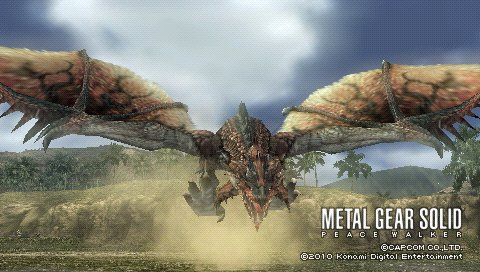 Ah Kojima... you and your jokes
Well, you probably have heard of the Monster Hunter missions if you played any attention to the media coverage of this game, but after unlocking certain conditions, you'll be able to fight the Monster Hunter bosses Rathalos, Tigrex, and Gear Rex, all in stunning 3D glory. These boss fights are definitely a hoot to fight against, but to me, they felt like standard (albeit really hard) boss battles than an actual Monster Hunter styled game play. I mean, if you divided the regions into areas anyway, why not emulate the Monster Hunter experience by having to track and follow the monster? I mean, it would've been nice to kill the raptors for food, then to use the fire spit to cook them for additional health (although you can still use the fire spit to cook rations). Still, you have the option to kill or tranquilize the monsters, although for some odd reason, tranquilizing them is so much easier despite not having any notice, visual or otherwise, if he's about to fall or not. The first time I played these missions, I had pretty standard weapons, so it was easy to make them fall asleep, but even with air strikes, supply drops, Carl Gustavs, and the Fim-34, I still ran out of ammo before I even took him down 75 percent. These bosses are definitely challenging, but like I said, it all gets easier with better equipment such as the Battle Dress.
Still, these bosses are optional and even to get the true ending, you'll never have to play the truly hard missions, but it's still nice to have. There's the option to tackle almost every mission with an ally so co-op is a great asset for this game. While there's the competitive multiplayer, it isn't so hot, but at least the options there. If you hadn't notice, I keep saying the word "Options" a LOT; thatís because the fact that we have the option to do plenty of things that it's mind-blowing! Hell, as of right now, while I'm doing these tedious "search" missions, I usually goof off in Peace Walker by trying to screw around with the Vocaloid program. For those of you who don't know, Vocaloid is a program that people use to create music and even a voice to accompany the music. While in this game you can't use the music composition of the program, you can screw around with the voices to create a short verse from pre-set songs, or even have battle cries for when you deploy Zeke into Outer Ops (mine was "Die..." and even that took a lot of work).
So all in all, this game is actually pretty good. The story is unlike anything I've seen before, and I love it. The game play is reminiscent to of MGS4, which is a great addition for those who couldn't get used to the Portable Ops set up, and there's even those controls should you want them. The comic book styled cut-scenes (with a splash of anime) by Ashley Wood (who worked on Tank Girl) is definitely a treat to behold; I loved how interactive it is, and the flashback to the fight at Tselinoyarsk was definitely a sight to behold: The animated fighting (complete with quick time events) was fluid, the characters were nicely detailed, and the music playing in the background was beautifully haunting. While this game isn't full of those epic moments like in MGS4, what's here is great, and the fact that it finally finishes the circle of the story is a nice gesture.
The going may get tough but...
Score:
Graphics ---- 9.5
-The PSP was definitely pushed to the limit for this game; thereís so much information in this game that you had to data install some of it! The character models look good, although no one's mouth every moves, It's but an annoyance seeing of how little you see in-game cut-scenes.
Sound ------- 9.0
-I was using the Walkman a lot when I played this game, but I still hear the grass rustling as you walk, the birds chirping, and even the sound of a babbling brook. The voice is as top notch as usual, and the music score is pretty damn good. I even had chills when Rathalos screamed at me.
Controls ----- 8.0
-If you hadn't noticed, I pretty much praised the controls here, and kept downplaying the Portable Op's control scheme. However, just because it's better doesn't mean that it's still as good as I'd like it. The camera is either too smooth or too jittery, and sometimes it felt unnatural to switch weapons and run around at the same time while keeping an eye on your enemy. Still, a major improvement.
Fun Factor --- 8.5
-I definitely had a fun time playing this game, but there were some times when I had to "Grind" for weapons to develop, and the game became a real drag as I replayed mission after mission to get the good stuff. Still, I never had to grind for more than an hour, so the story missions more than made up for that, although watch out, as near the endgame there's gonna be a pretty difficult mission.
Final Verdict - 9.0
-I think every MGS fan or PSP owners needs to play this game: It's amazing, it's fun, and it's one of the best PSP games out there. While games like Persona 3 and Crisis Core are good, they take up too much of your time; With a new control scheme and a better user friendly experience, this game can be played by anyone (and this is coming from someone who's "afraid" to play a Zelda game).
We'll never fight alone
- "Petals dance for our valediction and synchronize to your frozen pulsation... Swirling wind sings for our reunion and 9.8 is my acceleration." - Mili
---
---
LOOK WHO CAME:
Dreamweaver