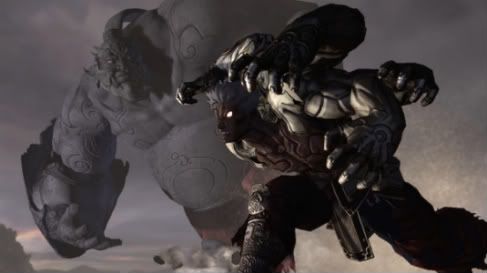 Since Asura's Wrath was announced at TGS two years ago, I have been optimistic and somewhat excited for what the final product would be. With CyberConnect2 developing and Capcom doing the publishing, the early footage displayed what could be an awesome cinematic action game in the vein of Devil May Cry and Bayonetta.
However, after playing the new demo released yesterday, my optimism has been somewhat inverted. Let me state first and foremost that I am among the many gamers who have grown weary of QTE (Quick Time Events). This style of game play started in games like God of War and Resident Evil 4, but has since then saturated every genre from racing to role playing games. I have grown very, very tired of this feature, and Asura's Wrath seems to be built upon it.
The demo lets the player select two different boss fights to sample, with one fight based on ranged combat and the other focused more on melee. However both battles end up being almost identical in that they are so heavily composed of timed button presses and little else. As with most games featuring QTE's, the entirety of the game play feels taken out of the player's hands so that the cinematic nature of the bosses takes priority over having real input.
As with many demos, the two boss fights take up so little of the full game itself that it's impossible to judge the retail release based on this one demo. However, if the full game does little more than recycle what is featured in this demo, then Asura's Wrath might not end up being the big surprise I was hoping for.
---
LOOK WHO CAME:
Drachula64