Even before the idea that Link's Awakening is the definitive series experience was broached in the original post, I immediately knew this would be my contribution to Zelda week. To date, Iíve played through every entry in the series except for Spirit Tracks and three titles that I wonít besmirch the glory of Zelda week by mentioning any further other than this obtuse reference. While I enjoy every game, Linkís Awakening has always stood far above the rest. Iíll get to the argument soon enough, but first I want to share my initial experience with this title.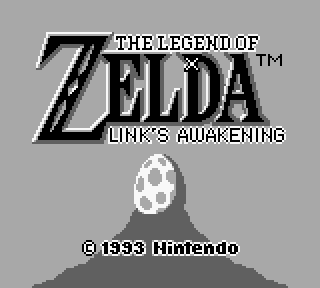 I bought my first Game Boy as a Linkís Awakening bundle. For my birthday that year I was given a gift of cash from my grandparents: $50. I had never been given a cash gift up to that point, and nearly lost my mind when my dad clued me in that I could buy a whole new game system with it along with some allowance money I had been saving (with a little help from dad when my feeble ten year old mind didnít calculate the sales tax right). Playing as Link on the go that summer was engrossing, to say the least.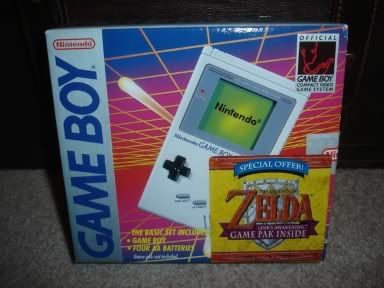 So much so that when the family spent a day at a Lake Erie beach, I suffered horrendous sunburns from sitting hunched over my game boy all day in the heat, never bothering to put on sunscreen: the fact of the matter was, I HAD to finish Bottle Grotto that day. Never before had any Zelda game, or any game at all caused me to sustain personal injury because I was so hopelessly enraptured. In preparation for Skyward Sword, I pulled out the old cartridge along with the Game Boy Pocket and revisited Koholint Island. Following this playthrough, I can say with absolute certainty that there is no finer game in the series, and hereís why.
The Music
Might as well start with a big one; the Zelda series had already established a strong aural component at this point, but Linkís Awakening brought it to a new level. Aside from a portion of the main Zelda theme, this title is packed with original music that maximizes the melodious purity afforded by the Game Boyís sound chip. Every dungeon has a unique theme that plays off of the atmosphere of each beautifully; from the looming sense of terror woven into Catfishís Maw to the understated eeriness emanating throughout the Face Shrine, the dungeon music alone is a masterwork of video game music.
But thereís so much more. While the main theme covers most of the outdoor locations, the mountainous areas are blessed with a gem of a tune that is still one of the more driving tunes of the series. By far though, my favorite entries are the variations on the Ballad of the Wind Fish theme. The melody shows up throughout the game, often at pivotal moments, and ties the story together. With so many outstanding tracks, the only thing left to do is wonder why the hell this game still has yet to receive any sort of OST release!
The youtube BBCode isn't working for me, so here's some links:
Tal Tal Heights
Face Shrine
Key Cavern
Ghost's House
Sword Search
The Humor
While fourth wall jokes and quirky humor have become a standard in many of the games, Linkís Awakening did it first, and still did it best. The children in Mabe Village offer gameplay advice then acknowledge that they really donít know what that means. A villager bluntly tells Link heís going to be lost later in the game in a rather subtle self-deprecating jab.
When Marin is following Link around sheíll criticize his Ocarina skills, terrorize the crane game operator, scold Link for looking inside dressers, and land on his head when the two jump down the village well. You can actually shoplift in Link's Awakening, resulting in everyone from that point on calling you THIEF instead of your chosen name. They even manage to squeeze in some slapstick when Tarin tries to knock down a beehive with a stick, resulting in a sort of Yakety Sax scene. The DX Version adds even more, with the photographer snapping pictures on the game's quirkier moments.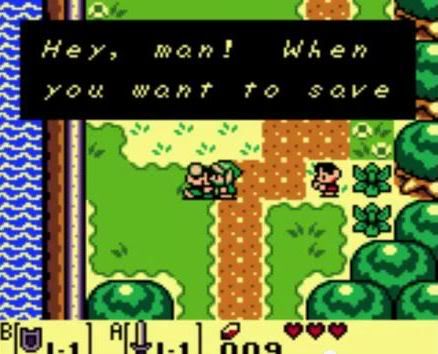 Sidescrolling in a Zelda game
The original Zelda used side scrolling segments, but they were little more than connecting passages. Linkís Awakening turned this mechanic into actual platforming segments, requiring the player to use acquired items to traverse hazardous terrain in a two dimensional perspective. These challenges range from jumps to dashes and melting a path through ice cubes. Best of all, two of the dungeon bosses actually occur in this view, adding even more variety to the already diverse boss lineup.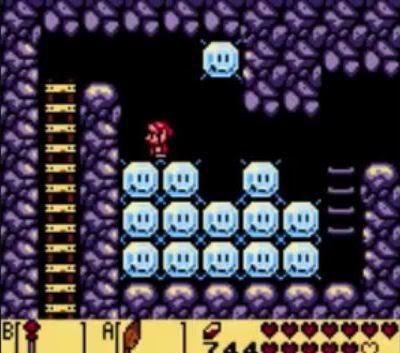 The Combat System
Zelda games arenít known for overly complex battle systems. However, this game has one simple distinction that sets it apart from the rest of the pack: your item buttons are fully customizable. While that does equate to two whole buttons, it was amazing at the time to be able to not always be holding your sword. Hell, you canít even do that now.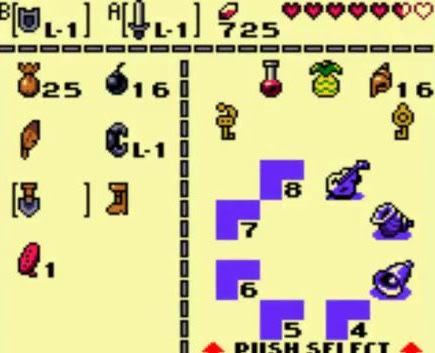 This not only afforded total freedom, it allowed for what I still consider the best two weapons in any Zelda game Ė bomb arrows, and the endless boomerang. The former should be self explanatory, but for those who arenít familiar with the latter, you can throw the boomerang, pick up the flying rooster with the power bracelet, then hover around as the weapon follows your path, annihilating everything below. Which brings me to my next point:
The Boomerang is an Unstoppable Killing Machine
Generally this item is used to stun enemies, retrieve far items, and activate switches. In Linkís Awakening, the boomerang demolishes almost every enemy in one toss. Of course, you have to earn it by doing a rather extensive side quest that canít be completed until well after the halfway point. And you canít even get it until you trade a greedy moblin one of your key items. But good god is it worth having.
The Best Glitch Ever
This one only applies for those who have an earlier version of the cartridge. Before it was corrected, one could warp across a given screen by applying the select button just as the screen began to scroll to the next area. While this may not seem like much, it could be used to bypass obstacles, dungeon sections, and warp randomly across the island, sometimes ending up in entirely glitched zones. When I first discovered this trick (thanks to Nintendo Power), I completed the dungeons out of order, and often had the key items even before entering them.
Of course, the gaming karma got me good when I warped into Eagleís Tower, then tried to exit and found myself lodged in a stone wall, as you have to unlock the tower from the outside before the stairs and entrance actually appear. In a brilliant maneuver, I then saved and quit, failing to realize that I would start in the exact same place when I loaded up the file later. Sure, it ruined my saved game, but I had a ton of fun and still experimented with it on a separate file on this most recent outing.
The Story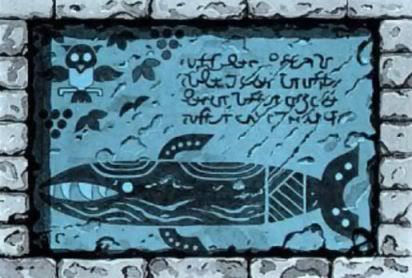 The primary plot arc is relatively simple, and all but spelled out for the player early on: Link needs to wake the Wind Fish in order to leave Koholint Island, which is the creature's dream. Waking the Wind Fish is achieved by gathering eight mystical instruments, hidden in each dungeon. It's a slight variation on the standard Zelda mechanic. On the surface, it seems straightforward enough. Looking deeper, however, opens a plethora of thought-provoking realizations. You are on a quest to destroy this intricate world - everything except for you and the Wind Fish will disappear at the end.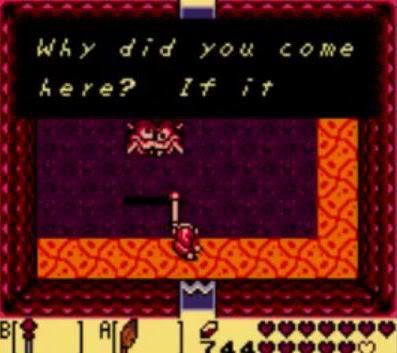 It's a plot device that grants a pensive portal into the realm of dreams. Is Marin a manifestation of the dreamer's longing and hope, with her desire of becoming a seagull and flying away to sing for far-away lands? Or is she simply a memory fragment of someone in the real world? Because we're never given any information on the Wind Fish, it's all a manner of interpretation. And if you just want to play a Zelda game, Link's Awakening delivers there too.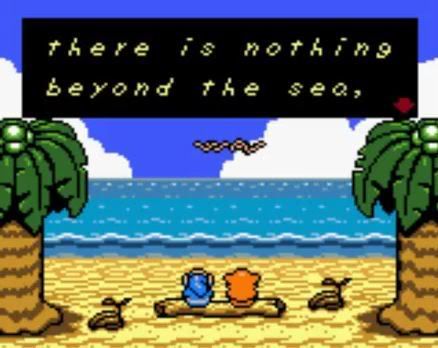 The Dream Shrine and the Ghost
Lastly, I'm bringing up two specific moments in the game that have always stuck with me. The first is the Dream Shrine. In Mabe Village, there is a small building blocked by boulders that can only be accessed after obtaining the Power Bracelet. The Dream Shrine is nothing more than an altar and a bed, an obvious nod to Zelda II. When Link hops on the bed, he enters a micro dream world, populated by bizarre creatures that mimic his movements and guard the Ocarina. While it's a short mini-dungeon, the mere idea of a dream within a dream blew my mind.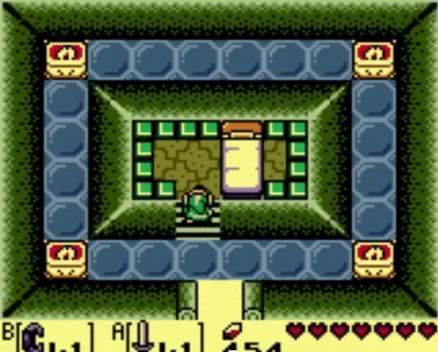 The last portion of this wonderful game I want to talk about is among my favorite moments in any video game. At one point between dungeons, a ghost begins following Link. He is unnamed in the game, but later given the name of Nakura in the Manga. He floats far behind our protagonist, and has a creepy little musical sting that plays every time you enter a new screen with it in tow. Nakura prevents Link from entering dungeons, and cryptically insists that he be taken home. Home, as it turns out, is an abandoned house by the island's south bay. Once inside (and joined by another fantastic piece of soundtrack), the ghost simply says,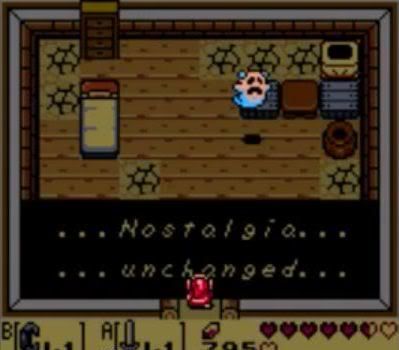 As a kid, this was my introduction to the word nostalgia, and gaining a grasp on the concept was moving, to say the least. This little diversion stitches a seam between happiness and remorse that moves me every time, especially when the ghost then requests to be taken back to his grave. I've found this little episode particularly affective. The ghost clearly didn't need Link for transport - he was looking for an escort, a companion through the ghost's memories of another world, and someone to accompany him to the final resting place. And when one considers the ghost's role in the dream world, this whole side quest becomes as provoking as the main plot.
So that's my worship of Link's Awakening - the most Zelda Zelda game ever. Even if Skyward Sword surpasses it in every way, this game will always have a special place in my collection.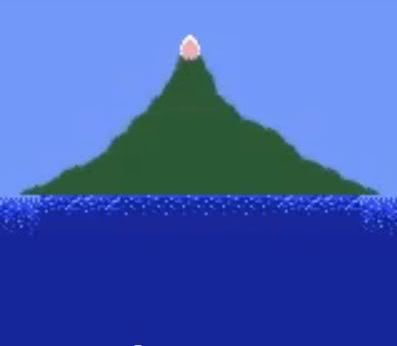 ---
LOOK WHO CAME:
Dr Light ate your Magicite
nekobun 1