I picked up my pre-ordered collector's edition of World in Conflict at EB on Tuesday (sorry for being so late with the post, I've just been playing the game) and as soon as I saw the box I knew I had to share it with the internets.
Easily the coolest part of the collector's edition is the fact that it comes with an authentic piece of the Berlin Wall (a nod to the game's Cold War setting). It also ships with a Modern Marvels: The Berlin Wall DVD from the History Channel, a standard Behind the Scenes DVD and a 10 day trial disk to give to a friend. The box itself has a flag on each side (US and Soviet) and says "World in Conflict Collector's Edition" on the US side, and the same thing in Russian on the Soviet side. At least I think it does. If anybody here can read Cyrillic, feel free to translate.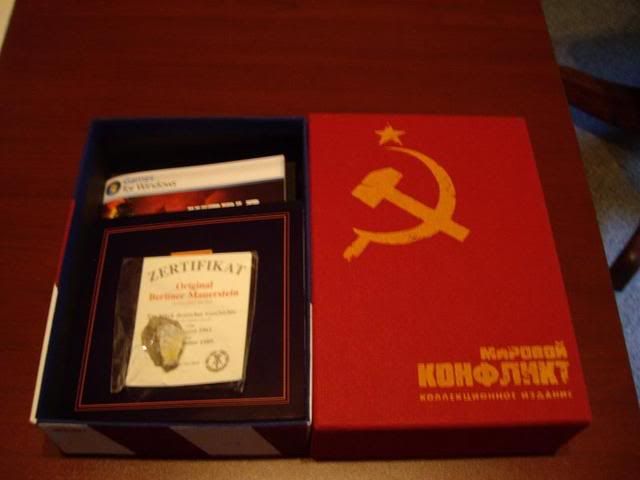 Pretty much standard Collector's Edition stuff, only more historically oriented. And in case you're wondering, the game is amazing. So far it's had great
reviews
and I suggest you pick it up too.