So after
yesterday's meager thread
, we've got some members of Dtoid down.
However, since no one actually supplied me 100x100 images, no one has a icon.
There were so few entries as well... Maybe I should've not kept the fact that "I would make them custom icons for FREE" a secret.
Tah-dah!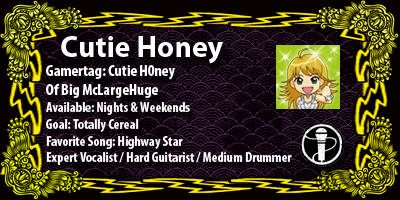 I'll make one per day, starting from myself and down through the comments. YOU CAN STICK THIS IN YOUR PROFILE.
If you need the rules again...
1).Let's post our gamertags (since the only people that have the game right now are 360 folks, make sure to specify if you are planning to get RB2 for PS3).
2).And if you lead a band or desire to, list that as well. Also list how many free slots you'll have.
3). What times do you play. Do you only play on weekends, every night? This might be useful in finding which groups suit you.
4). What instrument do you main? And what difficultly on each do you play.
5). Last, list what your rocker's goal is, categories would include:
Recreational: Just having fun, not worrying about fans, money, or achievements, just for funs
Goal Monger: Getting achievements and trying to beat World Tour Mode, not too much worry about what comes after that.
Battler: Want to constantly battle other bands to cover up your other shortcomings.
Totally Cereal: You are going for the goal. Become the best DToid band, or just the best band in the world.
The top two Dtoid bands from RB1 would be:
Big McLargeHuge: Cutie Honey, Toneman
Unicorn Death Fetus: Nick Chester, Nick's Lovely Wife [Who might be a werewolf, =) ]
So if you want to beat them, or join them, GO TOTALLY CEREAL!
This will also make sure folks don't get paired up with folks they don't share values of fun with.
6. Post your band's logo (100x100 please, saves me editing trouble) and it'll be posted up tommorow with the rest of the band info.
7. Favorite Rock Band song.
8. Color for border (it's recommended to have it be Gold, Silver, or Bronze), and color for interior.
TAKE TWO FELLAS.
And don't worry, even if you want to update what you want on your card, everyone from the first post gets first dibs.