I Read This.
I don't know much about redheadpeak. (Teacher. Gamer. Geek)
All I really know is that I see his avatar floating around this site "saying clever shit". He seems like a cool dude. Now, the reason I bring him up is that he plans on writing some sci-fi gamer fiction in the near future. I'm all about new stuff in the c-blogs, and I'm excited to see how it pans out. No pressure, but I'm eagerly awaiting the false-itudes.
http://www.destructoid.com/blogs/RedHeadPeak/a-curious-query-from-redheadpeak-288826.phtml
Let's Go Oldskool- Zoda's Revenge: StarTropics II
Here's what I remember about this game in a few words: NES, adventure, puzzle, platforming, blue shirt, yoyo, letter, secret, message. Let me go do some research...
...and the research has led me to this video that decribes the game way better than I could ever be willing to.
This Shit's Pretty Half-Assed So Far.
That is a fair assessment of not only this c-blog, my life too. Nowadays, I'm so focused on planning and doing stuff right. So much so, that I end up doing nothing at all. That's no good. Back to half-assed success, I say. I do plan on starting a YouTube series soon. I doubt if it will be gaming related, so I ain't gonna spam you guys or anything. The only thing concrete for now is that it will have a format and be delivered consistently. Who here YouTubes? I'll take any advice I can get. What would you watch?
Eyes Forward: Mirrors Edge 2
I've stated recently, that I've been unemployed for about 6 months. Subsequently, I've lost all my money, games and friends and weed. I've also been, without booze and quit cigarettes...so, there's that.
Even back way in 2009, when I had all those things, I was still terribly depressed all the time. Go figure. Mirror's Edge introduced me to parkour. And after finding some reasonable videos on YouTube, I was inspired to go out and actually enjoy my spare time. I had a physical hobby. I met friends and even though, It's been years since I've done any "monkey shit" and I've lost touch with those people; I still consider those to be the best 2 years of my life. While, I don't expect Mirror's Edge 2 to have, the same effect, I already know that it's possible for me to be happy again...eventually.
And, someday, I'll probably buy it used...Fuck EA.
This is the exact video that made me decide to try parkour.
Hotness of The Blog: Monica Santhiago
One of my favorite pornstars. She can still get it any day.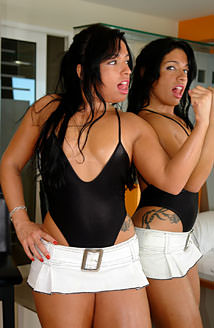 DJ CrazEboy7
Today we're looking at a song called "Car Radio" by Twenty One Pilots. This song, is special to me. It blew be away the first time I heard it, and every time since. It's fairly recent yet still has a nostalgia factor for me. I can't really explain it. It brings back memories, old, new, happy and sad. Enjoy.
That's all for now. Thanks for being here.
Say somethin' cray in the comment bay.
---
LOOK WHO CAME:
CrazEboy7
Gajknight 1