Ruining 'The Ruins'
"The Ruins" is far from a bad horror film. In fact the film, based on the truly creepy novel of the same name, is much better and far more disturbing then your standard horror fare. It just doesn't seem to know it. The movie is original, psychologically disturbing and actually has some depth to its characters but it plays out, mostly thanks to Carter Smith's rote direction, like nothing more than the next sequel in a tired slasher film franchise.
The film starts off like any good horror movie with four American college students on vacation in a foreign land, in this case Mexico. They meet a German tourist who knows about some secret ruins that aren't on the map and decide that going there with this total stranger is a good idea. So far the standard horror direction, replete with screeching musical cues and long shots of nothing, fit right in with the cliché plot. There's even a gratuitous breast shot in the beginning.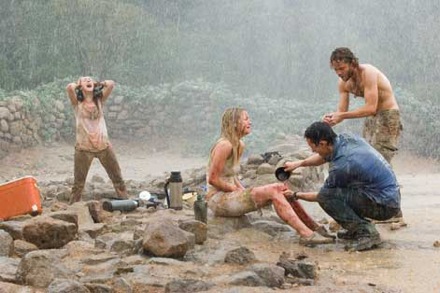 This scene is actually not in the movie. I don't think it rains at all, in fact.
Where the direction really starts to grind against the creativity of the film is when the group of travelers gets to the ruins and is subsequently trapped on them by the natives who guard the evil temple. This particular temple is evil because of a vine-like plant that grows on it that eats anything it can get its hands on. Think Audrey II from "Little Shop of Horrors" but with less singing and way more blood and horror. The thing even starts to play mind games with one of the stranded teens until she's driven to do some of the most disturbing things I've ever watched on film.
It really makes for one hell of a chilling film, especially once the characters start to realize their predicament and break down. The college kids aren't as blindly stupid as your standard horror film idiots and the decisions they make, ignoring the one where they decide to travel to an unknown ruin in the middle of the jungle, usually make sense. There hasn't been a horror film this psychologically taught in a good long while and it should remind any horror fan that real scares come from suspense not gross out blood - not that there isn't plenty of that too. It's all far more than you would expect from a film that opens with so many easy clichés.
Surprisingly Un-stupid.
Sadly Smith never really takes his direction away from the norm. I could almost predict the next shot that was coming each time the camera cut and it just makes the entire film feel a bit more flat than it really should have been. It's the filmic equivalent of ruining a really great steak with A1 steak sauce. It doesn't taste bad but you've had it a million times before.
"The Ruins" isn't a bad horror film but thanks to the direction it comes across far more standard than it should have been. In the hands of a more experienced director the movie could have been as disturbing as "Psycho," but instead it's just slightly above par and far from classic.
3 out 5. But you said it was ruined!!!? Go back and read the whole review, skipping down to the numbers is lame.
Trailer