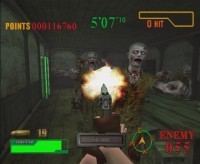 All this talk of Resident Evil's controls got me thinking, about other parts of the RE series that, didn't fly as well as they should have. Firstly, I'll agree that Capcom can tweak the controls for the future of RE, but not too much, to go down an FPS route.
Anyway, back on topic, RE games haven't all been good. The Gun Survivor series was an new FPS area for Capcom, at a time where they were still struggling with the change from 2d to 3d. While they are nice attempts to broaden the series, they fall flat in ways here and there. RE Outbreak also had its problems but that's a topic for another day.
You'll notice that there hasn't been a Gun Survivior game in some time (last one being on PS2), probably because they didn't sell as well as the main series and lacked a lot.
Now, Valve are masters of the FPS genre, and in a similar way to Capcom, have a great sense of community and also are create great games. In a post Left 4 Dead world, what if Capcom were to outsource the Gun Survivor series to Valve? Would making this series be more FPS than light gun, benefit those who have problems with RE5.
The thought of it excites. An east to west co-production of a now classic game series. Putting their heads together would surely create something epic, and bring it back from previous average to awful efforts.