Hello everybody.
I've been silently creeping in the shadows of Dtoid for too long. And, no, I'm not new here... to those who are newer than me here, I was here when you were there. I was commanding this shit when you were commandeering attacks on N4G and wanking yourselves silly over at Kotaku. I've seen things some of you will only ever hear about.... what am I on about?
Anyway, hello, I love you all and I thought I'd just drop in and try to promote my new blog. It's quite tough getting off the ground when you are a new blog wesbite but I think if there is any community I can rely on with getting some hits, it's the lovely Destructoid. This is the site where I began my venture into video games blogging and it continues to inspire me to this very day.
I used to blog all the time and share with the community the silly things in my head. I'm now a chip off the old block, as it were.
For the record, I won't be copy/pasting my shit here for you all to be annoyed by but I will probably be dropping a fair few hints. I've paid my do's on Dtoid, so I'm not afraid to shamelessly plug my slowly decaying life for you all to see.
http://teabot.net
<<<
Have a click on that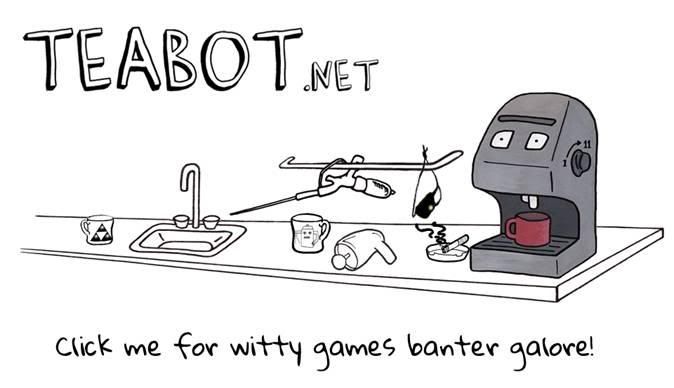 Nah, you can't click this image. Who am I, Bill Gates? Not happening here. Click the link above like I said.
Basically, this is a blog I have started with my good pal Jack and we like to take a slightly sideways look at the world of gaming. You can't expect much sense to come from it but you may have fun while you're at it.
Big love to the community.
Add us on
http://www.twitter.com/teabotnet
Clance xxx
---
LOOK WHO CAME:
Clance
Tubatic 1
Takeshi 1