Last time I put my avatar up for adoption, things were easier. Nowadays, I have new loads of school to worry about and I find myself behind on the whole avatar adoption  thing. Last year my avatar experienced PAX. This year? I might be a bit late to the party. But why should you adopt Domo on a Slurpee?
1) I'm the cutting edge of competitive metagame: Pokemon and fighting games, I'm a walking wikipedia to know what's hot on the edge of victory. New Megas burning up the strip or new strategies and loops eating the championchip pots. Want advice on Pokemon team construction? I'm your guy.
2) I have a wide taste in anime.
3) I work at Disney
Otherwise, I don't have much right now. Just usual things like seeing my girlfriend this Labor Day weekend and playing games whenever I can. I did however get a trial run of Amazon Prime to use on Amazon Instant Video and while the video selection doesn't blow me away, it has Last Airbender and Korra available which are big ones.
I mean, speaking of streaming television, I've been living that big Simpsons marathon vicariously through one of my friends on Facebook. He's been diligently posting screencaps and quotes for everyone to nostalgia blast on and it really makes me miss those times in my 90s childhood when Simpsons was really the only adult-oriented cartoon show on the block. I'm not going to say the Simpsons isn't good anymore. The Simpsons is good to someone who's growing up with Fox programming in their lives. But The Simpsons was good to me because it represents a time in my life that was simpler and at times, more restrictive. The Simpsons was a cartoon show that thrived on poking fun at the restrictions placed on it much like Ren & Stimpy. The grossest shows today are tame compared to what Ren & Stimpy dared to do back then. Ren was straight up chewed up by Stimpy's nasty ass teeth and Powdered Toast Man helped the President get someplace when he was caught in his fly.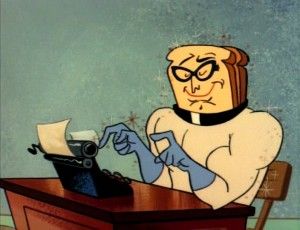 Back then, Simpsons reveled in throwing out jokes and references without waiting to see if anyone got it. Like when Ned got tickets to what he thought was a Christian Rock concert and the scene briefly cuts to his ticket which say Chris Rock in Concert. It was a time when the writers would get away with sharp jokes and parodies because who would pay attention to a cartoon show about yellow idiots with four fingers? When Mulder and Scully guest starred, Moe thought the jig was up and hastily carried a stolen orca back to Seaworld.
But nowadays The Simpsons is an anachronistic relic of my past. It still weirds me out to see Bart use the Internet or Homer whip out a fucking iPhone to make a celluar call. The Simpsons to me is a dysfunctional family of the 90s, using a lan line and watching TV on a carthotube SD television. The Catholic Church was still a fresh punchline, Billy Clinton was in office, and Phil Hartman still played the lovable washed up movie star. Also, Seth Macfarlane hadn't embarked on his path of carnage yet. Nothing demonstrates the divide between The Simpsons and Family Guy more than Stewie pulling out a rape joke in front of Bart.
MERCY ME! A SWEAR!
My household has been against paying for regular TV for a few months now. My mom can't take it anymore and demands satellite back in the house, even if it means paying $60 a month for it. But you know what? I'm done advising her against it now. With the show being syndicated on FXX, coming to the app, and a standalone Simpsons World streaming app coming only to those with authentication permissions of having FX on their TVs, I'm ok with it (sort of). I don't watch Netflix often, use Hulu to catch up on older prime time shows, and mostly watch anime on Crunchyroll or my subs on YouTube. But next week and then again on October, I'll be streaming Simpsons 90s like crazy.
* - PAX AVATAR ADOPTION LAST DAY!
* - Super Game! By Crackity Jones and Co. interview Steve Wozniak. If you like Space Ghost Coast to Coast, give this gem a shot. Also, I think Crackity is the Zorak of the show
* - Adopt an Occams today for PAX. Don't give it water past midnight
* - Adapt Nanashi and you adopt Kamina
* - Retrofaction exposed his real face in an attempt for adoption for PAX
* - Voltech tastefully takes the bat to the wasp's nest and talks about female characters
* - A story of wars and commentaries, eternally retold
* - Nekrosys liked his EB Games trip for once
* - adopt vxxyman or whatever
A - Caim Dark doesn't trust Xbox as far as he can throw all of Bill Gates' money
A - Troy doesn't like indie games. Troy doesn't like certain games. Troy doesn't like games.
A - ADDENUM: Linkle is a girl and I still care despite the massive wave of indifference
D - Hoffman opens the floodgates
I - Uncle Terror introduces himself with fetishes
D - Man looks for European podcasting co-hosts
V - It's like, Fatal Frame, dude
T - Super Ghouls and Ghosts love all around buddeh!
~Striderhoang
FPotD
---
LOOK WHO CAME:
CblogRecaps
Occams 1
HappyDayWarrior 1
Pixie The Fairy 1
nanashi 1
arkane9 1
Ben Davis 1
ShadeOfLight 1
Dreamweaver 1
M Randy 1