Oh, lovely, lovely people. Welcome to another edition of the only recaps you care about on Tuesdays. Today, against the will of both my wallet and my wishes to not get another game until Christmas, I bought On The Rain-Slicked precipice of Darkness Episode 2, after having gotten the first episode last week. While I havenít played the game, I just need to take this time to give my immense gratitude and love for Tycho and Gabe, 2 guys who have created one of the greatest gaming empires ever, all because of a small webcomic. Aside from a webcomic, the boys have created gamingís best charity organization, and one of the best RPGs Iíve ever played. CONGRATS ON THE 10 YEARS, GUYS. Canít wait to see what the next 10 has in store.
So, with that out of the way, on to the recaps. The best L4D video youíll ever see, some interesting new blogger additions, and one of the funniest Mr. Sadistic lines Iíve ever read pepper todayís Cblog. Thereís also some other stuff liberally salted down there.
Todayís Cblogs may cause sneezing, tiny scratches and erectile disfunction.
*-MAY THE POWER OF BABY JESUS BE WITH YOU, JUGGERNAUT!
*-Altered Beets risks PETA picketing his house by forcing his cat to play Ninja Gaiden.
*-The Young Scot makes Jim and Rev regret ever calling dibs, as Bill rapes Louis.
*-Cataract is organizing a Destructoid Secret Santa. ĎTis the season to FAP.
S-dMusic continues withÖUlver?
S-Team Fortress Tuesday still exists.
Since y0jimb0 has dedicated this section for videos, and because I canít be the only one to witness this torture, here ya go. Sorry I ruined your day:
E-More Baltimore NARP videos.
E-Öand more Baltimore NARP videos.
S-And I thought dealing with the 360 help line was awfulÖ
S-Jim Sterling gets angry, sexy.
S-The life and times of the Troidovski family in Oregon Trail.
C-Jhett thinks about sex, videogames, and the ESRB.
I-With the best intro Iíve seen in DAYS, Dtoid welcomes Kyvon08.
I-*sigh* and then we get an intro like this, resulting in a god-awful troll in the comments. Welcome UnrealClock.
N-MGO meme pack is now available.
N-Wiredís piece on FPSs making people sick sickens ResignedGamer.
N-The 6 people that cared shed a tear for the fallen CGS.
T-Banjo-Kazooie XBLA impressions. God I canít wait to download this.
T-random goes back in time to look at Devil May CryÖthe GOOD one.
T-Keildest goes back to LOTRO.
Then looks for jewelry.
T-Swizzler experiences L4D.
T-Tubatic is seriously thinking about getting Bangai-O Spirits.
T-Arenít DC and MK just trying to steal Marvel vs. Capcomís thunder?
T-UmmÖIsnít ME just a first-person Sonic game?
T-Velt, with poor grammar, talks about L4D.
T-An old man gives his impressions on Fallout 3.
T-Why W.A.R., which Iím not at all familiar with, sucks.
No culture. Laym
V-Button Mashers episode 2 is up, featuring The-Excel.
V-Paul Stanley hates Rock Band.
V-Video evidence of 3-on-3 NHL Arcade.
V-A rather trippy, Braid-like drum-and-bass music video.
?-NXE and slow masturbation.
?-Zen Albatross shows off a sawEEEET new Mac (only, boo) program to organize your games.
?-Holy Christ, itís a moustache with a moustache. Thereís blood coming from my earsÖ
?-A very nicely-painted Halo 3 figure, and a custom Cave Story GBA cart/USB thing.
?-Alocide has his Zombie Apocalypse plans. Do you?
S-Canít put it any better than Mr. Sadistic: ďI am so confused. I want to facepalm, but on the other hand, I have a bonar.Ē
F-4 pics and 2 lines does not a blog make.
F-Same goes to you, fool.
F-All those long hours waiting for systems mustíve fried your brain. TO THE FORUMS!
F-Wow, fail in the text AND the pic. Nicely done.
F-Donít you have anything better to do, Mr. President?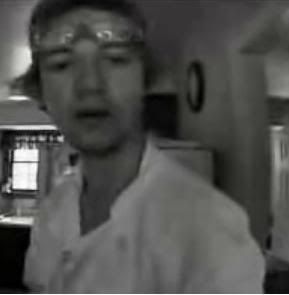 (Pendelton21)
FPoTD