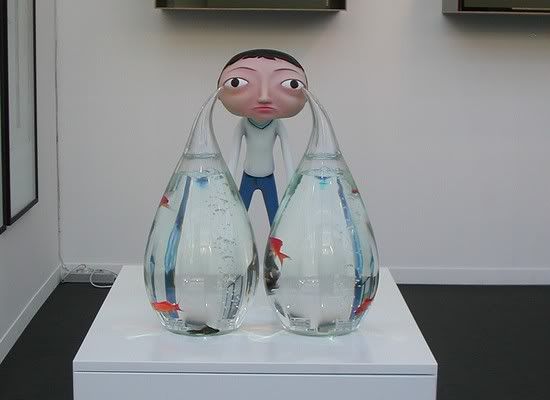 Sad because all the games you wanted you couldn't afford? Well rejoice! Christmas is around the corner and chances are since you've all been good boys and girls, you'll all get those games from loved ones and Santa. I bring this topic up because like all expert holiday shoppers, I do mine preemptively. As in now. Can you believe I'm almost done all of my Christmas shopping? Sounds absurd but it's true. Screw that fighting a smelly crowd to get something twenty bucks cheaper.
If you haven't started to do your holiday shopping I encourage you to do so early. Get that shit done so when the time comes you can do what I do, laugh at the people who waited to the last minute and are waiting in stupid long ass lines in the freezing cold.
Anyway to the recaps.
Spoiler Recap:
there were plenty of awesome, quirky, strange and just plain fail you may have missed.
*-LMAO!!
*-Altered Beets continues his quest for a Pulitzer Prize in Game Blogging.
*-Baltimore NARP Montage!!
*-The Birth of Dreamtoid!
*-If SilverDragon pulled a prank like this on me @ work. I would fire him. Then kick his ass.
A-Comix Zone is awesome. Your new name for your Old School Games series is NOT.
A-Pedrovay has an issue with Steam. Also Wii speak makes an appearance.
S-Nihon once again asks us: What did we get.
S-Ron and the latest dtunes. Check it out.
S-The latest Media Monday or Hoygeit showing off how awesome his art is.
No contests means this space is now about whatever pops into my old mind. So that said kiddies, here is some old school music.
E-Nukka wants to play Left for Dead with YOU.
E-Dtoid Community server on Steam for Left for Dead? Yes, please.
S-Someone needs their own 360.
C-Blindside Dork thinks Left for Dead wont be easy.
C-Cooking Mama:Mama kills animals Edition.
C-To eBay or not to eBay, that is the...er blog about.
B-Gunbuster FTMFW. Also, Happy Birthday Rider!!
B-Blimey! It's that fuckin' blokes' birthday. WTF was his name again...?
R-For those who need more info and impressions of Left for Dead, here ya go.
N-MGO Meme pack. Why?
N-Yup. Left for Dead Wallpapers yall.
N-NXE Game Install Feature list. Warning: It's Long. Like war and Peace long.
N-BlazBlue looks FRICKIN' AWESOME.
N-SSF2 Turbo HD looks sweet.
N-Left for Dead played on TF2's Dustbowl? Glorious.
N-This just in: People play Everquest. I know, that shit is crazy.
R-Yup. That's it, Taterchimp.
R-NXE Impressions.
T-Gears of War 2: CO-OP.
T-Apparently Bunnyrabbit has dibs on Francis.
T-Apparently Pendelton has dibs on Rash.
A-DTOID STENCIL!
A-LMAO.
L-The REAL Jim Sterling. Whoah.
L-Fallout 3 shenanigans.
V-A Left for Dead commercial with ZERO gameplay shown. Who did this commercial? Sony?
F-We all gotta start somewhere. You just happened to start with Fail.
And that's it. I'm out. Till the next time I'm needed.
-Y0jimb0 the Reservist.