Alright, folks, before we get started today, I'd like to draw attention to one of the blogs not in the Top Blog area.. galabug wrote today about a DLC system the Super Famicom hadcalled Satellaview. Read more about it on his
blog
. Anyway, as I was looking up information about it, I found out that, in Japan, there was a SNES remake of the NES Zelda game called BS Zelda no Densetsu. I was able to not emulate it this evening, and, I have to say, it's one of the coolest things I've ever seen. Aside from the Link to the Past graphics, the game has a real-time clock that relates to events that happen at certain times on the map, AND the choice to play as a girl (there's no Link or Zelda in the game, just Satellaview's mascots) from the beginning, AND an even more different dungeon placement than either quest on the NES. If you're a fan of the original NES game AT ALL, you deserve to not play this game in any way possible.
With that behind us, on to the blogs! Tonight, we've got massive amounts of fail, a bunch of rat bastards getting LittleBigPlanet, and a survey about wiping your ass. AND HERE WE GOOOOOOOOO!
*-unangbankay reveals that Sony owns all LittleBigPlanet creations. Yep, even the penises.
*-Altered Beets writes about fears that gamers need to face.
*-Ravec999 defends the honor of Silent Hill: Homecoming. SPOILERS!
*-This made me chuckle: how do you wipe your ass, and who's the best Dtoid editor?
A-vn1977 wants mouse-and-keyboard compatable consoles, forgets about the SNES.
S- Blindside lost his Castle Crasher data. OH NOES!
E-dyslixec shows you how to cheat this week's Dtoid Gauntlet game.
E-aborto's on the Dtoid Gauntlet leaderboards…or something.
Assholes who somehow got LittleBigPlanet:
Tim042
Crunshii
dvddesign
(Here's his impressions on the game so far)
Merry Ho
E-Zen Albatross talks about an AMAZING Halloween concert this weekend; come see your favorite chiptune bands dressed as 90s rock bands!
D-Clance gets to go to the Eurogamer Expo and play Killzone 2.
S-Funktastic gets an amazing gaming haul.
S-Wal-Mart cockteases dvddesign.
S-CWal37's gaming sacrifices. Also, Luc Bernard's ritualistic killing.
C-alex is vexed (c wut I did thur?) about this week's Destructoid Gauntlet event.
I-cinsoccer introduces himself, has paragraph alignment problems
I-Funky Goodness puts up an intro blog and…JESUS CHRIST IS THAT 2 COPIES OF MVC2?!!?
I-Very solid intro blog from solidgoomba (I'm on FIRE tonight!).
N-Gandysampras alerts us to missing Fable II DLC codes.
N-galagabug's SNES Satteliteview piece I was talking about.
V-HOLY CRAP MIRROR'S EDGE IN LBP!!!
V-Tool guitarist talks about amazing Tool-centric venue in Guitar Hero:World Tool…sorry, Tour.
R-Kitsu reviews oldie but goodie Carmageddon.
T-DryvBy gets all Muddy Waters about PS3 trophies.
T-Nihon thinks Namco Bandai's doing something right…for once.
A- Codysseus shows us some damn fancy pumpkins.
A-Another crappy UMD comic book thing came out. Woopie.
F-Butmac laments Frank Castle's film adventures.
F-Cannedpasta talks about "Starship Troopers".
M-RonBurgundy's music series gives us a glimpse into one of my all-time favorites, Leftover Crack (or, as some might know them, Choking Victim).
R-Australia hates violent games, loves Nazis.
R-CWal37 is making himself a new computer. Good luck, chief!
V-michiyoyoshiku wants more video game shows.
R-aborto's school gives away some really scary blood donation shirts.
S-Slow doesn't even BEGIN to describe how late this is.
F-No.
F-No.
F-No.
F-A thousand times no.
F-*sigh*
F-Umm...what?
F-Sorry to hear about the 3 red lights, but, seriously, go to the forums, son.
F-Delete it. Seriously.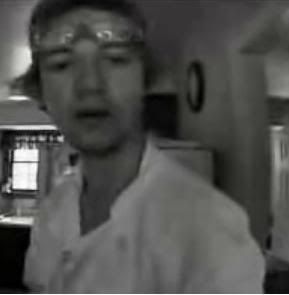 (Pendelton21)
FPoTD