The following was composed at 3am last Thursday. Why? Because people are assholes, that's why. I might not understand a lot in this world but I understand that some people are intruding on my personal space and some active citizen arrests are going to be made.
Last week, for the entire week, a suspicious car had parked outside my home at regular intervals. During the day, the two owners seem to park here like it's a public lot while they go do who-fucking-cares. At night, the couple comes back agitated and arguing amongst themselves. For the past week, they've argued loudly at around 2am, with the man sometimes striking the woman.
I thought it was a one time thing but that was a week ago. They've finished another session and I've had enough. Not only did I call the cops (who arrived 5 minutes too late) but I got their license plate to boot. These jerks are going to stop parking in front of my house, one way or another. Because I cannot stand them arguing loudly in the dead of night, waking me up
one more night
. Not to mention it's super creepy that they obviously don't live here and have a strange fixation on parking in front of my house. Am I prime real estate or something?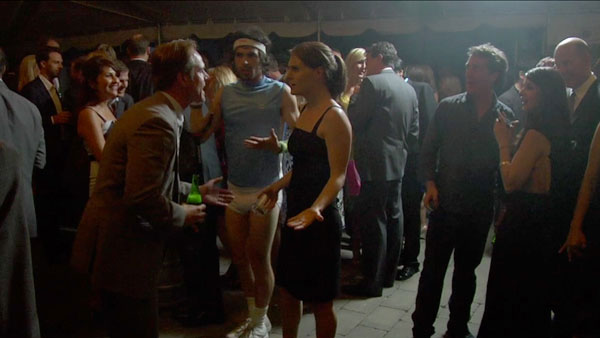 Imagine this couple is them. Now imagine everyone else is my neighborhood. Now imagine I'm that weirdo in the middle in his underwear.
I personally think they're homeless and are living out of their car. My dad thinks drugs are involved. Whatever they're doing, they're doing it on private property and they gotta go!
Flash forward 3 days since composing that.
Three days since I last saw them, I have not seen them return. All I can assume is that the license plate number I gave the cops actually did something and they cracked down on them. I can also assume that the couple live in a cracked out little drug den where the police finally managed to pin down thanks to me.
I'm also thinking of getting FTL, especially after
Wrench's post
detailing how to get the most out of a particularly brutal Roguelike, even by other Roguelike standards. But I am intrigued at the open endedness of how your space opera can pan out (and end). Maybe I'll be gutted by a Mantis boarding party as soon as I start. Maybe I'll save a ship from space spiders while narrowly putting out medbay fires. I want to see what I can do if I pass over critical subsystem upgraded if I buy a bargain teleporter.
* - A look into the life of ScottyG. A man, gamer, and philanthropist. I think.
* - EAPidgeon takes the issue of bullshots and takes it to the debate of frames per second
* - Beccy Caine: the 2012 PAX Odyssey
* - What happens when someone comes from danbooru and rule34 and returns
* - Eric's "I Quit" blog for Diablo 3. Torchlight 2, here he comes!
* - crackedbat apparently stole the topic of labeling people gamers from Jonathan Holmes. I mean, allegedly, but hey, now Holmes has that much less work to do
S - Elect-Nigma's Jim Sterling X Jonathan Holmes fanfic of a lifetime
A - Are more season passes the answer to future marketing?
T - The Military man waxes poetic on the greatness that is FF Tactics
R - Oculin makes a startling discovery about DOA5
T - Siegarettes contemplates divorcing the combat of P3 from the social link aspects
A - Mario loses his 'stahce and goes all Japanese horror on us thanks to Panza
C - Something about sexual fantasies about Mad Moxxi has spiraled out of control
F - [insert tits or gtfo joke here]
~
StriderHoang
FPotD
Nothing but a good night's sleep tonight and nary a whisper outside...
---
LOOK WHO CAME:
CblogRecaps
smurfee mcgee 1
EAPidgeon 1
ninjapresident 1
Panzadolphin56 1
Ben Davis 1
Swishiee 1
Nic Rowen 1
Handy 1
scarritt 1
PhilKenSebben 1
Occams 1
Arttemis 1
Alasdair Duncan 1
Jon Bloodspray 1