I wasn't here last week because I was offered a break. And who turns down a break?
So Shadow Complex. I don't like Metroidvanias but like Tower Defence it's a genre I continually try to like. However unlike Tower Defence which has fully penetrated my gaming habits now thanks to the likes of Plants vs Zombies and Xbox Live Indie Games Nextwar and GLITNIR Metroidvanias have never gotten in no matter how good the example. Shadow Complex is starting to sway me though. The line showing where your next objective is keeps the constant goal gameplay I like (yeah I love linear games, what of it) while allowing me to explore whenever the urge takes me. So I can see an interesting looking vent, blow it open, crawl inside to grab the grenade expansion inside, then go exploring a whole new area without ever losing sight of how to get to where I need to be. I love that, also punting the Bombas is the most satisfying thing in the world. Especially those foam shooting cunts.
Also that music video from The Guild is freaking awesome and hilarious. The MP3 is available from Amazon and iTunes across Europe now. It actually topped the iTunes video chart upon release, that is incredible.
* - Lay off Dracula, he's doing a lot of work to keep vampires badass
* - Why the PS3 pricecut is worthless
* - 2D lives on through XBLA, and PSN, and the portables. OK 2D never died but here are some excellent 2D games.
* - Very nice find, Brutal Legend multiplayer is very similar to old Shiny game Sacrifice (available from GoG.com hint hint)
* - PS3, Wall-E blu-ray and LBP for $300 from Amazon. Also some interesting musings on whether or not to get the Fat or Thin PS3
A - Bobby Kotick is the face of greed, I thought greed would have a less punchable face
M - How I started to suck less
M - I wish everyone else sucked this much
M - Blaming everything else
M - More blaming, only the teammates this time though
M - Don't worry, EVERYONE sucks at Paperboy
S - Part 14 of Dragon Questing
S - dTunes picks up the guitar pace as Kauza hits day 3
S - Gamer Obscura looks at Michigan, a very interesting looking cameraman game
S - Aniwednesday is underway, you know what to do
Nothing, nada. So have this picture of a clock I used for my 10 Essential Indie Games blog a little while ago.
N - I never had an Amiga (we were an Atari house) but there's a remake for Another World out there
E - Apparantly there's something called PAX happening soon
E - Pre-PAX party at this guy's place
C - Why did Sony take OS changing from the PS3 Slim?
C - More musings on PS3 backwards compatibility
S - This is a Fallout 3 asshole
H - Here's Spajk's gaming room
H - CM Katarn named his TV after a gun from Firefly. Win.
I - Super2j arrives and posts in Chrome. Not a good start
N - Final Fantasy 14 is looking glorious
N - Kinda news, Blizzcon being broadcast live on the internet radios
R - Persona reviews Final Fantasy 7
R - Dead Rising, more zombie nonsense
T - Here's a size comparison for the new PS3 Slim
T - Crunshii played FF14 for 15 minutes, here's what he thought
T - CULDCEPT SAGA IS AWESOME YOU WILL ALL BUY IT NOW
S - Holy shit Zombiekiller13 hit the jackpot
There ain't nothing here either. So have some more recycled picture. My PS2 game box.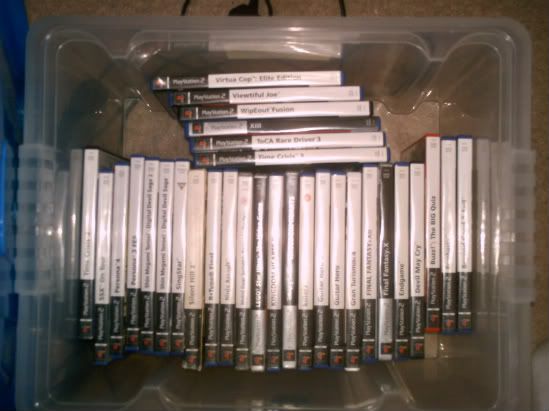 F - Single line and a thumbnail. Nope
F - Ganon is green, his armour is black. It has always been this way.
>NJ
FPotD