Today's Shadeisms shouldn't come as any kind of surprise. Come on, you can't expect a self-proclaimed Nintendo fanboy to keep quiet about Super Smash Bros. news, can you?
So like all of us, I watched the Smash Bros. Nintendo Direct last Tuesday (for me it was technically Wednesday, but whatever) and there were lots of things there for me to love. I'm excited about every stage having a Final Destination mode, I love the Kirby Airride-esque mode in which you have a time limit to find power-ups for the upcoming battle, and I liked lots of other things. Fennekin in a Pokéball, Mega Man's Final Smash, the absolutely fucking bitchin' rendition of the Skyward Sword main theme, and I could go on forever.
There are three things, however, that deserve their own little comment. First of all, the release dates. At first I was pretty miffed that they announced the 3DS version for Summer and the WiiU version for Winter, but I'm starting to see the point now. It looks like Nintendo really wants the WiiU version to be best and most inclusive one; the deluxe edition. Meanwhile, the 3DS is purely intended for those people (i.e. everyone) who want to take their Smashing on the go. I'm definitely starting to think about buying both versions of the game, something I never thought I'd do. The thing is, I'll be in the US come Winter 2014, and I won't have my WiiU with me, so the 3DS-version might be the way to go!
Second, Greninja. I'm a little conflicted about him. On the one hand he's an unexpected entrant and looks both cool and fun to play as. On the other hand, Smash Bros. has always been about celebrating Nintendo's super strong brands and history. In that sense Greninja, who is for all intents and purposes just an ordinary Pokémon among 700 others, feels a little out of place. Especially since we could've had Mewtwo instead. I'm sure I'll be convinced of his inclusion once I get to play around with him a little though.
Finally, Zero Suit Samus. Sakurai trolled me
hard
on this one. When he announced that ZSS wouldn't be in the game anymore, I just about broke down crying. She's currently one of my two main fighters in Brawl (the other being Luigi), and I find her to be one of the most fun characters to play as. Yanking people down with your whip is incredibly satisfying, as is stunning them to set them up for combos. She's also nicely fast, compensating for her only so-so killing power. In fact, when I thought she was getting cut I seriously considered not buying the game anymore. Not out of spite or anything, but just because it wouldn't be as fun without her.
Luckily, Sakurai only left me in despair for a few seconds, and announced that she
would
be back. And man, does she look bad.ass.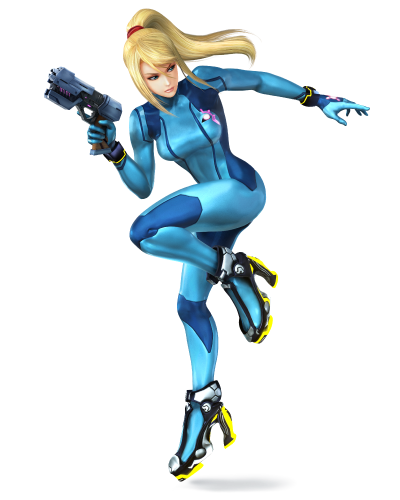 I have no problem with her high heels (Jet boots with high heels make some sense I think, you need space for the main thrusters), and while I do think the huge boobs on her in-game model look a bit off, I can forgive anything now that she looks cooler than she ever has before.
As for changes to her gameplay style, I can do nothing but wait and see. Giving her more attack power is going to be massively helpful, but I hope it doesn't come at a price. Her speed in Brawl is without a doubt her main asset, and she can already combo shit like its nobody's business. Moreover, her Up-Air attack hits decently hard, is easy to set up and is one of the most satisfying moves in the game (just listen to that sound effect!). I remain cautiously optimistic about the changes she's getting for the new game, but I do hope she's not going to change too much. Again, something I'd love to find out for my own in a few months!  
* - Losing a friend is never easy, even if that friend is an adorable Animal Crossing villager.
P - TheDustinThomas, aka the man with the most epicest beard, has Episode 11 of his Podcast done for ya. Mortal Kombat, Final Fantasy VII and more!
A - This week's OST blog by Oscarno isn't quite on the same level has his previous ones, but it's still got some nice tunes.
T - Danny shares a few cheats and tricks for Dead Island, if anyone still plays that.
R - Meanwhile, Oculin does a good job reviewing Castlevania: Lords of Shadow 2 for his editorial writing classes.
R - Nihil is rather disillusioned with Titanfall and EA in general.
T - To put it mildly, Moth has some "gripes" with Elder Scrolls online.
C - It doesn't matter what's wrong with Nintendo, Gamingnerd15; they're making a Smash Bros. game in which ZSS looks fucking rad.
V - Yeah, okay. I'm not watching a 38 minute video without you first telling me what it's about.
F - Even if this wasn't spam, not many people here particularly care about the Candy Crushes and Angry Birds..es? of this world.
- ShadeOfLight
May you always find water and shade
FPotD
---
LOOK WHO CAME:
CblogRecaps
scarritt 1
Ben Davis 1
Marcel Hoang 1
Adam McDonald 1