I was hoping to be able to talk about Professor Layton vs. Phoenix Wright today, as today marked the long awaited European release date of this game that can't possibly be anything other than pure brilliance. As luck would have it though, my preorder didn't actually arrive today and is now scheduled for tomorrow at the latest. And since I'm not going to be home tomorrow, in all likelihood I won't get to solve puzzles, present evidence and point fingers until Sunday night or even Monday.
That makes me a sad Phoenix.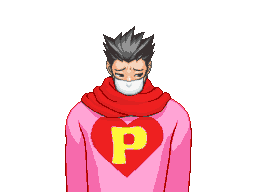 (by the way, you wouldn't believe how many pics Google has of sad Ace Attorney characters)
Still, once I do get it I plan to tell you guys all about it, and I'm even thinking of writing a review in the Cblogs. I know reviews aren't usually the most popular of posts, but this one seems fair game to me. At the very least expect some impressions and silliness from me somewhere down the line.
In the mean time I, shall we say, "acquired" a fan translation of Ace Attorney Investigations 2, but I haven't had much time to play it yet. So honestly that's pretty much a dead end for now as well.
What to talk about, then? Actually, I'm going to keep it short today. I'm supposed to be studying for an oral exam on information and IT law (which involves mostly freedom of speech vs. privacy) and I've been procrastinating for far too long already. So even though I
could
talk about how I've been watching a frankly insane amount of Doctor Who, finally beat the Elite Four of Pokémon X, getting near the end of Kingdoms of Amalur, "acquired" The Hobbit 2, and I'm starting to think about which games to ask my parents for my birthday in two weeks, instead I'll just do what I usually do when I got nuthin'.
Post video game music, of course!
* - SongSeven explores the meta-narrative of the Dark Souls series. A fascinating look at the similarities between the Dark Souls player and the Chosen Undead him- or herself. The blog is also much less pretentious than I'm making it sound.
* - A new video game OST case study, this time with Rayman Origins. Weird but fun.
A - FoolproofAdam takes a look at how we value our games and how sales affect the industry.
P - Apparently some insane genius of a man saw the new 3D-printers and thought to himself "You know what, I could make Barbie battle armor out of this!"
F - Xbox FNF and the new banner in which I'm sniping all y'all to death.
C - Uhm...structure, please?
F - I wish this wasn't spam because I appreciate the sentiment.
- ShadeOfLight
May you always find water and shade
FPotD
---
LOOK WHO CAME:
CblogRecaps
Everyday Legend 1
Handy 1
Ben Davis 1
Marcel Hoang 1
nanashi 1
JoyfulSanity 1