If you haven't picked up this month's copy of Edge magazine then I highly suggest you do, it contains a few choice quotes from developers, PR people and the magazine's writers taken from the last 199 issues (its the magazine's 200th issue). Choice nuggets that say we were once excited for Daikentana. Also there's their latest top 100 list of the greatest videogames of all time, based on how they are to play today. Spoiler, Ocarina of Time is STILL the champion. Space Giraffe is also in the list.
Also I bought Peggle off XBLA today. Not much to say on that subject, its Peggle and its awesome. Xbox Live play is also brilliant. I annihilated the second player I took on.
Finally, its the Resident Evil 5 limb hunt in London this morning, if you're in London get down to Westminster Bridge at 11am to see the carnage.
* - OK, GrumpyTurtle finally gets a topsauce
* - A Monthly Musing post by Shipero. On Fanfiction.
* - AARON LINDE'S BONERQUEST!
* - First post from ReddenBlack and is a damn fine one
* - Topsauced BECAUSE I LAUGHED (and its my recap)
A - Are JRPGs too easy?
A - CHARGE SHOT! ABAGNALE IS OBESSED!!
S - AniWednesday is on, and still autoplays so still scaring the crap out of me
S - A new series by Mighty Pinto discusses games he's beaten
Street Fighter 4: VS Edition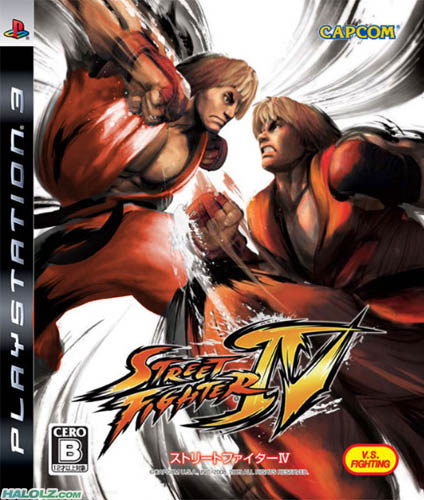 hotlinked from Halolz.com
E - Dtoid San Francisco is having a TARP
E - Dtoid Austin are doing the same thing
E - UKNARP this weekend, also Simmy's mum is AWESOME (trust me)
E - Don't enter this L4D tourney, team 2 will kick your ass
S - Ballistic sold his Wii
S - Shin Oni has been away, I honestly hadn't noticed
S - Resident Evil 5 is NOT EASY
I - TatiCakes loves Prinny and making cakes
I - StriderX515 has the best analogy ever
N - RE Chronicles 2! WOO!
N - Atlus is having a few money problems
N - A new Street Fighter community has launched, picture above is likely related
N - A guy is sueing US Airways for losing his modded 360
T - Crystal Defenders thoughts plus bad BBCode
T - Empire: Total War is buggy as hell (apparantly)
T - Ninja Blade demopressions
R - Guitar Hero Arcade is still an Activision game
V - A new Deadly Creatures trailer, yeah
M - The opening fanfare to Square Enix's FF concert
F - The Valkyria Chronicles anime is looking good
F - Sylphx's Persona film is also looking good
L - Yahoo News has apparantly not seen a lolcat yet
L - Kezins is fat
R - A PS3 in a microwave
? - What the hell?
S - Slow, Covah got there first
>njsykora
FPoTD