Sadly, I haven't too much time for my Gasms so it's gonna be a quick one.
So, I've been waiting in anticipation for the PS4, but as I look more and more at what will be coming back this fall, I have a great grievance with it brewing. (which is pretty much my complaint with this upcoming generation in general) The whole no backwards compatibility thing is gonna be pretty annoying.†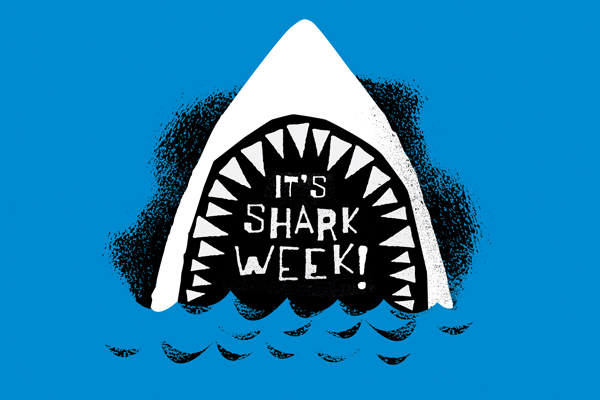 This fall I will be buying the new Batman, GTA, and the upcoming South Park game. This means for the first couple months I'll have the PS4, I'm gonna be switching a whole lot between the PS4 and PS4. Now, 6 months from now, I don't think I'll give a damn, but the great lineup of games for coming out this season has me wondering if getting the new console at launch is really worth it.
What do you guys think? Anyone who reserved the PS4 or Xbone have this problem?
Another fine day for blogs. Let's get to it and enjoy these FUCKING SHARK WEEK themed pictures.
* - Zerocrossingy discusses the portrayal of women in games in a well done way. What I appreciated the most were his thoughts on other people's approach to the topic.
* - Zombie-ee is at his best with this edition of Talking to Humans.
A - Joey hits us with some thoughts on his backlog that I can relate to.
M - Popey's distaste for Mega Man's level design sparks a debate.
S - Another fine entry in the SaveState series.
I - VagrantHingey's first blog shows a very promising start. Can't wait to see more from you.
T - Sephzilla-ee ponders on how MMOs could be better.
R - Nadery seemed to enjoy Metro. Kudos for using the /5 scale.
D - Johnny is working on a cool little game here. Interested to check it out, for sure.
A - Gargaroo-ee gives us some thoughts on how art contributes to immersion. Really like the picture he used.
S - A not so great introduction. Better luck next time !
SHARK WEEK
~MacManus
FPotD
---
LOOK WHO CAME:
CblogRecaps
smurfee mcgee 1
MacManus 1
DepressedOptimist 1