Well friends, today there's even less blogs than things I have to say. So let's change it up. Instead of a single picture of a Red Panda that's often found in my posts. HOW ABOUT A LOT OF PICTURES???? Now pop some alka seltzer and enjoy.
* - Usurpy has some games for China to play now that the ban is over. RIP Banjo Kazooie
A - Retro-ee's guide to royal blogging. A great read if you're new to this.
A - Is the future Playstation Now? Spiely thinks so.
E - Smurfee has a new Weekend Warrior fo us.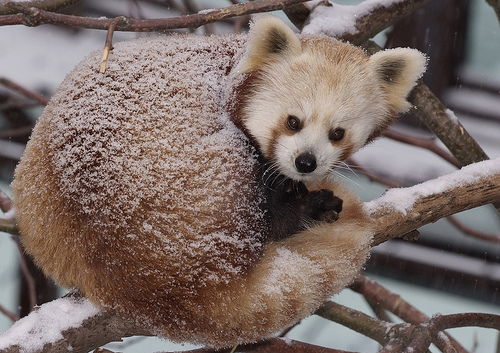 I hope you all enjoyed. Now go back to bed, everyone.
~MacManus
FPotD
---
LOOK WHO CAME:
CblogRecaps
Elsa 1
Retrofraction 1
Handy 1
Ben Davis 1
MacManus 1
---
About CblogRecaps
one of us since 11:27 PM on 07.02.2008
About Cblog Recaps
Schedule:
Mondays -
Lord Spencer
Tuesdays -
James Internet Ego
Wednesdays -
TheBlondeBass
Thursdays -
ShadeOfLight
Fridays -
Gamemaniac3434
Saturdays -
Dreamweaver
Sundays -
Riobux
Reserve Recappers:
Wutangclam
Hyper Lemon Buster Cannon
Pixie The Fairy
Mike Martin
Nic Rowen
KingSigy
Gajknight
LinkSlayer64
Current "Bloggers Wanted" assignment
Turning Japanese
Japanese culture is everywhere in video games, not to mention that Japanese developers always seem to put their own spin on a game. What does Japan mean to your favorite games?
Current Community Contests
There are currently no community contests.
Community Announcements
We have a Twitter account!
@CblogRecaps
Help us spread the word out on these recaps and in turn, everyone's blogs too! (These tweets appear on Dtoid's official accounts as well)
________________________________________
Archives
Legend:
WORDtoid
A- Articles
S- Series
B- Bloggers Wanted
P- Podcasts
CONTEStoid
C- Community Contests
W- Winners/Updates
E- Entries
COMMUNItoid
E- Events
F- Fight Nights
D- Destructoid in the Wild
S- Stories
C- Contemplations
I- Introductions
B- Birthdays
R- RIP
H- Houses, cribs, setups
GAMEtoid
N- News
V- Videos
R- Reviews
P- Previews
T- Thoughts
D- Development
$- Deals
CULTUroid
A- Art
M- Music
F- Film/TV
L- Literature
S- Swag
OTHEroid
L- LOLs
R- Random
V- Videos
C- Could Be Better
?- Defies Description
FAILtoid
S- You Are Slow
F- Maybe Fail?