I'd like to start that I can't get over the fact that I've named my Crawdaunt Crawesome.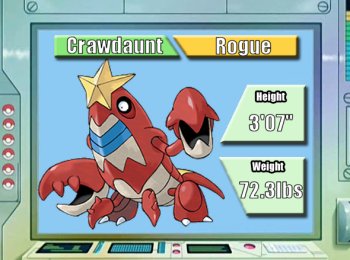 And he will push your shit in so hard
There are three kinds of Wonder Trading in this world: the good ones that give you the scraps from a long egg hatching session, the bad ones where someone's trying to fish for good trades by feeding Bidoofs and Bunnelbys (STOP IT), and the funny one's like when someone sends you a Ghastly named Rick Ghastly.
Ah. I get it.
I breed lots of egg move Pokemon. That's why I bring up Crawesome. Crawdaunt normally sucks. Why would a Pokemon have so much attack yet so little speed
and
so little bulk to take hits? It's a crime against nature. But breed the right Pokemon and you have a Crawdaunt who's ability is Adaptability and knows Aqua Jet. That's a priority water move that is multiplied by 2 instead of 1.5 due to Adaptability. Give him a Choice Band and you're multiplying the damage of a priority water move by 2 + 1.5. Yes, with Stealth Rocks on the field, Crawesome will be revenge killing everything. Anything that's been wounded will not be surviving a priority water attack coming off a 170 ATK being multiplied by a factor of 2.5.
I vow to shout
Crawesome!
whenever he scores a kill.
Of course there's a rumor that hacked Pokemon are getting onto the Wonder Trading circuit. But hacked Pokemon appear as glitched eggs that will literally infect your game and delete your legit Pokemon. Of course I haven't gotten one of these
bad eggs
yet but I do feel like I'm playing Russian Roulette with a gun with about one hundred thousand barrels on it. Why continue playing the odds though? I want the PokeMiles earned from social interaction to buy Heart Scales and PP Ups! Plus earlier last night, I got a
Spanish 
Larvesta
and
 a
Japanese
 hidden ability Eevee. You can hit the jackpot sometimes and I personally was handing out Swinubs bred for Stealth Rocks and Curse. Not a bad trade if I do say so myself.
But there's another thing on my mind. I noticed bbain talk about Kill La Kill and its slick presentation. But there's something a bit under the radar that's caught my attention. Arpeggio of the Blue Steel: a (get this) sci-fi naval action anime with (of course) attractive girls. The catch is that these girls are basically anthromorphicized, personified versions of the naval vessels that partake in the action scenes. I'm not saying the boats themselves suddenly sprout a cute face and boobs. Of course not that wouldn't sell you nimrod we're talking about anime here.
Arpeggio of the Blue Steel takes place in the future where mankind is pushed to the brink by a mysterious and alien naval fleet known as the Fleet of Fog. The technologically advanced warships keep civilization landlocked completely and since Earth is 70% water, the global economy breaks down as nations become isolated with the world's waters being patrolled by boats that can fire missiles loaded to bear with munitions that explode into miniature black holes. I have no idea how the anime explains life deep inland but let's just continue on the train of thought that all intercontinental travel means going over water at some point.
The animation is the real draw here, as it looks like a combination of art most people are familiar with but drawn in some sort of pseudo-CG. Think Appleseed if you've even seen stills of it.
But the real kicker is that the ships are completely autonomous to a fault. They are
machines
that are made to destroy. Just when it seems like mankind could make a comeback, a wrinkle occurs: the Fog create mental models; bodies that also encompass their growing egos and independence. Think of it as robots shaped like boats creating human shaped avatars but managing to exist simultaneously. The avatar is capable of reason and
tactics
, the only thing humans really had over the Fog. Together with tactics and superior firepower, mankind was their bitch again.
See, there's the submarine right there. She's wearing blue and has green eyes.
We arrive at the premise of the story. Chihiya Gunzou is a star student at a Japanese naval academy when a mysterious girl approaches him, stating that she is the Fog submarine being kept at the base (the only inactive Fog in captivity) and that she only has one directive: to follow his orders.
Thus begins a mysterious journey, exploring the political intrigue behind the remnants of a desperate government Illuminati and the origins of the Fleet of Fog and just what they want, if anything at all.
I've seen space battles in space operas so I gave AoBS a shot since the premise seemed new to me. A naval anime? A sci-fi naval anime?
Weird
. But intriguing. Sure, if you hate the casual
attractive females are everywhere
trope, it might drive you up the wall. But you know me, I love a god mysterious backdrop. Plus I like some of the Fog characters you'll run by in the typical you-beat-me-so-I'll-rethink-my-allegiance trope.
* - CousinKev's top 10 games of the you-know-whatever
* - MATHEMATICAL experience gain CALCULATIONS
* - Biscuit Discee reviewed his imaginary PS4 and came out the other side with EXPLOSIVE RESULTS
* - AMA: Hamza Edition
* - AMA: Not-Hamza Edition
S - The Cblog Intervi-
A - Microsoft is sacrificing their IPs to Kalima. Kalima! KALIMA!
T - Playing the Ghostly Doot on next gen and stuff will be cool and junk
T - P Finn has always had such interesting contrarion opinions. Such as liking Sonic Unleashed. But he's an earnest Sonic fan at heart
V - A review of Burial At Sea, STUart edition
R - Oh yeah. I forgot I had Adblock and how much it doesn't matter since I'm a Huge member
~
CRAWESOME!
FPotD
---
LOOK WHO CAME:
CblogRecaps
smurfee mcgee 1
Perfidious Sinn 1
ShadeOfLight 1
Ben Davis 1
Zombie Orwell 1
JoyfulSanity 1