Last night, I was fired from my high-profile, well-paying gig as a janitor at my college's student union. It sucked. On top of that, I've had to contend with my worst cold in years, being poor due to the holidays, and classes that'll suck the life out of me this semester. So, needless to say, I had a shitty day. That is, until this afternoon, when I spent about 6 hours playing Psychonauts. It's amazing how the pure unbridled genius of Tim Freaking Schaefer can totally turn a depressing day around.
Speaking of Psychonauts, one of our topsause blogs contains a damn fine pic of Rasputin! Also, we've got blogs detailing the downfall of VG music, broken controllers, and how not to play a video game.
Cblog recaps, #_1_in_the_hood_g!
*-Mikey creates a beautiful picture of Raz. I cannot wait to see what he has in store for the community comic!
*-Somehow, Dtoid's becoming a fucking art gallery; here's Togail's gorgeous pic of Mateus The Corrupt.
*-Another great entry into Aurion's series of Korgblogs. Come see FF6 music played through the KORG-DS!
*-The best 45 seconds of music you'll ever watch. God bless you, GuitarAtomik.
\
*-With Tehmtnlion's b-day coming up, he takes a look back at his video game exploits.
*-Though I disagree with it, one hell of a blog on the state of music in video games.
A-Blindside breaks his controllers a lot, wants more durable ones.
S-dTunes with the amazing Death From Above 1979.
S-God, my problems seem insignificant in comparison to Juggs over here. I'll keep you in my prayers, buddy!
M-Atlus talks about gaming with his brothers.
P-FAILCAST records it's one-year anniversary show tonight!
I will never, ever get sick of this fucking video:
E-Info about some sort of gaming conference called Otronicon going on this weekend. And, apparently, there's a Halo wedding involved.
F-As always, ScottyG talks about Team Fortress Tuesday.
F-Mxy begins the new FNF forum threads.
I-Everyone, welcome Icarus to our lovely community!
R-Goodbye, sweet arcade prince.
N-Nintendo patents a way for all those shitty shovelware games to play themselves.
N-If there's any left, see if you can snatch up a $30 13-month Live subscription card.
R-Serivor does a mini-review of GoW2.
T-Wii: The world's most popular loser.
T-Magazine scans for some game called Super Robot Wars K. I'm not Asian enough to know what is going on in this blog.
T-The hype train rolls into the station, bringing videos of Killzone 2.
T-LOLface wants, ahem "moar local co-op please".
T-Bigby talks about how video games are turning into Pop-Up Video.
T-Nihon gives Valve some ideas about what to do for a Demoman TF2 update.
T-BFeld13 over-analyses the PoP ending.
A-Here's another Togail masterpiece in progress.
A-And yet ANOTHER nice community art piece, GamingGoddess' Aya from Parasite Eve.
S-Upgrayedd shows us a nifty way to organize your fake plastic guitars.
V-One crazy-ass AMMO video, straight from AgentMOO.
V-For whatever fucking reason, how NOT to play SF 3rd Strike.
F-Umm…
F-Broken link to a snippet of the new Akira live-action movie.
F-…did you just compare Killzone 2 to the kid who killed his parents?
F-Not humorous or funny, but, yeah, you should die.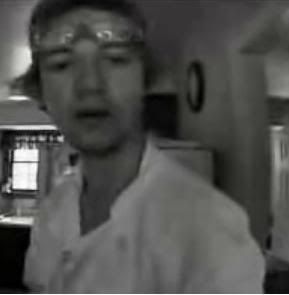 (Pendelton21)
FPoTD
---
About CblogRecaps
one of us since 11:27 PM on 07.02.2008
About Cblog Recaps
Recappers:
Monday -
Lord Spencer
Tuesday -
Larx
Wednesday -
Dere
Thursday - TBA
Friday -
Gamemaniac3434
Saturday -
AmnaUmen
Sunday - TBA
Reservists:
Gajknight
Torchman
TheBlondeBass
Mike Martin
Kevin Mersereau
Chris Moyse
[YOUR NAME HERE] -
We want you!
Current "Bloggers Wanted" assignment
TBA
Current Community Contests
LOL nope desu~
________________________________________
Legend:
WORDtoid
A- Articles
S- Series
B- Bloggers Wanted
P- Podcasts
CONTEStoid
C- Community Contests
W- Winners/Updates
E- Entries
COMMUNItoid
E- Events
F- Fight Nights
D- Destructoid in the Wild
S- Stories
C- Contemplations
I- Introductions
B- Birthdays
R- RIP
H- Houses, cribs, setups
GAMEtoid
N- News
V- Videos
R- Reviews
P- Previews
T- Thoughts
D- Development
$- Deals
CULTUroid
A- Art
M- Music
F- Film/TV
L- Literature
S- Swag
OTHEroid
L- LOLs
R- Random
V- Videos
C- Could Be Better
?- Defies Description
FAILtoid
S- You Are Slow
F- Maybe Fail?