Well, he we are.
Shadow of the Eternals
has been revealed, along with its plans for crowd-sourcing. It is, in almost every way,
Eternal Darkness 2.
The story takes place across 2500 years, and you play as as several (seemingly 20) characters. It's split up into 12 downloadable "episodes," with the first seeing you play as Erzébet Bathory's lover and handmaiden, Clara. All the details, along with videos & stretch goals are
here for eye-gazing.
They're asking for a
mere
$1,500,000.
The question is: will you donate? There's nothing more I would like to see than a spiritual successor to
Eternal Darkness,
but there are some serious red flags. For one, Precursor Games is based in Canada, so they are using their own crowd-funding, rather than Kickstarter or Indiegogo. They aren't obligated to follow any rules that people are used to seeing from these types of crowd-funding campaigns. As a matter of fact, when it went live yesterday, this was under their TOS:
"Precursor Games is under no obligation to complete the Game, or in the event completion is impossible, return any of the donations it has received."
They apparently changed it, because it now reads:
" Precursor Games is committed to completing Shadow of the Eternals.  However, in the event that Precursor Games cannot raise enough money to develop this project, all donations will refunded to their respective contributors."
Quite a change.
Another big red flag is Denis Dyack himself. He seems like a talented guy, with great ideas, but he also ran Silicon Knights straight into the foetid ground. Most people who follow gaming news are probably somewhat aware of their big
legal battle with Epic.
SK lost their suit, was successfully counter-sued, and they were
ordered
to
"...destroy any code built using Epic's technology; the court order includes Too Human, X-Men: Destiny, Siren in the Maelstrom, The Sandman, and The Box/Ritualyst."
As of October last year, SK was reported to have less than employees left. Accusations about how he ran his crew aside, it's hard to trust someone who was president at SK during all of this. Not only was there ethically questionable (at best) behavior being propagated, but seemingly games were being pushed through whether or not they should have been.
The other red flag, perhaps not as big, is the lack of Nintendo. Say what you will, but nobody has quality standards like they do. Silicon Knights' best games (IMO) were
Eternal Darkness & Metal Gear Solid: Twin Snakes.
Both came out under watch of Nintendo. How much that played a role in those games, I'm not entirely sure, but SK's two games since then are decidedly not up to par, at the least, not on a technical level. I'm not saying it reminds me of what happened to Factor 5, but I'm not saying it
doesn't.
Let's not also forget that Nintendo
owns a couple
of important
patents
in regard to
Eternal Darkness'
unique systems.
Is the plan to fund this and then hope that Nintendo picks them up? Hmm...
Are an untethered crowfunding method and seemingly terrible management enough to keep you away from
Shadow of the Eternals?
Or do you have enough faith in this new team of "veteran game developers" to give them a shot (and your money?)
May the Great Old Ones wake from their slumber and help us. (lol)
Deep into that Darkness peering, I saw CAPS.
* - "Petey McShade" has an excellent blog about digital property ownership, and it possibly coming into what he calls a Third Age. What do you know about what you really own, and will it get better?
S - OpiumHerz continues his fascinating series on the censorship of German videogames. Today, he's writing about Grand Theft Auto. All the way up to GTAIV. Will GTAV get similar treatment? Only time will tell.
A - The Bear & The Bird have clearly taught us much, SirJoshington was not one to miss out on those lessons, and here he teaches us. Sit down and pay attention, class.
S - amxwolf brings another installment of Music Worth Howling about. This one focuses on a game some of us may not have finished, and thus probably missed this great song. Read & listen: Star Fox Adventures, Dragon Rock.
C - The LowerTier Podcast is giving away Age of Empires II: HD, Another World 20th Anniversary, and Receiver!
V - Historicnerd brings us a the story of E.A. Games. Familiar, but may have some info you don't know. I like Historicnerd's videos. What do you guys think?
T - Jon Hamlin sounds off on the 5 characters in Injustice: Gods Among Us that make him wet his tight red underpants.
T - NICk unCAGEd has put together a very useful list of well-recieved games that are currently going for less than 5 bucks. Need something to play in-between major releases? Check out this list.
R - willza sort-of reviews DLC for Q.U.B.E.
R - Jake Deerberg has a hard time enjoying things because of you complainers.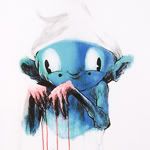 --smurfee mcgee
FPotD
---
LOOK WHO CAME:
CblogRecaps
Mxyzptlk 1
BrowneyeWinkin 1
Ben Davis 1
ShadeOfLight 1
Swishiee 1
Nic Rowen 1
Phoust 1
scarritt 1
Mike Martin 1
Occams 1
smurfee mcgee 1