My dad used to make fried spam and eggs for me for breakfast. He knew I fucking that salty slab of jiggle. But he made me eat that shit. It was supposed to teach me to appreciate any food. Just kind of made me pissed off instead. Dick. Totally learned to appreciate food though. Dick. Still hate Spam though. God.....
SOOOOOOOOOO MUCH SSSSSSPAAAAAAAAAAAAMMMMMMMM!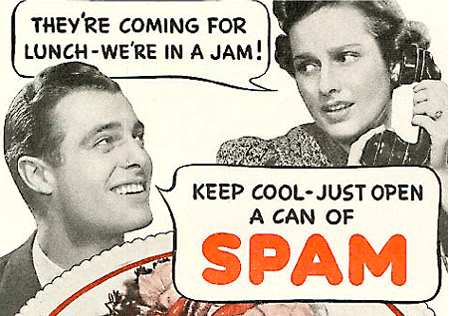 Seriously. Eff those guys and gals doing it, six ways to Sunday. Especially Samit. Dick.
What ya all been dooooiiiiiinng? Enjoying Aliens: CM? MORE LIKE ALIENS: BM! AMIRITE? Oh god you lying assholes. Why? Why the fuck can no one take that franchise seriously anymore? Was the goofy ass 4th movie and the AvP movies? Did that make it ok to shit on almost 30 years of Sci-Fi glory? God I'm so mad at Gearbox and all the lies surrounding this game. Yes, I should of seen the writing on the wall, but i seriously thought Gearbox of all people would put out something playable and fun. Couldn't even shoot through open doorways and railing, the first few days. UGH! A lot of wrote blogs about this wet, sopping pile of crack head feces, detailing all the bullshit on this. What we should have seen. Man, I wish I had opened my eyes. At least in my case it wasn't too bad of a loss. $30 digital on PC (GMG with a coupon and credit).
The backlash from this and how hard people are going to Gearbox is very interesting to me. Personally you fuck with me once, I'm done. Your product will be bought used or heavily discounted. Especially with the garbage tied to this little debacle. FFS Gearbox, did you really think this was ok? No one should have that much goodwill with it's customers to be able to put a turd like CM out and be forgiven. Not in my world. We will see though when Borderlands 3 comes out. I'll wait. The one that will suck, is if we get a real Brothers in Arms. I'm dying to finish Baker's story, but not enough to forgive this travesty and lack of customer respect. The thing that just kills it for me, is the quiet. You're going to push this turd across the dinner table to me and not even stand up and own up to it? I FUCKING SAW YOU DO IT STUPID! Nope. No one is doing that. They think we will all forget. Most probably will. Not this dude. Too old and been burned too many times. The saddest thing about CM for me is the missed potential. You can see it everywhere. Ahhhh fudge-sicles.
Let's do some caps and try to enjoy ourselves.
*- Pedrovay2003 shares an awesome article on Dead Space and it's evolution.
*- Ex275w has some great thoughts on criticism in the gaming community.
*- Nintendoll got the call. Part one of an Omeganaut's journey.
*- SeymourDuncan17 talks of the great Rock Band legacy in this beautiful blog.
P- Scary Granules Ep.9: Little Kebab Shop of Horrors
A- Capitalistpig points out, that we shoulda seen disappointment coming with Aliens: CM. Yeah, we should've. Had faith in Gearbox though...
A- A nice write up on the digital divide and Gaikai from Pixielated.
S- Bargain Binge is a new series from Zer0t0nin. Here's #0
S- And here is #1 of Bargain Binge. Got some MK Komplete up in hurr too. Some Syndicate too. Man that was a pretty fun game. Especially co-op. Not great, just fun.
M- This 16-bit game WAS fucking terrifying now that I think about it. Thanks for the reminder Flamoctapus.
A- Ryoma90 will NOT be impressed by Sony's new offering. Put a stamp on it.
A- Strider has some Fire Emblem tips.
A- Crackers The Wizard shares some thoughts on Kickstarter.
M- Somebodies scared of Zelda.... There is some freaky looking stuff in those games...
A- GlowBear discusses mystery games and such. I just kept staring at Ms. Lansburys fine ass the whole time. Tuned right out. Sorry GB. She too damn sexy.
A- Mynameiismud uses Colonial Marines to show why patience is a virtue.
P- Zero Cool Ep. 67: Baconmouth. Awesome name. Awesome.
S- Perfidious Sinn is going to a tourney. To suck.
P- Secret Moon Base Ep. 31: Onion Domes feat. Robert Dickau
M- Oliveira Clayton shares his Horror Story.
I- A proper hello from My Enormous Hairy Downstairs Kitchen.
E- Weekend Warriors - Smurfee's hard nips edition.
C- Rabid Walrus's favorite bears in gaming.
S- Snealiv shares the shitty story of getting fired from Press2Reset.
C- TheKodu doesn't understand why some folks stick with ole Microsoft.
S- Give Nathsies props on the gig and vote for the next blog series.
C- TheAceOfSkulls is burned on pre-orders.
$- Bibbly reminds up that Infinity Blade is free until the 22nd.
T- BobofMainframe gets sucked into Montowers.
T- Stubbleman spoils the crap out of Persona 4: Golden.
T- Daata6 has some thoughts on Colonial Marines.... You and me both, buddy.
D- ArkCo Weekly News 11 - Networking.
T- Son of BaconSandwhich (SUCH AN AWESOME NAME) notes the difference of two games 14 years apart (Old one wins!).
T- Johnel Lance shares some Digimon knowledge.
T- Fancy that, more Colonial Marines thoughts. It's like we all got fucking lied to or something.
T- TehMadness shares the Goddamn beauty of Goddamn Journey.
R- Troy reviews Dream Drop Distance.
T- Five things Capilistpig picked up from the Vita live stream.
T- Zelda Maniac's mind is ablaze with Little Inferno. Great game.
N- The full 481 game list of Ouya titles coming. Going to be a lot of garbage in there. But some good stuff too. Just a LOT of garbage.
A- The gaming soundtrack of Rwh1hay's life. So far.
V- Thoughts Whilst Doing The Washing Up.
R- DAS SPAM HAD INFESTED US!
V- HistoricNerd dropping some F-22 knowledge on our heads.
L- So it was Samit... all this time..... you mother fu.....
V- Travis Crawford shares a Guild Wars 2 vid and some Oracle build info.
V- HistoricNerd shares the history of the military and gaming.
V- Mikki Saturn returns and wants to know if you've played Mega Man 4.
S- Shoulda saved it until ready.
Blah, blah, blah, ending.
-PhilKenSebben
FPotD
---
LOOK WHO CAME:
CblogRecaps
Mxyzptlk 1
Pixie The Fairy 1
Dwavenhobble 1
KeithTheGeek 1
Glowbear 1
Ronin4life 1
Panzadolphin56 1
Roberto Plankton 1
BrowneyeWinkin 1
Ben Davis 1
ShadeOfLight 1
Nic Rowen 1
scarritt 1
Perfidious Sinn 1
Arttemis 1
smurfee mcgee 1
pedrovay2003 1