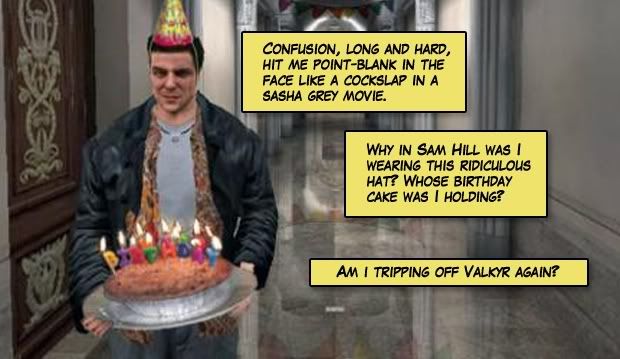 Just like any gamer, I want every game I hear about to be good. I want that game to make love to my brain. I want to feel like the dough I coughed up was well spent. The last thing I need is for games to suck.
The media on Max Payne 3 makes me queasy, though.
Remedy selling the Intellectual Property to Rockstar Games
, for instance. Sure, Rockstar makes great games, but the narrative of their games tend to be muted. I'm not confident they will aim for the pulp noir atmosphere of the two games preceding it, either. Which is fine, but that's what I want from a game called Max Payne.
This is just speculation. I know nothing about the game, aside from it being set in Brazil. I have no clue how cleverly they've connected it to the previous games, or how well they've translated Remedy's game play style into their own. I suppose I'll have to reserve judgment.
Still, it fucking scares me.
To illustrate another example that inspired my irritable bowel syndrome,
Kotaku
reported that the Max Payne 3 devs were sent to Brazil to soak up the vibe. Ha. It's an effective method, I suppose, but I can't help but wonder if Brazil is the primary reason for the drastic setting change.
Dev One: "Alright, Max Payne 3 setting. Where do we want to snort blow off a skank's ass?"
Dev Two: "France?"
Dev Three: "No, Brazil. They got fuckin' trannies there."
Dev One: "It's decided!"
Jokes aside, I really want this game to be good, but I won't get my hopes up. You probably shouldn't either.
Fingers crossed.
- CASTLE