Let me show you it...

People recently have been asking me, Hey DVD, where ya been?

My first reply is usually, "Please leave a message at the sound of the beep!"

My second reply is usually, "It's BluDesign now. Because Blu is the color of man, 2000 flushes, and suffocated smurf corpses."

Actually, I've been around, but just not terribly active. I've been off on a mystical journey of sorts.

And I've been directing eastern european rap videos.

And playing a shitload of PS3 games to get my Trophy Rank up. Yakuza 3 is hard, but I feel it will prove to be a fun game in the end. Meanwhile, Bioshock, Sonic UGC, and Buzz have all been doing their part to raise my rank up high. UGC is a must buy in any case, whoring or not. It has my highest recommendation.

I'll get around to doing a proper review/thingie of Yakuza 3 soon enough, but in the mean time, I want to show you my rap video, in it's stunning Destructoid debut.



Enjoy.
---
About BluDesign
one of us since 11:49 AM on 11.10.2006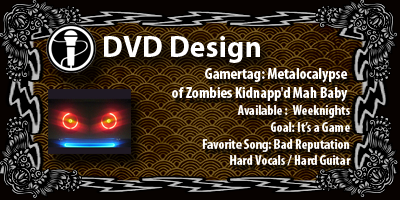 I own a FamPuter, which is a 100% fake Famicom. And I do own Super Mario Bros. and Rockman 2 for it, which you don't. :P
I'm a 34 year old gamer. I cannot hang out with most of you, and you should not contact me to buy you cheap wine or cigarettes. I do not like jail. Seriously, I own all three consoles and I don't discriminate. Gaming is for fun, not for sissy slapfights. If you consider yourself partial to a particular console, I don't care why you don't own other consoles, I don't want to hear about it. If you're going to bitch about something, you'd better bring some hard evidence of why you're complaining if you want to cry on my shoulder.
Enjoy this wonderful picture of 2 generations coming together at last...
PS - I eat trolls.
PPS - I've been to Japan. Maybe you've heard about it? If not, read up here:
Part 1: Introductions
Part 2: Yamagata's Hanagasa Festival
Part 3: Harajuku Girls and the lack thereof
Part 4: You're not in Kansas anymore, Niero (TGS07)
Part 5: Fresh from the farm to your mouth
Part 6: Going to Japan is hard
Part 7: 30 days takes forever
Part 8: Rape, Rocks, and Alliteration
Part 9: Small Town Nightlife
Part 10: Bling Bling, Hundred Thousand Yen Bill Ya'll
Part 10 Part 2: Mount Yamadera
Part 11: The Japanese Wal-Mart
Part 12: Goin' Down to Tokyo Town
Part 13: Ghiblit Gravy
Part 14: Air Sex
Part 15: Ganguros of New Tokyo
Part 16: The Contest Announcement
Part 17: The Contest
Part 18: The Trip Itinerary
Part 19: Tokyo Day 2
Part 20: Tokyo Day 2 Part 2 (of 2)
Part 21 is no longer there, but it wasn't all that great anyway, so you're not missing o
ut.
Part 22: Happy Picture Montage Time!
Part 23: I have arrived.
Part 24: I have returned.
Part 25: The Case for the American Cheeseburger
Part 26: Random pictures are random
Part 27: A Free Gift for Those Who've Been Paying Attention
Part 28: Nintendo, no seriously, NINTENDO
Part 29: Racists in Japan, Discriminating against the handicapped
Special Report from Cheapy D at CAG
Part 30: The Secret Truth About Japan
Part 31: Oz-Matsuri
Part 32: The Japanese Don't Have Antiperspirant Deodorant
Part 33: There's this Disney character named Stitch in Japan...
Part 34: Trainspotting: Live From Kyoto
Part 35: Kyoto for Beginners
Part 36: Kyoto Smash: Advance Lesson in Fun Time
Part 37: Some Japanese people are alcoholics
Part 38: Hardcore Otaku know where the real action is
Part 40: My attempt at getting the Oscar for Best Japanese Picture
Part 41: What heaven is like.
Part 42: I sneak into a movie studio to pitch my movie
Part 41: What heaven is like.
Part 43: My film idea is shot down in favor of yet another Power Rangers TV show
Part 44: Excessive Male Nudity in Japan
Part 45: The Japanese grocery store has no deli counter
Part 46: How the Japanese language is worked into Japan's society
Part 47: Izukayas and you: How the Japanese drink in public
Part 48: All you really need to know about the Tokyo Auto Show
Part 49: Gyudon Rocks.
Part 50: Tendo is the coolest place in all of Japan
Part 51: I really did poop immediately after that shot
Part 52: A Beginner's Guide to Tokyo Disney Sea
Part 53: There is no comparison. Cheeseburgers win.
Part 55: You've never had Tonkatsu, so you wouldn't understand
Part 56: Japanese iTunes for the Mac addict
Part 57: The other kind of Curry
Part 58: Popular Pop and "Lock" music in Japan
Part 59: I sing like how cats have sex
Part 60: The Iron Penis Festival
Part 61: A sad bit about racism in Japan
Part 9001: Electro Lemon's whirlwind visit to Tokyo