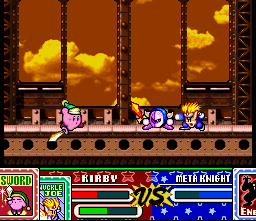 Ah, yes...I remember you well. I would play this for hours on end with my brother. But what's this?
By the gods! They made another one? Hm, what's that? Remake? I don't care, as long as it's Super Star.
For my first official blog entry, I felt that a look at the recreation of one of my favorite games *adds to sidebar list* would be in order.
As a child of the 90s, I was well exposed to some of the games found before the rise of the polygonal empire. One such life absorbing, rip-snorting title was Kirby Super Star. It would be an understatement to say that I spent a lot of my time on this game. For the longest time, I played nothing but this. It was such a simple concept but it was so entertaining I couldn't put it down.
Needless to say, my brother and I picked Kirby Super Star Ultra yesterday. I hadn't expected anything terribly different from this game, but the defining moment was when I started up the game and was treated to this:
...And by this I mean the 3D animated cutscenes.
After that aesthetically pleasing morsel, I was immediately immersed in the game modes I was so fond of. The originals are all there (with updated graphics), like Gourmet Race, which is the most win-filled mode in my opinion. There are also new stylus based substitutes for the old mini-games. They just seem like an excuse to use the touch screen, but they're still fine either way. I've yet to play through all the modes (hence first impressions) but the content is great, especially on the DS. Being able to take it anywhere is quite the convenience.
Maintaining the 2 player co-op, wirelessly even, was a godsend. Being able to play with a friend in the main game modes has always been a huge plus for me, and has worked very smoothly thus far.
Another small touch is the addition of a brand new tutorial system dubbed "The Beginner's Show." It's just an interesting little way to show new players how the game is played. It's nothing important, but I thought it was worth mentioning.
The only possible gripe I could have with this game is that it feels like it's dumbed down. I seem to remember dying a whole lot more in the original. Although I guess they would've made that choice because it is a handheld game, so it would be easier to complete quick gaming sessions. Again, I haven't played through all the modes yet, so I've yet to see how difficult the game can get.
Really, Kirby Super Star Ultra has returned an old favorite along with a few little surprises to keep it fresh. This game has already captivated me and will probably give me the same addiction I had when I had first played the original. Now if you'll excuse me...
I'm glad you're back, friend.