In case you haven't noticed, I draw an awful lot. On top of that, due to some recent happenings, I have acquired a lot more free time, meaning I'm able to draw even more than usual. What does this mean for you? Several things!
1. More illustrated editorials on the front page! Those are always good, right?
2. Enough extra material to do a weekly art post here in the C-blogs! Though I may be getting ahead of myself..
3. The ability to do commissions for you guys!
I have already gotten a few art requests, thanks to the surprising amount of publicity
Once Upon a Pixel
got, but I would love even more (plus, I already know Yojimbo wants a bearded samurai). I really gotta work out my rates, though.. I have no idea what amount to tell people they should pay for my art. If any of you other artists out there can give me any insight on pricing, I'd sure appreciate it.
Anyway, if you want me to draw something, just email me and tell me your ideas. I will do my best to bring them to life.
To those who have contacted me so far to commission art, I really appreciate every single one of you. I'm still in the process of working on two of them, but here is one that was requested of me earlier this week from a very nice fellow named Zachary. He wanted a picture of himself riding a flying Charizard, and as a big
Pokemon
nut, I happily obliged. Although I'm more of a Venusaur fan, myself.
Besides that stuff, I've been drawing some art for some upcoming features like I always do. I can't show you any of that till the time comes, of course, but here's a little something that indirectly came out of it. I love these cute little houses for the souls of the damned so much!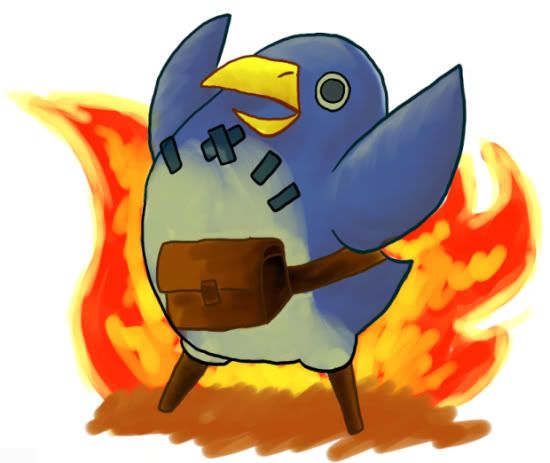 This next piece is just a doodle, but I like it enough to share. I got the first
Pikmin
game a few weeks ago. I have yet to play it (I have a backlog several miles long), but I have always been a big fan of the character design for the series. While fiddling around with different brush tools in Corel Painter, I somehow came out with Olimar.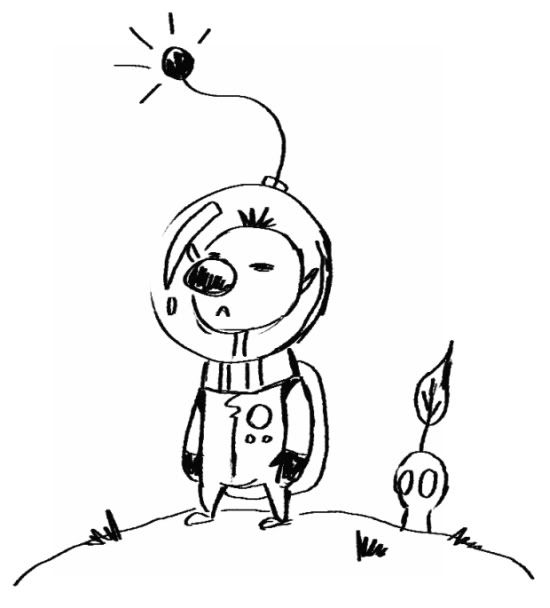 Moving forward (or maybe backward) you may remember that a while back, I illustrated a feature for Collette called the
Videogame Bosses' Guide to Success
. I said I would conjure up some wallpapers of the art eventually, so here they are! I've only made two sizes each for the moment: 1280x1024 and 1680x1050. If you need a specific size, let me know -- I'll do it up to the best of my ability and send it your way. There are just too many wallpaper sizes to choose from now, and I got all confused as to which to make because I still recall when 640x400 was an acceptable resolution.
That's it for this week. I'm working on making some cute Snake wallpapers too, so hopefully I will have those ready to share with you next time. See you then!
---
LOOK WHO CAME:
Ashley Davis