Hello again, robots. I've come to you today to make you an offer. Sadly, times are tough in the land of Ashley, and in an effort to scrape together some cash for an operation that my car desperately needs, I have decided to sell my beloved Nintendo Wii. It's the current-gen console that is worth the most, and I have access to another Wii where I am currently living, so I won't be without one.. still, it was the first console I ever bought all by myself, and the one I play the most currently, so it means a lot to me that it goes to a loving home where it is appreciated for more than just Wii Sports. Which is why I'm here peddling my wares before dropping it off in the frightening hands of internet auctioning.
Ideally, I'd like to get $350 for the whole she-bang, but I'm willing to negotiate or add in little extras to make it worth your money (throwing in one or two of the games shown). As of right now, this is what you will be getting: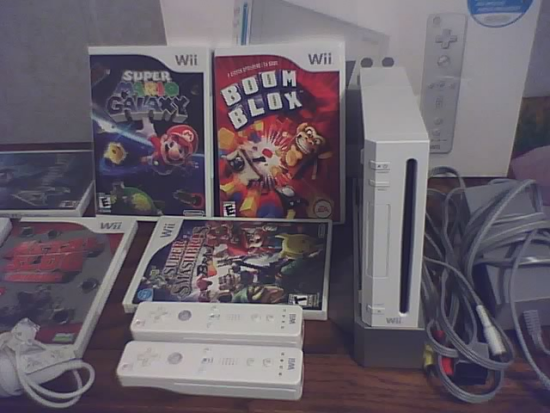 - One (1) Nintendo Wii console, lovingly dubbed Audrey III, nearly two years old, kept in pristine condition in a smokeless home, polished every week. And I touched it! That makes it worth something, right?
- Two (2) Wii controllers, though I really hate to give up my extra, I know it sucks to only have one. I have no use for wrist straps, so they are strapless; handle these with care.
- Two (2) Nunchuk attachments, so no controller will be left out (only one pictured because I'm just terribly disorganized and need to dig through things much more thoroughly in a bit to locate it)
- All the shit that's required to plug in and connect a Wii to a television.
- One (1) box!
- One (1) disc of Wii Sports (see Nunchuk comment)
I also have the following channels that I will leave on the console, just for you!:
Internet Channel
Super Mario 64
Gunstar Heroes
Kirby's Adventure
Link to the Past
Lost Winds
Dr. Mario Online RX
If you don't like any of those, you can remove them yourself, but I think they add to my Wii's charm and overall value.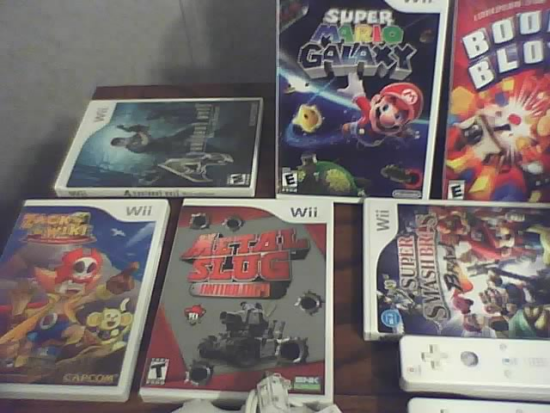 Additionally, I do have some duplicate games, all like new, that I will sell separately (prices negotiable because I don't know how to sell shit):
Wii Play (another thing that's packed up in a box somewhere in another dimension, but I know it's somewhere!)
Super Mario Galaxy
Super Smash Bros. Brawl
Metal Slug Anthology
Resident Evil 4
Boom Blox
Zack and Wiki
Don't feel bad if you have to pass it up, I can very easily sell it on eBay at a much higher price.. but I just wanted to see if anyone here was interested first, because I trust y'all to be good to her. Comment or PM or send me a carrier pigeon if you would like to discuss things and maybe give me money!
Footnote: I also have a 8 GB iPod Nano for sale, but I don't care about it as much. Still, maybe one of yous guys is interested in that also! I can fill it with video game music for you to sweeten that deal.