Back in December, Dtoid UK attended the
Tekken 6 PAL Territories finals
and after some cleaning up in my room I remembered that I managed to obtain some extra swag!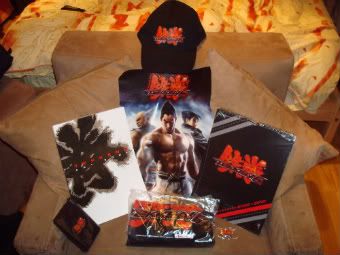 In the swag bag there is the following:
1.) 2010 Tekken 6 Calendar
2.) Tekken 6 T-shirt (large)
3.) Limited edition Art Book (same one as in the special editions of the game, I think)
4.) Tekken 6 baseball cap
5.) Small Tekken 6 poster
6.) Tekken 6 pin
Now all of this can be yours and because I'm in a giving mood right now I'm willing to ship all this outside of the UK to wherever.
All you have to do is pick a character from the Tekken universe and write an interesting back-story to that character in the comments. It can be as serious, funny and insane as you want and it doesn't have to be factually accurate, just entertaining. I'll pick the best entry and PM the winner!
and just because everyone should watch these again:
---
LOOK WHO CAME:
Anus Mcphanus
Shin Oni 1
Batthink 1
Daniel Carneiro 1
Half left 1
Corican 1