Okay, so this is a different kind of post for me. It's about games you can actually play.
But, as someone who grew up on Kings/Space/For Glory Quests, I just can't stand the idea that there are people out there who really believe the Adventure Game genre is dead. It may not be in the top 5 genres of PC game (those being, 3D shooter, 3D shooter, Sports, Porn, and 3D Shooter), but they are still being made, and by all kinds of fans, with unique skills that often overshadow the traditional old-school developers (Sierra, InterActive, LucasArts, etc).
Now there are some great Adventure Games I'm not going to talk about here, because I think there's a decent chance you might have heard of them before. I'm talking about Yahtzee's numerous popularly acclaimed games (
HERE
), the numerous high-res remakes of Sierra classics (
Their latest is Quest For Glory II VGA
), or the many 1 room puzzles out there (
The classic
)
What I am going to talk about are mostly games made in AGS, the Adventure Game Studio, an entirely free, fully featured, easy to use scripting program for classic Adventure Games (and occasionally more than classic). It's over at
http://www.adventuregamestudio.co.uk/
.
Chris Jones has made one of the most successful Adventure Game maker out there, and has been a demon, adding new features sometimes monthly (sometimes more often than that). Plus, gamers have added all kinds of plugins, including some offering online play possibilities and the first steps towards fully immersive 3D. Almost all AGS games are stand-alone as well, meaning you don't need the program to run them. All of the games I'm listing below, as well as almost all listed above are made on this engine. It's the one I'm most familiar with. All should be still downloadable from the AGS games page, if I don't offer a link, just look it up, but there are far, far more original games there than the handful I list. Check out just the games
HERE
So, without further ado, the list (in no particular order):
1. The Shivah by Dave Gilbert
Dave Gilbert (no relation to any famous Gilbert) has come on as a bit of an auteur in the last few years, creating award winning, deeply imaginative games infused with his own experience. His games are well-designed puzzlewise and usually create a great atmosphere with his simple, clean graphics. Few of Dave's games are free, but usually have free demos, and if you like them, give the guy a bit of your support.
The Shivah is the story of a poor Rabbi in New York city uncovering a deeply complex and troubling murder mystery. I put it first, because it's so unique it would never make it into the mainstream of gaming, and yet, like the majority of Dave's games, it is excellent. Read more and download the demo here:
http://www.davelgil.com/wordpress/?page_id=128
2. Nelly Cootalot: Spoonbeaks Ahoy by Alasdair Beckett
The dread pirate Nelly meets her long-sought idol Bloodbeard, but Bloody has a problem. Missing Spoonbeaks.
A fun game with a fine artist, though not as wacky as the title suggests. I actually didn't fall in love with the puzzles of this game, or most of the characters, but the delightful art and overall gameplay were are a treat here. It's free, and you can download it here:
http://nelly.johnsendesign.info/
3. Life of D. Duck by Bjørnar B
"My name is Bjørnar B. I love to draw and my biggest dream is to draw for Disney. (specially Donald Duck)."
This is the opening statement of one of the strangest independent game sites you'll find. Well, maybe not the strangest, but fairly inexplicable. This makes my list because while most bizarre incoherent games are just dull and bug-filled, the bizarre "Life of D. Duck" and the sequel hang together just well enough to be fun. Are they made by a kid, or an avante-garde artist? You be the judge (scroll down to reach the game links. I can only speak for D. Duck 1, I know little about the sequel):
http://www.bjornarb.com/
4. Ben Jordon Series by Grundislav
The Ben Jordon: Paranormal Investigator series has its ups and downs, and can be uneven at times, but Grudislav's series has a large following awaiting the next volume like a book from their favourite author.
The first adventure in the series sends Ben Jordon to Florida, searching for the mysterious Skunk-Ape. But as Ben investigates, he continues to uncover unexpected twists, with unexpected results.
Download the first in the series here:
http://www.grundislavgames.com/benjordan/case1.php
or read about/download others in the series from the main Ben Jordon site:
http://www.grundislavgames.com/benjordan/
5. Spooks by Erin Robinson, a.k.a. "The Ivy"
There's something simply classic about The Ivy's games. It's like she's captured the visual mood and feel of a lot of classic adventure games and squeezed it into her own unique worlds. And the ending of Spooks is not to be missed. I found myself playing through Spooks very quickly the first time, just because of the strong tone and effective art.
Spooks follows a single undead girl Mortia and her attempt to find the appropriate place for a live goldfish. But don't fish need something that can't be found in the land of the dead? Find out here:
http://www.livelyivy.com/?page_id=58
6. Blackwell Unbound by Dave Gilbert and The Ivy
Notice a trend here? This time, Dave has produced a haunting noirish mystery series featuring a spectral detective. Did I mention sprites by The Ivy?
Blackwell Unbound is actually the second in the series, but it includes work by the Ivy, so I decided to put it here. The whole series features a variety of indie game-artists and musicians, and is one of the better Adventure Game franchises of the last 20 years. They deserve some checking out.
For Unbound, try this link:
http://www.livelyivy.com/?page_id=57
For others in the series try here:
http://www.wadjeteyegames.com/games.html
7. Anna by Vince Twelve
An engaging thought experiment with intriguing graphics and maddening puzzles. It was part of a One Room, One Week competition at the BigBlueCup forums and one of the most beguiling entries. Definitely worth the download just for the feeling it evokes.
http://www.xiigames.com/anna
8. The Apprentice Series by Ian and Greg Schlaepfer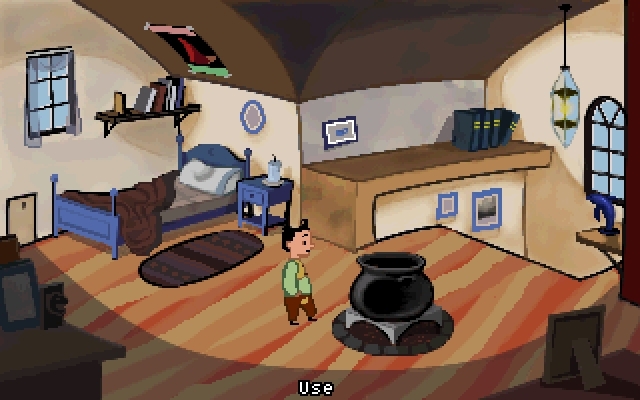 The apprentice series (now approaching chapter III), has been growing in popularity over the last few years, and not without reason. Great plot, great characters, and challenging gameplay make the series work.
Mortimer Pibsworth is an apprentice wizard, but has ended up spending most of his time doing odd-jobs and simply not learning magic, his one goal. In his first adventure, Mort must face a mysterious change to his world.
http://www.herculeaneffort.com/index.php?page=apprentice1
For other games in the series and by these two creators, check out their main games page:
http://www.herculeaneffort.com/index.php?page=games
9. The Infinity String by Sektor 13
I actually wanted to put some more comedy games in this list, but I had trouble cutting these interesting games out, so here they are.
The Infinity String is actually a bit of a mixed bag. It's a great game from the start, and the middle is very strong, but I feel let down by the end. It sort of seems as if the creator had many great ideas, and then didn't know what to do with them at times.
Nonetheless, the puzzles, graphics and overall plot of this game are great, and full of surprises. It's definitely one of my favourites of the list, despite the problems.
Check it out here at the AGS games site, look for Infinity String
10. Richard Longhurst and the Box that Ate Time by Captain Mostly
One of the first and buggiest games for AGS, RL&BAT remains one of the greatest games of all time. It's not so much written as thrown up onto the keyboard, leaving you to uncover exactly how little sanity you have left.
I unapologeticaly and unironically love RL&BAT even though it makes no sense, has horrible music and is so buggy you almost can't beat it all the way through. I love it because it is insane and yet somehow cohesive, once you play all the way through. You have to have faith and go straight from one end to the other, or you won't even be able to begin to appreciate the mad genius of this thing. Just don't blame me if you turn it on and quit within the same 10 seconds.
Look it up as Richard Longhurst on the AGS games page.
That's it. That's my 10. Those may not be the best AGS games, or all necessarily my favourites, but they're all awesome in their own way and all worth checking out. For some it helps to be a hardcore puzzle-fiend and for others, you'll just breeze your way through, but I hope this is a start for those people that enjoyed Machinerium and want to taste a few more.
---
LOOK WHO CAME:
Altered Beets